Sean Dyche said after the game that he thought, particularly in the first half, that we'd played as well as at any time during his time as Burnley manager. That one is open for debate, I suppose, but whatever your views it has to be a lot, lot better than getting up this morning and finding a thread on the message board entitled: "When are the excuses going to stop?"
I'd like to go back a year to Boxing Day 2013. We were top of the Championship but turned in a disappointing performance at Middlesbrough. We lost 1-0 to am Emmanuel Ledesma goal and dropped into second place in the table with Leicester going top, a position they didn't relinquish for the rest of the season.
"We've blown it. No chance of going up now," bellowed one irate Burnley supporter as we left the Riverside, and he was getting some support. All I can say is thank goodness I was nowhere near them at Wigan three days later when we dropped to third.
On the same day Philippe Coutinho, who got the assist for yesterday's goal, gave Liverpool a 1-0 lead against Man City at the Etihad. They went on to undeservedly lose that game 2-1, and three days later were beaten by the same score against Chelsea at Stamford Bridge.
After those two games, Liverpool won 14 and lost two of the next 16 and looked set to win the title before losing again to Chelsea in their penultimate home game of the season.
I know that Liverpool team had Luis Suarez and also had Daniel Sturridge in fine form. I know neither are now available to them, for different reasons, but I wonder whether the fan ranting at Middlesbrough might have believed they would be our next Boxing Day opponents and I wonder if anyone could really believe Dyche's comments, or those of positive supporters, can seriously be considered excuses.
On my way home from the game yesterday I heard Alan Shearer suggest that it was only a lack of quality in the final third that cost us yesterday. We were the better side for long stretches of that game. Liverpool never had one period where they could consider themselves to be on top and only Brendan Rodgers in the entire world of football thought they were deserving of all three points.
That's what they got though, all three points, and I do understand that if you don't get any shots on target during a game, a statistic I dispute then you are not going to go on and win it. Having said that, the result is a harsh reality of the Premier League and it was another price we paid yesterday.
Before the game we learned that, as expected, Dyche had gone with the same starting eleven that had kicked off at Tottenham six days earlier. The big news was that Sam Vokes, injured on 29th March, was back in the squad and on the bench.
I found it a strange start to the game with a minute's applause scheduled for Clarke Carlisle after five minutes play. It was almost as if we were sat there clock watching and waiting for it.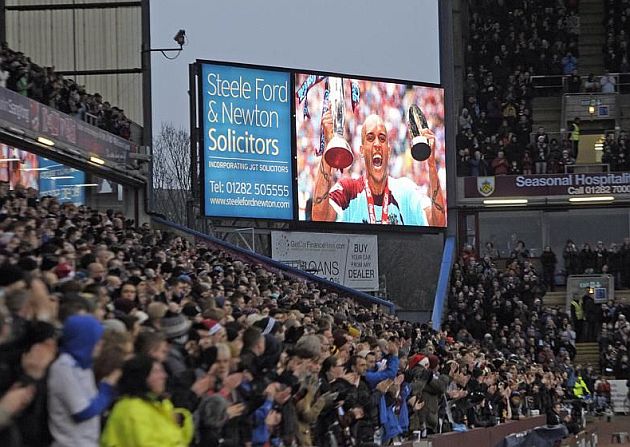 On the evening of last Monday, the awful news of Clarke's accident in North Yorkshire was released and the support he received on the message board was almost instant.
At around 11:30 p.m., Longsider posted: "Can we do something on Boxing Day to show our support?" The next post was from Quattro, who wrote: "That's a grand gesture Longsider. A minute's applause is a common gesture, but when? On the 5th minute, to represent his squad number?"
Without those comments it might not have happened. Given the support it was receiving from other posters, by late morning on the following day I'd spoken to the club about supporting it. The programme had gone for printing but they said they would place his picture on the big screen during the applause and publicise it.
Clarke is held in great esteem at Burnley and that shone through yesterday as all three home sides of Turf Moor rose to their feet to show their support. It was so good to see the away end support it too and what a reminder of Clarke at his best with the picture on the big screen showing him at the end of his man of the match performance at Wembley.
The game finally settled down and we were just simply dominating the play and Danny Ings seemed to be featuring in most of it. I'd read earlier in the day that the woodwork on our ground has been hit more than on any other Premier League ground this season.
We can add one more to that total now. It came from a throw in on the left taken by Ben Mee. He found Ings who got himself into position just outside the box but hit his shot against the foot of the post with goalkeeper Brad Jones helpless.
Jones must have been concerned with Burnley's start; so much so he decided he'd had enough and Simon Mignolet, who is out of the side indefinitely, definitely came on. He did really well according to Rodgers. What he did do was provide us with a couple of moments of pure comedy, one just after he'd come on when he clearance hit Ings and could have gone anywhere, and one in the second half when he farcically allowed a back pass to roll out for a corner before trying to kick it clear.
He remained under pressure for much of the remainder of the first half when the only threat from Liverpool followed a strange back pass from David Jones. It eventually allowed Adam Lallana to run through but he shot straight at Tom Heaton.
Burnley's best effort came from a corner on the right. The ball came out to Scott Arfield on the edge of the box and his shot was going nicely into the bottom corner. Mignolet had no chance but Lucas Leiva just got a touch to it to divert it for another corner. No shots on target did the stats say? That's one for a start.
Arfield almost got on the end of a ball from Ashley Barnes soon after but Mignolet did well on this occasion and got out before Scott could get onto the ball, and then George Boyd hit a shot that flew just over the bar.
At the half time whistle, with the score 0-0, Burnley left to a rousing ovation and rightly so. We had played really well and who knows had we been able to get a goal. It was very much a reminder of the West Ham game when again we'd dominated the first half but gone in without a goal.
On that occasion, West Ham came out and took control of the game with two good goals and there was the fear that would happen again.
It didn't, and Burnley continued to press forward until the goal came on 62 minutes. Sometimes a game can change and you can sense a goal will go in, but not this time, it really was out of the blue.
A Jason Shackell header was knocked back to Coutinho and his flick released Sterling. The Liverpool and England forward was just onside, there was no question of there being a flag, and his pace took him away from our two central defenders. He took the ball past Heaton before sliding home left footed despite both Shackell and Michael Keane desperately trying to get back.
I feared the worst at that point and suspected there might not be a way back. It proved to be the case but not without a big fight from the Clarets.
And what a pity Mignolet's howler didn't cost them. Kieran Trippier's left wing corner eventually came back to him. This time his whipped cross was headed down by Keane at the far post but into the side netting.
Mee blazed a shot over, Ings went close again and we were putting them under some pressure. With ten minutes remaining the fans gave Vokes a superb reception when he came on for Barnes but no matter what we did we could just not get that goal and it was another 1-0 Boxing Day defeat, just like last year.
I know we need to win points to stay in this league. I understand that playing nothing like as well and coming off with a 1-0 win, or even a 0-0 draw, would have been preferable. And I know just how difficult it is going to be tomorrow.
But we are what we are. As disappointed as we all were yesterday I can't believe anyone could be disappointed with that performance. Yes, Shearer might be right in his perception of a lack of quality in the final third. We're not the only ones and that sort of quality is provided by some of the biggest signings in the Premier League. We are not going to get an Alexis Sanchez or the likes at Burnley.
I still think our players are giving us a real chance of staying up this year. I wonder what that bloke who thought we'd blown it at Middlesbrough is thinking now.
The teams were;
Burnley: Tom Heaton, Kieran Trippier, Michael Keane, Jason Shackell, Ben Mee (Lukas Jutkiewicz 90+3), George Boyd, Dean Marney, David Jones (Ross Wallace 83), Scott Arfield, Danny Ings, Ashley Barnes (Sam Vokes 80). Subs not used: Matt Gilks, Steven Reid, Kevin Long, Michael Kightly.
Liverpool: Brad Jones (Simon Mignolet 16), Kole Touré (Emre Can ht), Martin Skrtel, Mamadou Sakho, Jordan Henderson, Steven Gerrard, Lucas Leiva, Lazar Markovic, Philippe Coutinho (Rickie Lambert 73), Adam Lallana, Raheem Sterling. Subs not used: Alberto Moreno, Javi Manquillo, Oluwaseyi Ojo, Mario Balotelli.
Yellow Card: Lucas Leiva.
Referee: Anthony Taylor (Wythenshawe).
Attendance: 21,335.
Clarets Mad wish to thank Burnley Football Club for the use of the photograph in this report.