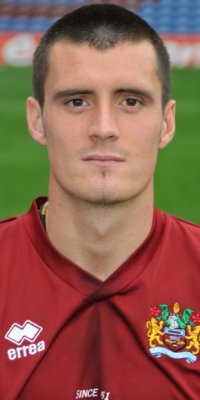 Stephen Jordan - Man of the Match
Since the two of us were promoted in 2000 they have won no fewer than six penalties against us, and I'm not too sure how many of them were anything other than poor decisions, and two of those have come in this most recent of clashes allowing them to beat us 2-1.
That means four successive league defeats for the Clarets. I was unhappy after those against Barnsley, Doncaster and Swansea because I thought we didn't play well enough. After this defeat at Deepdale I'm nothing other than angry at the way the game was taken from us by cheating and incompetence.
The cheating came from Stephen Elliott in particular and to a lesser extent Jon Parkin whilst the incompetence was very much that of referee Paul Taylor who fell for it all hook, line and sinker as he twice granted Preston the lead by pointing to the spot.
This was a defeat we just simply didn't deserve, we were the better side for much of the game but when referees point to the spot there's not a lot we can do about it. I thought the penalty at Doncaster and the sending off of Steven Caldwell was fair enough but I had an issue over that awarded against Michael Duff last week that saw him sent off. At the very least that was a really harsh decision.
But here we've gone down to two decisions that are so clearly incorrect you have to wonder what the hapless Paul Taylor was actually doing and seeing as he pointed to the spot. But he surely realises now that he's cost us dearly with his mistakes.
Back to the beginning and I was reasonably confident we could end our run of defeats. Preston aren't a good side and they certainly don't play much football, hardly a surprise when you see the lump they have up front.
When the team news was announced there were no surprises, and the Clarets lined up just as I predicted, meaning it was good news that both Chris McCann and Martin Paterson had been passed fit enough to play.
Apparently, according to national media sources, we were chasing our first double against Preston for over fifty years. That being the case I wonder just what they made of the two wins in 1971/72 season and the two more recently in 2001/02 season.
The Burnley fans had a problem ahead of kick off; basically the sun was making it difficult to see down the pitch. And just to make it even more difficult Burnley incredibly came out in the change strip of blue shirt and claret shorts. Whoever came up with that idea should spend some time looking at it in the sun.
To be honest I'm baffled by the decisions on kit choice away from home. We changed at QPR in the league meaning both sides wore blue, but not in the cup, and yet we didn't change at Sheffield United but did change at Doncaster.
With hands above eyes so we could see, something Brian Jensen did throughout the first half, it was probably Preston who started the brighter of the two, but it was soon evident how they were going to play.
In the first ten minutes or so I saw at least three incidents from the Preston forwards that were far worse than anything Michael Duff did last week. Shirts were being tugged at every opportunity, shoving, pushing, the sort of football that makes you wonder just what's happened to the game.
It shouldn't be allowed to happen and yet we even had them appealing for penalties as they got into the box whilst tugging on blue shirts. That's what happened in their first real attack which Brian Jensen brought to an end by clattering both Steven Caldwell and Stephen Elliott. Up they went for the pen but Elliott had nearly autographed Caldwell's shirt.
But Burnley had their moments and Paterson should probably have done better with a header following a Clarke Carlisle knock back and then Chris McCann hit a shot over from close range after Andy Lonergan had saved an initial shot.
Preston had their moments but they weren't troubling our goal too much but as the half wore on the Clarets came more and more into the game. In one amazing incident Chris Eagles tested Lonergan from way out on the right wing. It was surely a cross but Lonergan, a somewhat eccentric keeper, made a right meal of it but did keep it out.
It was 0-0 at half time but we'd shaded it I thought and with a bit of luck might just have been in front. In went the players and out came some real second rate singer. When will football clubs learn we've come to watch football and not listen to this nonsense? Still, he was drowned out by the chanting which was without doubt far more musical.
Burnley had been in the ascendancy at the end of the first half, and they certainly were as the second half got underway. McCann forced a good save out of Lonergan and then Paterson had a half chance. We were really getting on top but disaster number one was just around the corner, well at the far end to be precise.
From the far end we saw Elliott go down under challenge from Jensen which persuaded the referee to point to the spot. It was hardly inspired goalkeeping from the Beast but I couldn't believe it when I took a look again on television.
Just watch closely when Elliott goes down, he hasn't even reached Jensen, he's clearly took a dive. They say cheating doesn't pay, but it did here and up stepped Callum Davidson to score the so undeserved penalty to give Preston the lead.
That led to our worse spell of the game. We seemed to lose concentration and both Ross Wallace and former Claret Richard Chaplow should have doubled their lead. Neither was able to and we survived it to take command again.
Owen Coyle brought on Robbie Blake for Joey Gudjonsson and ten minutes later Jay Rodriguez came on for Steven Thompson. Jay had only just about got on when Robbie won a free kick about thirty yards from goal. We watched Duff manoeuvring in front of the goalkeeper as Robbie and Graham Alexander weighed it up.
There was no angle whatsoever, the free kick was right in the middle, but Robbie hit an absolute peach. It went on the inside of the wall before bending and going in off the inside of the post. A stunner, an absolute stunner of a free kick, and thankfully we were level and surely going to get something from the game.
That was until referee Taylor stepped in again. If the first penalty decision was a poor one then this was every worse. He incredibly gave a handball against Caldwell although the lump referred to above, Jon Parkin, was pulling it. The correct, and only, decision the referee could give was a free kick to us but there he was pointing to the spot again.
This time it was substitute Neil Mellor who took it and Jensen should probably have saved it. But I can't recall ever having criticised a goalkeeper for not saving a penalty and I'm not going to start now. He went the right way, probably got down to early, and the ball squirmed under him and in.
Paterson had a late effort well saved but despite some pressure in the last few minutes there was no way back and it was another Deepdale defeat that was hard to take. As Owen Coyle marched towards the referee at the final whistle my mind went back to the game there four years ago.
Then, a last minute penalty so incensed manager Steve Cotterill that it led to him getting in trouble with the drug testers. Steve was there today, and I'm sure that Graham Laws awarded penalty was very much in his mind.
Cotterill once said that you can only prepare as a team to play well, you can't prepare to win a game because outside forces such as referees can take that away from you with one bad decision. We'd prepared to play well today and that's what we did and had there been any fairness at all we would have won that game.
We had a brilliant goal from Robbie, and there was some good team play as well as some good individual performances. Steven Thompson and Stephen Jordan were the best two players for me, and once again I'm going to go for Jordan for my man of the match. He's in terrific form right now.
Four successive league defeats and suggestions that the season has come off the rails. It hasn't if today's performance is anything to go by. We played well again but sometimes playing well is just not enough when decisions like that go against you.
The teams were;
Preston:
Andy Lonergan, Billy Jones, Sean St. Ledger, Youl Mawene, Callum Davidson, Chris Sedgwick, Richard Chaplow (Barry Nicholson 81), Paul McKenna, Ross Wallace, Stephen Elliott (Neil Mellor 84), Jon Parkin. Subs not used: Chris Neal, Eddie Nolan, Chris Brown.
Yellow Cards:
Paul McKenna, Ross Wallace, Chris Sedgwick.
Burnley:
Brian Jensen, Michael Duff, Clarke Carlisle, Steven Caldwell, Stephen Jordan, Graham Alexander, Chris Eagles, Joey Gudjonsson (Robbie Blake 66), Chris McCann, Steven Thompson (Jay Rodriguez 76), Martin Paterson. Subs not used: Diego Penny, Alan Mahon, Alex MacDonald.
Referee:
Paul Taylor (Hertfordshire).
Attendance:
15,692.