It was a wonderful strike from Boyd. A free kick into the box from Kieran Trippier was headed out by Vincent Kompany but only as far as Boyd who struck the sweetest of half volleys into the bottom corner of the net from just about a yard outside the penalty box.
From the second it left his boot there was nowhere else it was going and even Boyd himself turned in celebration before it had crossed the line. It must be an absolute dream to know instantly that your shot is going in; that's something alien to me as I think all of the goals I scored in local Sunday football, and there weren't that many, were probably from around the six yard line.
I can only liken it to hitting a shot at cricket and knowing that you don't need to bother running because you know it is on its way to the boundary. I didn't do that too often either.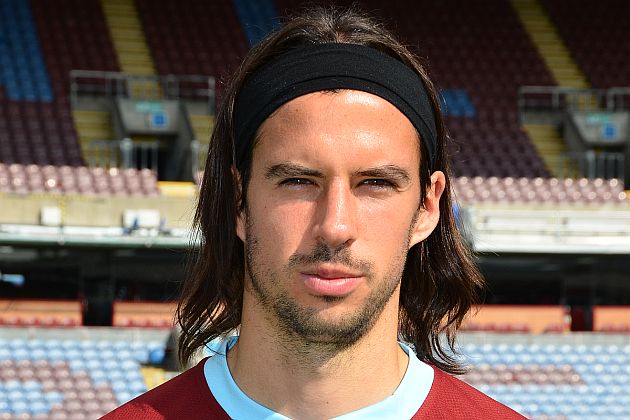 Burnley won it with a goal of the season contender from George Boyd
This one came just past the hour and proved to be the only goal of the game as we gave our hopes of staying in this league a massive boost whilst denting the now faint hopes Manchester City have of retaining their title.
It gave us, as Burnley fans, one of our best days in years and, for me, this was beyond any doubt our best win in the Premier League in either this season or the one five years ago.
These were the champions we were playing, not at the beginning of the season but at a time when we had landed ourselves under some pressure after a run of seven games without a win.
Before the game there were a number of Burnley supporters I spoke to who had no confidence of getting anything out of it and in truth it was difficult to see beyond an away win for a side that come here so often and bang in the goals.
I'm not a lover of the tea time kick offs. If we are going to be moved for television then I prefer it being brought forward to lunch time. But 5:30 it was and it allowed me to take in some of the Middlesbrough v Ipswich game on television before leaving for Turf Moor where I was a pre-match guest of the chairman along with his array of visitors from around the globe.
I bumped into a few Clarets, past and present, including Mike Summerbee, who was apparently supporting the opposition. He was with Tony Book, the former City captain and manager, who was looking very good for an octogenarian.
By that time we'd received the team news and it was almost as I'd predicted in my match report from a few hours earlier. Sam Vokes was back in at the expense of Michael Kightly but I hadn't predicted a return for Michael Duff, back in the league side for the first time since the win at Stoke in November.
It was an interesting line up. If you look back at what was considered last season's first choice team there were only two changes with Ashley Barnes and Boyd in for Dean Marney and Kightly; Boyd being the only player in the starting line up who wasn't part of last season's promotion.
I think we all knew we had a damn good side at Championship level last season but to be able to put virtually the same team out in a match against City, and for it to play as well as it did, is absolutely remarkable.
We drew at City in December, as if anyone needed reminding. I read somewhere that we were fortunate because they were without their best defender, their best midfielder and their best striker that day - namely, Kompany, Yaya Toure and Sergio Aguero.
They were all there yesterday; my biggest disappointment was them naming Eliaquim Mangala as a substitute. He was bullied into submission by Barnes in that Etihad draw and I wondered just how he would cope against both Barnes and Vokes.
I think it is only right that Vokes gets something of a special mention should I forget further down the report. This was his first ever start in the Premier League. He'd previously been utilised on eight occasions as a substitute for us this season and in a past life he'd made eleven Premier League substitute appearances for Wolves.
He started at Spurs in the cup replay, but to come out and play as he did yesterday was absolutely remarkable. I don't think he lost out on a header for the first 70 minutes of the game and that is not to take away any of his play on the ground. It was an outstanding return for him.
It was at Chelsea where I first felt that he was getting close to the sort of level he needed to be at and I think Sean Dyche has got it absolutely spot on with the timing of his return.
Duff, the other player coming back into the team has had a good week. I'm sure he considers his return to the side to be the most important but it came a day after his testimonial had been made public and yesterday gave him his 350th competitive appearance for the club since arriving in 2004.
We lined up with Barnes on the left hand side but this was a really fluid system. In possession we were very much 4-3-3 with the front players interchanging but out of possession we saw Barnes drop into that position on the left into a more familiar 4-4-2.
Last time City played at the Turf they were 1-0 up after three minutes and one second of play; their third goal was recorded at six minutes and twenty seconds, goals scored officially by Emmanuel Adebayor, Craig Bellamy and Carlos Tevez, although it was clear that the first should also have been credited to Tevez.
This time we sailed past the first goal time, and indeed beyond the third goal time, without ever looking like conceding and we were over half way through the first half when they really threatened us at all.
By that time we'd more than held our own and had a couple of opportunities. Danny Ings fired one wide and a move down the left ended with the ball dropping for Scott Arfield outside the box with the midfielder forcing Joe Hart into a save down to his left.
City did step things up. Tom Heaton made one good save from Edin Dzeko and then a routine one from Aguero before the Argentine striker fired a shot wide of target.
With the clock approaching 45 minutes I looked for the fourth official to see how much time was being added on but instead referee Andre Marriner blew for half time bang on the 45, something rare these days.
I think we were all more than happy with the score 0-0 at half time but there had to be some concerns, given the quality of the opposition, that things might get difficult for us after the break.
Maybe they should have done too when Aguero got the ball from right to left to play in David Silva. I was convinced this was the moment they would take the lead but astonishingly the Spaniard failed to get a good first touch on the ball which forced him wide and he could only get in a weak effort that Heaton had no difficulty with.
At the other end, a Burnley move ended with Boyd volleying just wide of the left hand post but in the next move forward his shot lifted the decibel level inside the ground off the scale.
It looked a superb shot when I saw it live but every watch of it since has made it look all the better. It really was a brilliant strike from Boyd and astonishingly we led Manchester City 1-0 with just under half an hour remaining.
Apart from the cricket field end and the away dug out, only Dyche failed to celebrate it. He just did as he always does; he calmly turned round to get his water bottle. After the game he said: "I have never been one for running down the line and sliding on my knees until the job is done, but trust me inside there is someone jumping around."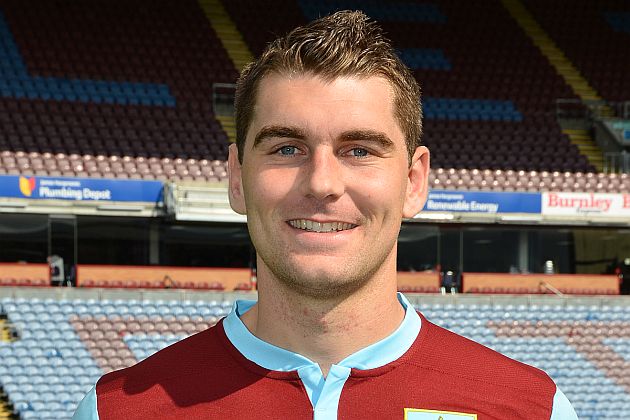 An outstanding performance from Sam Vokes on his return to the team
With Arfield's goal against Chelsea from the opening game in our minds, my mate in front turned and said: "I hope this doesn't make them as mad as it did Chelsea when we went in front."
Mad was meant in the 'angry' sense and not in the mental state of the West London club's Portuguese manager, but you have to fear the quality teams when you have the audacity to go in front against them.
The free kick that led to the goal gave Martin Demichelis their only yellow card of the afternoon and a minute later, in a game that I have to say was never nasty in any way, he was somewhat fortunate not to get another when he clipped Trippier right by the corner flag. Incredibly the assistant gave nothing.
I suppose we expected the City onslaught but in truth it never came. Yes, they had plenty of possession as they'd had all game but there were few scares. They threw on Wilfried Bony, Stevan Jovetic and then Frank Lampard, and he's always a worry given the number of goals he's scored in his career from midfield.
But it was all to no avail. Aguero headed one good opportunity over the bar but we got to the 90 minutes with no other scares of note and we'd stuck with our starting eleven until three minutes from the end when a clearly tiring Vokes was replaced by the returning Stephen Ward.
Up went the board this time; four was the number on it and there was to be one massive scare during that stoppage time when Pablo Zabaleta went down in the box as Ben Mee challenged him.
I was certainly relieved to see the referee award us the free kick but that was the only action he took. There was certainly not even a word to Zabaleta, so I'm not sure what he had given to be honest. The City defender was certainly not carded for simulation as I've read elsewhere.
This was one we got away with. Television pictures show it should have been a penalty but there were no histrionics from the visitors who I think, by then, had accepted it wasn't their day.
The closing minute or so was spent with Barnes doing the Jimmy Mac stuff in the corner to see out time and it virtually did, but City didn't attack us once more before that final whistle brought relief and delight across three sides of Turf Moor.
No matter what happens this season, yesterday's game at the Turf is one we should savour for a long, long time. It really was a special day of the type that doesn't come round too often, certainly not anything like often enough.
For Burnley to beat Manchester City in today's football is simply amazing. It's the sort of result that shouldn't happen but occasionally does.
It was simply a brilliant day, a brilliant performance and a simply magical result.
We've still got it all to do but it has kept us in touch, certainly with Hull and Sunderland. Who knows what's going to happen. We can't live on that result and performance yesterday but we can certainly enjoy it no matter what the future holds, and we can certainly take confidence from it into our game at Southampton next week and all the remaining fixtures this season.
How fantastic it is sometimes to be a Burnley fan. Yesterday was very much one of those fantastic days.
Up the Clarets.
The teams were;
Burnley: Tom Heaton, Kieran Trippier, Michael Duff, Jason Shackell, Ben Mee, George Boyd, Scott Arfield, David Jones, Ashley Barnes, Danny Ings (Steven Reid 90+3), Sam Vokes (Stephen Ward 87). Subs not used: Matt Gilks, Michael Keane, Ross Wallace, Michael Kightly, Lucas Jutkiewicz.
Yellow Cards: Ben Mee, Michael Duff.
Manchester City: Joe Hart, Pablo Zabaleta, Vincent Kompany, Martin Demichelis, Gael Clichy, Jesus Navas, Yaya Toure (Frank Lampard 81), Fernandinho, David Silva (Stevan Jovetic 74), Edin Dzeko (Wilfried Bony 63), Sergio Aguero. Subs not used: Willy Caballero, Bacary Sagna, Eliaquim Mangala, Samir Nasri.
Yellow Card: Martin Demichelis.
Referee: Andre Marriner (West Midlands).
Attendance: 21,216.