The goals might well have come from Boyd and Barnes, and Barnes was undoubtedly our star performer, but from 1 to 11 (or 1 to 37 in these days of squad numbers) our players were simply magnificent against this star studded City team.
We got a lifeline early in the second half when Boyd's goal should have seen the assistant's flag raised for offside (about time a poor decision went our way I hear you say) and it was so fitting that it was Barnes who hammered home the equaliser with just nine minutes of normal time remaining.
The only disappointment, a minor one, is that the goals went in at the far end to where the big Burnley support was housed. I did say it was minor.
And for the stattos amongst us, this was the first time we've come from two goals behind in a top flight away game and go on to get anything since that remarkable night at Chelsea in August 1974 when we were 3-0 down at half time before coming back with goals from Ray Hankin, Martin Dobson and Paul Fletcher to draw 3-3.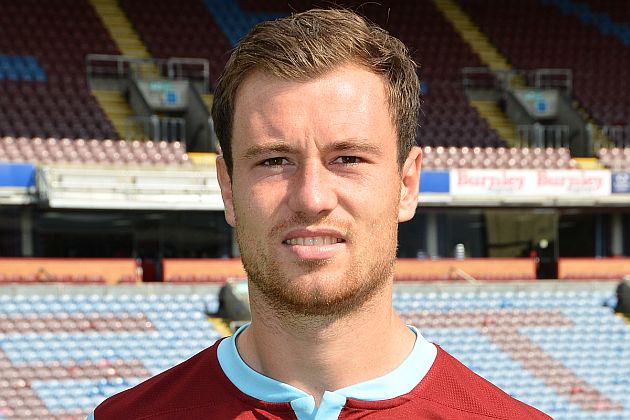 A brilliant performance from Ashley Barnes capped with the equalising goal
Our trip to the Etihad was almost perfect. We parked up at the Ashton Moss tram stop and had lunch in the pub next door before making our way into the Etihad Campus. We'd got our timings slightly wrong on the journey in and there was a bit of a rush around the stadium before being able to take our seats in the upper tier.
The team news was through by then. City captain Vincent Kompany didn't return and there was no Yaya Touré either to add to the continued absence of Sergio Aguero and Edin Dzeko. Life must be so difficult for the manager of a club like City to be without four of his players. You have to wonder just how on earth he copes with such problems.
Burnley, meanwhile, were still without defenders Michael Duff and Stephen Ward and midfielder Matt Taylor while Sam Vokes was left out after making his comeback with a late cameo in the Liverpool game on Boxing Day. I make that four.
In these days of squad rotation being vital during busy times, Sean Dyche named the same starting eleven that had played two days earlier. To be honest, I didn't expect anything else.
I really didn't know what to expect. I don't ever leave home for a football match expecting to lose. If I did then I wouldn't bother going through the front door. Having said that, I appreciate that you can expect some games to be more difficult than others, and this was one I would always place into the 'most difficult' pigeon hole. We were facing a top team that was also looking for a club record 10th successive win.
So I was delighted with how we played in the first twenty minutes or so. We certainly weren't overawed and had one or two opportunities when balls into the box weren't quite within reach of onrushing players while Dean Marney hit a rare shot which Joe Hart must have been thankful was straight at him.
This was looking good with just one real scare at the other end when City worked the ball down the right and James Milner getting onto the ball as it came in only to miss target.
I don't think any Burnley fan could have been unhappy at the way we'd started, although a lone voice a few rows behind me was singling players out for criticism. He certainly had his finger on the pulse though, he was also berating referee Andre Marriner. That was impressive. Marriner wasn't in action yesterday but will referee tonight's Liverpool v Swansea game.
I suppose against teams who have spent a fortune on players, not too far short of £200m in transfer fees for yesterday's starting eleven, they are always likely to have something up their sleeves, and so it proved as they took the game away from us with two superb goals.
The first of them came from an excellent move down the right. I'm not surprised that Samir Nasri and David Silva were involved, such good players both of them are, and it was Silva who wrong footed Tom Heaton by placing the ball into the near post corner after initially taking the ball perfectly with his first touch.
As well as we'd done, we were behind, and to get back into a game at City is a tough, tough ask. It got tougher too with just over half an hour gone. City patiently waited for an opening; Nasri eventually played the ball to Fernandinho and his finish from just outside the box was sensational.
A tough ask? Now it was looking almost impossible but thankfully we got to half time without any further damage. To be fair, our first half performance didn't warrant a two goal deficit but that's how it was and I'm sure I wasn't the only Burnley fan there fearing what might happen in the second half.
Oh ye of little faith! We'd played well in the first half but what we saw after the break was surely something better than we've seen from a Burnley team in a long, long time.
Maybe we did get a bit of luck in the second minute of the second half, or should I saw we most definitely did get a bit of luck. We'd already put City under some pressure; winning a corner in the first minute, but when Barnes knocked the ball down for Danny Ings his goal bound shot got the slightest of touches from Boyd to help it into the net.
Boyd is clearly offside but we've seen so many poor decisions go against us it was nice to see one drop in our favour. At least it gave poor Pellegrini even more to moan about at the end.
When news filtered through to us, via texts and tweets and the like, at the other end that it was offside, I suggested it might have been better getting a bad decision our way in a game where it might mean something for us. Even then I had no idea what was going to unfold.
Heaton made a very good save down to his right to prevent Nasri from scoring. That's worth reporting because it is the only occasion during the entire second half when I thought we might concede another goal.
We were quite simply better than Manchester City after the break. We put them under a lot of pressure in that second half and Barnes was at the centre of it. Those poor City defenders, £30m plus Eliaquim Mangala particularly, had no answer to our Somerset born Austrian under-20 international striker who cost us almost a sixtieth of that amount.
Barnes played in Ings with a delightful pass but Ings just couldn't get control of the ball. Then Ings was onto a Barnes knock down with his shot unluckily going just wide.
Much of the play was down the far end, and you just wondered time and again whether we'd get that chance to turn it round completely. I recall looking up at the big screen as the ball went out of play. There were just over 70 minutes gone and I reckoned I'd have taken 2-1 down going into the last 20 minutes had it been offered before kick off.
City weren't coping with us at all well and on 81 minutes I swear the upper tier at the South end of the stadium was left shaking.
Both of our central defenders, who had outstanding games, played their parts. It came from a free kick taken by Jason Shackell. Barnes, yet again, won the ball in the air. It rebounded off Michael Keane back to Barnes who hit a first time shot into the far corner. If England goalkeeper Hart was at fault with our first, he had absolutely no chance with the second.
I jumped to my feet; I almost paused for a few seconds as 2-1 changed to 2-2 on the big screen before celebrating with all the other Burnley fans with the stand clearly moving.
"Have we scored it too early?", John, sat next to me said. I knew what he meant. We were surely now going to be put under amazing pressure by these wounded all stars.
Not at all was the answer. Heaton had one routine save to make from substitute Stevan Jovetic and so desperate were the home side that they even sent on Sally Webster's son-in-law.
It was Burnley going for the winner and it was only Burnley who looked like they might get it as we took the game to City. We didn't get it but there was not one moment of panic up to the end of the 90 minutes.
Now there were five more minutes to go. I thought Jimmy Mac was back as we took the ball into the corners. No way were we going to let this point slip. Television pictures show an animated Dyche clearly telling the players to get back into those corners as he signalled ten or maybe twenty seconds to go.
Long before Friend blew his whistle I'd become supremely confident we'd got the point and so it proved. We'd seen them off; they had nothing more to throw at us.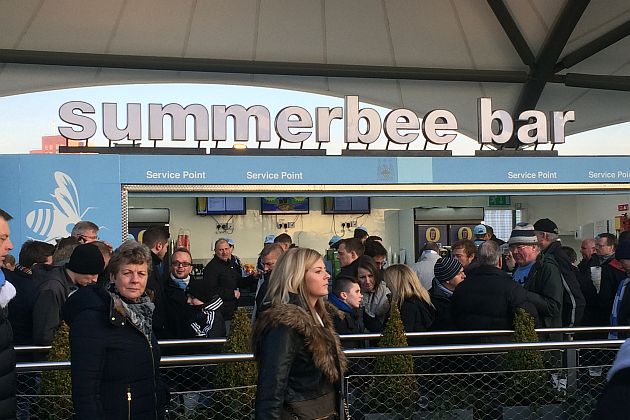 The Summerbee Bar before the game and before the home fans were sulking
What an amazing way to end an amazing year for our football club. We had an astonishing second half to last season, winning 49 points, and are now showing the Premier League that we have far more to offer than some of the pundits have suggested.
I did think I'd like to ask Garth Crooks his thoughts now but in truth I don't want to be anywhere near him. BBC Commentator Steve Wilson had it right yesterday, even telling viewers that we'd done little wrong when we went 2-0 down, so strange to here Gary Lineker suggest we'd been battered in the first half.
And Alan McInally on Sky heaped praise on us and in particular our manager. How very right he got it.
Just ahead of the final whistle, an announcement was made that the Burnley fans in the upper tier would be held back for a short time due to restrictions because of the building work. "You're not going home," was sung from the lower tier, followed by our response of: "Were not going home."
Lower tier - a message for you. We didn't care, we really didn't. They could have kept us there all night to celebrate.
I don't know how long it was before we boarded a tram on the return journey. I was introduced to Ashley Barnes' dad as I came out of the stadium, and what a day he must have had. Then I got chatting to two Borussia Mönchengladbach fans who were guests of a German speaking Claret. I'm polite, I said Auf Wiedersehen Pet.
We stood chatting to other Clarets by the Summerbee Bar (how good it is of them to name one of their bars after an ex-Claret) as the home fans with their drooping heads prepared to sulk, before making our way home and looking forward to our next visit.
Someone said we are the only Premier League team never to have lost there. I don't know about that, but what remarkable games they've been. City have moved on a few strides from last time. Then we were worrying about the quality of Joleon Lescott, Wayne Bridge, Shaun Wright-Phillips and Stephen Ireland.
But we've moved on a few strides too - what a magnificent day it was yesterday. What a magnificent way to end our 2014 football.
The teams were;
Manchester City: Joe Hart, Pablo Zabaleta, Martin Demichelis, Eliaquim Mangala, Aleksandar Kolarov, Fernandinho (Scott Sinclair 88), Fernando, Jesus Navas, David Silva, Samir Nasri (Frank Lampard 76), James Milner (Stevan Jovetic 62). Subs not used: Willy Caballero, Bacary Sagna, Gael Clichy, Dedryck Boyata.
Yellow Cards: Fernando, Jesus Navas, Pablo Zabaleta, David Silva.
Burnley: Tom Heaton, Kieran Trippier, Michael Keane, Jason Shackell, Ben Mee, George Boyd, Dean Marney, David Jones, Scott Arfield, Danny Ings, Ashley Barnes. Subs not used: Matt Gilks, Kevin Long, Nathaniel Chalobah, Ross Wallace, Michael Kightly, Lukas Jutkiewicz, Marvin Sordell.
Yellow Card: Ben Mee.
Referee: Kevin Friend (Leicestershire).
Attendance: 45,608.