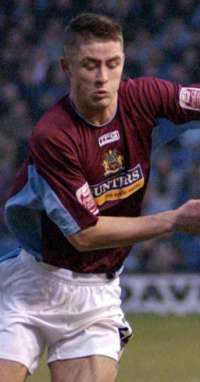 A Fine Claret - Gary Cahill was one of eleven of them
For the Clarets it is now fourteen points to go to reach the supposed safety barrier, but for many in the home ranks, it is now more a case of ifs and maybes as Clarets look to add to the squad with the impending departure of Robbie Blake.
Seemingly Birmingham bound, Blake sat this one out on the bench and curiously did not even take part in the warm up, his Turf Moor stint now at an end.
Blake's recent comments were remembered by some in the crowd who elected to jeer his name, but this was mild compared to the angry reception directed at Paul Jewell, seen by many as the orchestrator in recent weeks of Blake speculation and who had to endure the wrath of many in the Bob Lord stand as he took his place in the visiting technical area.
Once the game got underway, it was clear that Wigan were missing the suspended Roberts, their long diagonal ball tactics allied to long range shooting were to prove their downfall.
For the Clarets, missing Frank Sinclair was less noticeable and the central pair of McGreal and Cahill were simply magnificent, withstanding all that Wigan could muster in a resolute defensive display, which when coupled to the strengths of Camara and Duff meant that Jensen's task was more keeping warm on a bitterly cold, wet afternoon.
Jensen was the first of the 'keepers brought into action and he was equal to Mahon's shot from the edge of the area on the quarter hour before a moment of indecision left the big Dane stranded as Ellington's one chance in the half sailed on to roof of the net.
On twenty five minutes came the winning moment putting a smile on the majority of the crowd. Duff's curled cross to the far post was headed powerfully downwards by lone striker Moore and despite Filan's good initial parry on his line, captain Branch was on hand to powerfully finish into the roof of the net from three yards.
That's two in two for DiBranchio, doubling his tally to date this season and the crowd were quick to chant his name somewhat sarcastically as Blake sat a watching.
Mahon tried another from long range but this one failed to trouble the Beast as the game's quality faded and questions began of Wigan's lofty position in the table as they struggled to break down the two solid lines of Clarets defence where O'Connor and Grant in central midfield covered the miles in pursuit of Wigan's attempts to find space.
HT 1-0.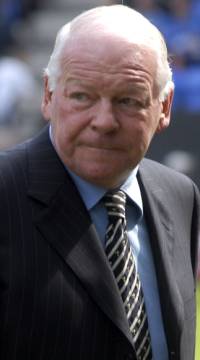 Sour Grapes - Dave Whelan the chairman of boat rocking Wigan
Burnley resumed with a 4-5-1 formation; Wigan resumed with the same tactics, but in truth they failed to breakdown the Clarets, not once did they get behind Clarets' lines and everything they did muster was from too far out to cause any real problems.
Ellington was so superbly looked after by an assured Cahill, that he had only two half chances in the game, Bullard was kept quiet by Duff and after that Wigan's threat was suffocated in the stranglehold of Cotterill's well drilled tactics of organisation and sheer graft as two defensive banks continually swept across the pitch.
McCulloch showed a neat touch and in setting up the shot Jensen was equal to the effort as he was on the hour mark when the two came face to face once again.
In between, Branch had a wild slice at the ball when given a half chance with Duff once again the provider as an effective overlapping defender, his role with Roche working well down Clarets right.
Down the other flank, who else but Camara was the main threat to Filan and a trademark run from deep ended with a powerful shot that Filan could only parry into the air, Roche unable to get sufficient power into the headed follow up.
The move was enough to spark the crowd into life and Jewell saw it as time to make changes, when Flynn replaced Mahon.
Good holding work from Moore set up O'Connor and the busy little midfielder was unlucky seeing his rising shot go over Filan's bar with twenty minutes remaining.
Wigan tried to up their game in the closing stages in which McGreal was outstanding, defending superbly at the expense of a corner as the threat increased. A poor clearing header from Roche saw a Graham volley saved by the legs of Jensen, the same player trying his luck moments later, but this time his shot was deflected for another corner as Clarets defended stoutly.
It was back to shots from distance as the minutes ticked away and Bullard came closest with a diagonal blast over the angle.
Teale replaced Baines in the last throw of the dice by the visitors and Bullard set up Ellington five minutes from time, the effort though was half hearted and the Beast made an easy catch as Clarets saw out of the remainder of the game in which Chaplow replaced a tiring Roche.
Ref Neale Barry brought proceedings to an end, thirteen thousand enjoyed their moment and three thousand trudged away, no doubt muttering discontent as their Premiership dream begins to fade.
By contrast it is a Happy New Year to all in Claret, with thirty six points in the bag, who sit eight points better and ten places higher than a year ago.
FFT 1-0.
Att:- 16,485.
Sour grapes
It was justice that Wigan put in such a below par performance and it perhaps reflected that they have spent more time in recent weeks attempting to rock other people's boats than they have in steadying their own ship. With the Blake saga now drawing to a close it's time to move on, for the Clarets this will no doubt be in an upwards direction.
A fine Claret
Well I counted eleven of them, each superb, who gave their all and rarely gave Wigan any space in which to create chances. To single one out is somewhat unfair on the others as Clarets kept their fourth consecutive home clean sheet, but if one stood out it was Gary Cahill. Nathan Ellington can rarely have had so little in a game and the youngster from Villa goes from strength to strength with each game. Here's hoping Villa's injury crisis improves and that O'Leary allows him to continue learning his development in sunny Lancashire.