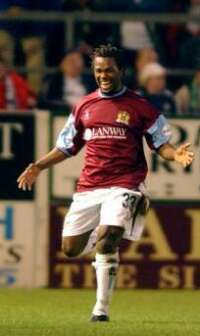 Star Geezer - David Johnson
It was a happy end for the leader of the Al Bladea network, the South Yorkshire cave dwellers easing past a disjointed Clarets side. Good finishing enabled an otherwise ordinary Al Bladea side to take the three points, Clarets once again needing to take a look at themselves in the promotion hunters mirror, as they creep nervously towards the playoffs. Having gone over the tops and into the harsh wilderness of Bin Warnock territory, the 3,000 or so from the Lancashire regiment deserved better than this lacklustre away day.
Defensively, Clarets looked uneasy throughout, a situation made worse after the early loss of an injured Cox, who with no replacement on the bench, forced Clarets to change their shape in a first half where they were decidedly second best. In midfield, Grant and Gascoigne never got going, the latter like the 3,000 in the stand, seemingly content to watch the game go by and wide man Alan Moore was also poor, guilty of losing the ball and often not bothering to chase back to retrieve the situation. Up front the untried trio of Taylor, Mooro and Johnson failed to function, Mooro's half time substitution enabling Stan to switch from an initial 4-3-3 to a more normal and more productive 4-4-2 in the second half.
After the publicity hype of a near sell out crowd, the Clarets took to the field in front of large gaps in the home stands, the media men exposed for an overstated PR exercise and with Star Wars bellowing all around Clarets kicked off in an unusual 4-3-3 formation. It was a doomed tactic, Clarets were overrun from the off in midfield and Bin Warnock's troops were clearly ready for battle on the pitch. It was fully five seconds before Thomas was knocked to the ground, but only five minutes before Beresford was thankful to be right place right time, when collecting D'Jaffo's good header on the line.
Gascoigne's miserable day started on ten minutes, when after holding the ball, he misplaced his back pass and Peskyliladdo was put through, one on one with Beresford. Thankfully, the keeper did well and tipped away the goal bound shot for a corner, a red faced Gascoigne thanking his keeper for retrieving the embarrassing situation.
Clarets were slow to start, poor in the challenge and second to most loose balls and it was this lethargic approach that almost led to an opening goal, Grant and Cox easily losing out in their half-hearted challenges before Peskyliladdo was unlucky when his first time reverse shot was just wide of the far post. It was Cox's last action and after being injured from an earlier challenge Clarets were forced to make a change on the quarter hour, Alan Moore coming on, Ball reverting to a central defensive partnership of a combined seventy three years of age with Mitchell Thomas.
West went into Mr Laws' book for making the dangerous Ndlovu into a hurdler, before Al Bladea took the lead. From yet more early pressure Ndlovu was allowed freedom in the left side of the box before the ball was knocked out of the area, but only to Jagielka, who hit a first time swerving shot that Marlon could get a hand to, but not stop from nestling in the corner, the youngster claiming his first League goal for Bin Warnock.
Cue Mission Impossible music and chants from the local baseball cap wearers adjacent in their bunker, with their threats and petty gestures; another motley crew, most of whom could still get on the bus for half fare. Still the local plod moved in to form a green line of guardianship and everything calmed down.
Buoyed by this, the home side continued their bombardment and Beresford was a lucky spectator when watching Jagielka's header go wide only two minutes later. By contrast, Clarets were not able to get a hold of the ball, the time in possession was minimal and the passing options similarly so, leading to hopeful more than intended passes down the line to the front men, in turn caught offside more than not, as Curle's rearguard proved a frustrating last line.
It was twenty five minutes before Tracey was called into action, this after Johnson's solo run produced a good left footed shot as he cut inside his man. Peskyliladdo was deservedly booked after a diving header turned deliberate handball, this his second such offence, before Johnson tried his luck again in a repeat dribble from his wide right position. Clarets were allowed into the game as Al Bladea started to rest on their lead, but their remained few options to pass forwards all over the pitch.
By contrast, Al Bladea were much quicker and almost scored when countering from a Clarets corner five minutes from the break, thankfully Ndlovu getting himself into a tangle with Briscoe, instead of laying the ball square to two completely unmarked team-mates. Clarets got to the half time break only the one down and needing a clarity of thought and a resurgence in their determination in order to successfully combat Bin Warnock's men.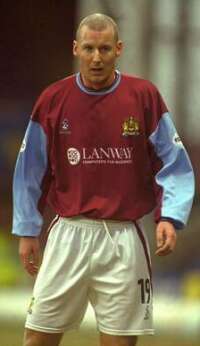 Star Gazer - Lee Briscoe
Reverting to 4-4-2, Stan started the second with Weller replacing Ian Moore. With Star Wars again pumping out, R2D2 and his chums came out unchanged. The pattern of the game did not though and Clarets were two down within two minutes, the defensive mismatch of Thomas and Ball failing to shut down D'Jaffo, whose first time shot gave Marlon no chance as it flew into the corner from twenty yards, a painful blast of Mission Impossible once again hitting the eardrums.
Clarets tried to reply, Weller's neat ball through was collected by Johnson, but his run and shot made for an easy save for Tracey. Weller robbed Nicholson on the edge of the home area, but delayed his ball across and the situation was retrieved, a corner conceded, from which Taylor headed over. Enjoying this brief spell, Clarets tried to press on. A huge kick by Beresford saw Taylor win his battle against Curle before Tracey saved his shot when a goal looked odds on.
It must have been too much for the keeper and in holding the ball longer than his allotted time, Mr Laws awarded a free kick just inside the point of the area. Up stepped the subdued Gascoigne, somewhat unlucky to see his goal bound shot deflected for a corner.
On the hour mark, Montgomery replaced Tonge, before Ball and West had a mutual shouting match after allowing Peskyliladdo through on goal, their misjudgement of a loose clearance almost costing dear. Johnson wasted a great opportunity when miscontrolling Grant's great ball, but collectively Clarets were giving the ball away all over the pitch, none more so than Alan Moore's give away which allowed D'Jaffo a clear run at goal, forcing Marlon into action yet again.
With twenty minutes remaining the disappointing Gascoigne was replaced by Andy, Andy Payton, Stan electing to partner the Predator with Taylor, Johnson moving back in the process. Al Bladea returned to normal as two Clarets were felled within ten seconds. In an off the ball incident, Weller was felled by Uhlenbeek and as Alan Moore went past his man he too was felled, Mr Laws deciding the first was worth a yellow, yet ignoring the second incident.
With fifteen to go, Clarets almost forced a goal, as chaos ensued in the home goalmouth, Taylor, Johnson, Grant and Moore all having a go in the scramble, before the ball was eventually hacked away. Peskyliladdo was replaced by Ford before Taylor was unlucky to see his looping header come back off the bar, Tracey a thankful spectator. The less said about Thomas' skyward effort from the rebound the better.
With five minutes remaining, Johnson was desperately unlucky to see his header from point blank range hit Tracey on the line, before Al Bladea got the third and final goal. In a quick break down Clarets left, Briscoe left his man all alone, Ndlovu played a neat ball inside and Jagielka was able to shoot first time and with a right footer that curled past Beresford's despairing dive and into the far right corner with two minutes remaining.
Taylor should have done much, much better than glance West's good cross in injury time, but whilst the final score line may have flattered Al Bladea at the end, Clarets could have no complaints in the award of the points and the fact that Clarets have not won in Sheffieldistan since 1973 continues.
Att: 19,003.
Star Gazer
Lee Briscoe. The former Wednesday man was slow, inaccurate and well below his normal par on the day. Often allowed far too much time and space defensively and when going forwards the quality of the pass was poor. Pipped Alan Moore and Paul Gascoigne for this prestigious award, but only just.
Glass Half Empty
I would dearly love to know what the game plan was for this game. Can't think that allowing the opposition time and space, or half heartedness is going to gain anything against a team like Al Bladea. Bin Warnock could not hide his pleasure in the post match interviews at the comfortable nature by which his troops put one over on his old enemy. Clarets clearly missed the defensive strength Steve Davis provides.
Star Geezer
David Johnson. Though caught offside far too many times, he at least make a sustained effort throughout the game. Unable to use his pace and played in an unaccustomed wide right position, he did at least carry a threat to the home defenders.
Glass Half Full
Thank God we only have to go to a place like this once a season. Party poopers last year, Al Bladea always seem more fired up when we play there.