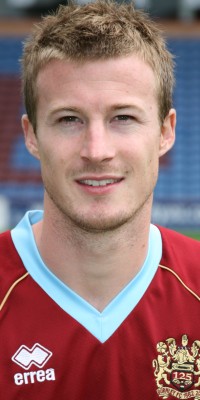 Wade 'Billy' Elliott
We'd been treated to a tantalising appetiser of just how well our team can play, made so much more filling by the fact that that performance was against the gourmet of football in this country.
But today, it was time to return to the main course.
On the day where season ticket holders could bring along two friends to the game, it was the team with 'Holland's Since 1851' emblazoned across the chest that started the better. Almost immediately, Wayne Elliott expressed his "up-for-it-ness" with a couple of strong runs and link up play that had those with 'Ginsters' on their shirts chasing shadows.
Yes, I know that it's 'Wade' but the fella' next to me made a very valid point after the winger had again trotted inside with the ball with the Argyle defenders in a spin. "Well done Wade! Actually, I'm not calling him Wade. He's not from Texas. Come on Wayne!" I think you will agree- good point. So, until he announces to the LT, or in an interview with our very own HolyCustard, that he has any Texan blood, I shall refer to our number eleven as 'Billy'.
It seems fitting that I've discussed Billy so soon into the report. With this being my maiden report for Clarets Mad, I was hoping for something or someone to stick out in order to make it an interesting one to both write and to read. Stand up Wade Elliott. (Just for that bit, I'm scrapping the 'Billy' termination; he deserves his proper name there!) From the off, we carried our passing game from the FA Cup and took it into the league. We looked to play the ball simply before resorting to any long ball alternative. Elliott epitomised this. Countless times he came short to collect from Alexander or O'Connor before either rampaging up the right, cutting inside or playing the ball again. The most key description for all of this is, 'simple'.
We were never scared to play the ball backwards in order to re-start another example of flowing football. And that's exactly what it was. I really don't think I'm exaggerating when I say that the passing was smooth and sophisticated. The midfield of Gudjonsson, Harley, O'Connor and the aforementioned Elliott all had time on the ball and each got forward. Gudjonsson in particular picked out his Claret colleagues with some sublime long balls complimented by O'Connor and Harley alongside him, both making gritty tackles on the halfway line before triggering advances.
Yes, we played with just one recognisable striker for about an hour but if we played 4-5-1 it was definitely a positive take on the formation. The change in shape was possibly down to the injuries of Ade Akinbiyi and Robbie Blake and the absence of Kyle Lafferty through suspension. Initially, it was difficult to see what formation we were playing. Steve Jones was up top with Gray from the kick off but seemed to drift into midfield when we didn't have the ball. Perhaps a bit like 'drift' wood- moving aimlessly without any control. When we had the ball however, it was obvious that we weren't looking to be defensive. As stressed previously, the football was a joy to watch. Throughout the game, much of the attacking play pivoted on the superb form of Billy Elliott and the simple passing and moving of the players around him.
Despite the impressive football on display, we never really managed a clean-cut chance on goal. From the first ten minutes when Elliott fizzed in a cross to the near post, our intent was clear. Play was fantastic in the final third until it came to that cutting edge. One could say it was down to the fact that only one recognisable striker was on display but even though this was the case, the midfield often supported Andy Gray. The half was begging out for a one on one situation for Gray but it never came. Plymouth rarely got towards our penalty area at all and Brian Jensen's main job was to feed the ball back to his defenders to start another passage of play. The play was all manufactured by Burnley but we lacked that little something in the opposition's penalty area. Outside of the area, Joey Gudjonsson came close with a dipping effort not to dissimilar to the kind of pops familiar with Cristiano Ronaldo.
The half came to a close with the score level. This wasn't a fair reflection as Burnley had dominated. Without a home win since the 2-1 victory against Norwich City back in late October, it was unavoidable to think that perhaps the run would stretch due to our inability to score. Personally, this niggle began to glue itself to the inside of my head and was screaming in the same voice as Cerys Matthews: "You aren't going to score…!" when Plymouth came out and seemed to attempt to play football. It only lasted five or so minutes and Burnley got back on top pretty comfortably.
Jon Harley was a terrier in the middle, mopping up any stray balls. James O'Connor adopted his usual 'ankle-biter' role but added to this the intent of bursting forward to assist the superb Andy Gray. Joey Gudjonsson was of a similar mould. After some lacklustre early performances in a Claret jersey, Joey seemed to be playing the way that made him so highly regarded by Leicester City fans- although the 'Forbes Solicitors' sign in between the lower and upper tiers of the Jimmy McIlroy stand will be hoping that the Iceman doesn't feature that regularly after his second half 'shot' smashed into it!
Then, Burnley scored. Jones took his chance very well, though unreflective of his overall performance. Cerys Matthews returned in my head- "I told you! I told you!" as the goal was straight away disallowed, as he was offside. It was at this point that I was sure that I saw Chris Moyles, Rik Waller and Christopher Biggins all lie down in the Plymouth goal. It looked as if we just weren't going to score.
Enter Mr. Robert Blake, who replaced Jones on 56 minutes. I presumed that Blake wasn't fully fit as if he was surely he would've started. If he wasn't fully fit, his performance was even better!
Burnley played the same way as they had started. Gray was very much up top with Elliott and Blake on either side when attacking but dropping deeper when not in possession.
It was fitting that the goal that we so deserved came through the magical Elliott. He jinked his way through on the right of the penalty area. We had players running into the box to capitalise on the wingman's good play. Gudjonsson was screaming for a pass, Blake too. It was Blake who received the ball, volleying it in, looping in over McCormick in the Argyle goal. It was nothing more than we deserved. That first home win in three months looked to be sealed with Plymouth not offering anything to threaten our dominance.
Blake continued after the goal, striking from distance- pulling a save from McCormick. This was followed by an effort from Graham Alexander, the Scot shooting right down the throat of the Argyle stopper.
Cerys Matthews was by now gagged and placed in the corner.
There is a definite buzz around the Turf. Today we beat a team above us in the league. Whether they came for a point is irrelevant. We played them off the park. Most warming is yet to come- we did it with a significantly 'weakened' team. It wasn't weak at all though. The passing was sublime. The attitude to attack but to do the simple things well is refreshing. We have a team that can give anyone in the division a game- we've proved that. We can be gritty when needs be but now we are developing an aspect to our game that is both attractive and effective. No doubt, we should've scored more today. Our dominance was clear. If only Gray had gambled on two drives across the area, we'd have a convincing score line for the rest of the league to be looking at tonight. Although this isn't the case, we as Clarets fans know we played well. We as Clarets know that the Owen Coyle revolution is seeing us take attractive football as a priority. Of course, we're not completely there yet. Though after today, we can be confident that the future is indeed a very rich shade of Claret.