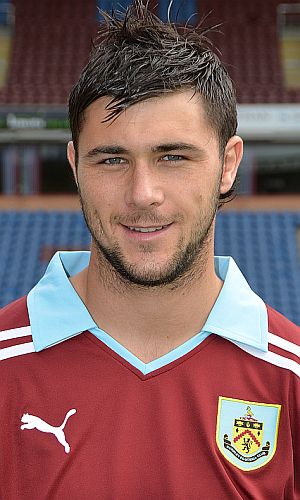 Brickie Austin, a goal poacher of the highest order
The team performance was much improved from some of the earlier lacklustre efforts we've seen from the Clarets this season but it was Austin, who previously worked on a building site, whose display capped off the day. Charlie simply put in the kind of striker's performance not witnessed by Burnley fans since the days of Andy Payton. His single-minded quest for the finishing touch was too much for Derby and with a bit more luck, he could have finished the game with a couple more.
The game was a quick and hurried affair with both sides willing to go forward and pressure the others defence. Although the play was not always of the highest quality it was end to end football and kept the crowd on the edge of their seats.
Burnley's passing game was the more controlled of the two and we always looked to get the ball down to feet. Although we were measured in our play wet didn't fall into the trap of static tippy-tapping as we have before - there was also forward momentum and whenever we attacked in numbers we caused no end of problems for the Derby defence.
A taste of things to come came as quickly as the third minute when a diving header from Austin brought oohs and aahs from the away end, despite being signalled offside.
Derby were, perhaps surprisingly given their 100% record, more hurried with their play than Burnley. They seemed to have a deliberate policy of direct play and our first attacks were broken up by long punts down the park that sought to put the spine of our defence under pressure.
Maybe, just maybe, Clough Jnr. had done his homework on the Burnley backline but the central pairing of Edgar and Mee stood firm and had enough about them to snuff out this simple threat.
Derby didn't seem to vary their play from this singular tactic which was fortunate for us because when their right back Brayford went on a mazy run, cutting across the heart of our team from right to left, it threw panic and chaos into our rigid formation but Derby seemed as puzzled as ourselves and were unable to capitalize.
Gladly for us, they did not repeat this one-off and the pattern was set for the first half: We controlled our possession better than Derby and looked to play a composed build up game but when Derby broke, they did so with pace and genuine intent. The more we pressed and probed, the more we looked vulnerable to one of Derby's direct breaks.
The better chances all fell to us. Treacy and Wallace both cut in from their wings only to shoot over and Edgar was set up with an opportunity on the edge of their box from one of our now trademark corners. The ball was played from the corner along the floor to the edge of the box, dummied and left for the Canadian but his shot was always a little too high to cause any real concern for the Derby keeper.
The defining moment of the half came when a cross from our right hand side was pounced upon by the ever-ready Austin. He rose to meet the ball and headed it goalwards. Many of us at the opposite end of the ground rose up too, expecting to see the ripple of the back of the net, many of us cheered prematurely but the post intervened and before we had even sat down Derby were upon our back four.
Fortunately we held firm and Edgar was able to get the ball clear and we repaid Derby with a break of our own. We took play to the edge of their box and pinged the ball around but seemingly could not create a clear-cut opportunity. Eventually, it fell to McCann but just as he drew back to take a shot at goal his legs were taken from under him and the ball bounced harmlessly away.
The away end were on their feet with expectation again – this time for a penalty – but it never came. Having seen the incident replayed on the screen at half time, I honestly don't know how the referee justified it to himself. We'll surely get one of these decisions at some point in the season.
The second half started brightly for the Clarets. Ex-brickie Austin and Rodriguez were linking up well and created a nice passing move that brought Wallace and McCann into play.
All that we needed was some cutting edge up front and to remain steadfast in the face of the Derby breaks which became trickier to deal with following the half-time introduction of the lively Theo Robinson.
The break through came in the 49th minute. The 'lazy' and 'selfish' Treacy chased down, harried and hassled a lost cause in Derby's left hand corner. He blocked their left-back's clearance, pounced upon it before it went out for a goal-kick and advanced towards goal along the edge of the goal-line.
Treacy could well have won a penalty when the dispossessed left-back clipped his heels but he had better ideas. He pulled the ball back for Austin who kept his head as level as a well constructed wall. Six yards out from goal, he controlled the ball, waited for the keeper to commit himself before thwacking it into the back of the net. It was the easiest of finishes for Austin. Bread and mortar for the goal-hungry striker.
Our two central forwards combined again almost immediately afterwards when Austin laid off a long ball for Jay who turned and swivelled well but whose shot was disappointing. It looked for all the world that we were going to take charge of the game completely but we never make it easy on ourselves.
Whilst we looked capable of dealing with Derby's first half direct attacks, we were still insisting on playing the ball out from the back. In the first half, this hadn't been much of a problem but the introduction of the harrying Robinson into the Derby attack caused us problems.
In the 56th minute we conspired to play around with it too much at the back and Derby were on us immediately. Following some suicidal sideways passing, the ball fell to Derby and Ben Davies whose shot looked as certain to hit the back of the net as Austin's first half header had done. The ground rose to celebrate but they had not counted on Ben Mee who flung himself kung-fu style at the goal-bound shot to clear it off the line.
I haven't seen a last gasp clearance as committed as that since the days of Chris Brass. It's probably fair to say that Mee has a lot more talent than Brass but as Brass demonstrated, attitude is often more important than talent. In Mee with have a young man with talent and application and this clearance deserves as much credit as a goal at the other end because it was no less important.
The Derby pressure grew and as the second half drew on they put us under more and more pressure. Chances were at a premium for them and when our defence were organised, they rarely looked like getting a clear shot at goal.
Unfortunately, as anyone who has seen us play this season (or last season, or the season before, or the season before…) will tell you, our defence is not always organised as it should be and yesterday was no exception.
Easton was doing a good job when it came to putting in tackles, blocks and not letting his man turn him but when it came to movement off the ball he did not deal with the threat as well. In fairness to him, he got precious little support from Wallace but the pair of them were split several times by simple one-twos that could have been prevented by proper organisation, understanding which man to follow and not getting sucked into ball watching.
It was no surprise when the Derby equaliser came down our left hand side.Derby caught us flat footed with a quick throw which looped over Easton and Wallace leaving the unmarked runner Brayford to thread the ball across our goal for Robinson to slot in.
There were fears in the away end that our shaky confidence would lead to an onfield collapse but credit must go to all the players for digging in at this point. They showed real strength of character and determination to come back at Derby and minutes later we were rewarded for our endeavours.
Jay chested the ball down delicately for Wallace on the edge of the Derby box and the Scotsman volleyed in a fierce shot that dipped and swerved before the Derby keeper. He could only parry it out a few yards and quickly Austin was there to smartly slot home the winner.
The last quarter of an hour was far nervier than it should have been. We had chances to put the game out of Derby's reach but never managed to do so. Treacy hit the post again and Austin should have had a hat-trick when Jay set him up in an almost carbon copy of his first but his shot went ballooning over. To be fair to Austin, I am convinced that the ball took a bobble. Others say he just sliced it but nobody believes for a second that he bricked it.
As we failed to secure the third goal that would have demolished Derby's hopes of an equaliser we were pressed ever deeper and deeper into our own half. Amougou came on for Austin in the 85th minute to protect the back four but it seemed only to entrench us further into our own half.
The referee also seemingly fancied a score draw as much as the Derby fans. He added on an improbable 7 (seven) minutes of stoppage time and then proceeded to play on for 8 (eight). Eventually, the Derby pressure came to nothing. Marney should have added a third with a breakaway that saw him clear through one-on-one but his attempted nutmeg was a poor decision when he had only the keeper to beat.
When the final whistle eventually came it was a great relief and we could finally bask in the joy of our first three points of the season. Not even the downpour that came on the stroke of full-time could dampen our spirits.
The post-match talk in the hospitable pubs of Derby was optimistic and the free-flowing ales help bring up a few uncanny omens from the past:
A million pound player who struggled with fitness after joining Burnley but finally 'came good' for the first time, scoring the winner in a 2-1 win at Pride Park? That would be Robbie Blake in 2002.
A Burnley team that were fancied as dark horses but hadn't won all season long who travelled to the East Midlands and won 2-1 with both goals coming from the same player? That would be Owen Coyle's Burnley winning at Nottingham Forest in 2008.
I enjoy omens like that but it's daft to read anything into them. I much prefer to concentrate on the tangible and what is tangible right now is that we have a very talented set of young footballers at Burnley. And in Eddie Howe we have a good young manager with the prospect to become an excellent manager who can take us places.
We also have, in Charlie Austin, a goal poacher of the highest order. A striker with a goal poaching instinct not seen at Turf Moor since the days of Andy Payton. And did I mention he used to be a brick-layer?
All together now:
He used to build walls,
He used to build walls,
He's Charlie Austin,
And now he scores goals!