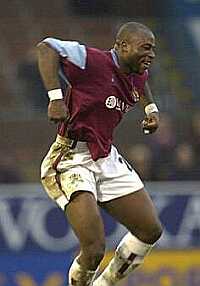 Arthur celebrates with a dance
It has always been difficult for fans to pick in advance the starting 11 that Stan will choose and I can guarantee that nobody other than Stan would have gone for the 4-5-1 starting formation with Gareth Taylor as a lone striker and £2 million worth of strikers on the bench.
I have rarely seen Burnley play well playing this formation at home but, in the first half at least, it did look to be working as we played some of our best football at home for ages.
Lee Briscoe fired our obligatory first minute free kick straight at Ward in the Forest goal and it was Ward who was kept by far the busier of the 2 keepers in the opening half hour. What the Clarets have been missing in recent home games is an early goal and on 17 minutes Taylor looked like he had provided it after Briscoe's deep cross found him unmarked on the far post but with Ward well beaten the ball bounced agonisingly wide.
Forest had hardly been out of their own half at this stage as the 5 man Clarets midfield dominated with some neat passing but with only Taylor up front our attacks were one dimensional with often the only option being to look for big Gareth's head. Time and time again though Taylor beat his man and headed at goal only for Ward to pounce on them or palm them over.
The passing and movement from the midfield was generally pretty good but with 5 of them it was difficult to see why either Little or Alan Moore were not getting wide. Repeatedly Dean West went forward in the position that I would like to see Glen Little get the ball i.e. on the touchline with some space in front of him. On the left Alan Moore was seeing a lot of the ball but he too tended to come inside with it all the time and his distribution was frankly poor.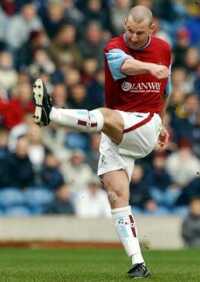 Lee Briscoe fires in a free kick
This all resulted in congestion in the middle and all too often the Clarets were left to try and play fiddly 5 yard passes through the eye of several needles as our attacks reached the edge of the Forest box and it was a pattern that was to be repeated in the second half.
After having failed in our attempts to grab the early lead Forest started to emerge from the shell with Marlon Harewood looking particularly dangerous. Arthur kept him quiet for the first 40 minutes and he really did look to be back to his best with some trademark tackles and one completely needless but wonderful backheel across the edge of his own area which saw Stan rushing to light a fag. Chris Cross was undoubtedly right when he sang 'Arthur he does as he pleases'!
Despite hardly having a chance of note previously Forest then could have had scored 3 times in the 5 minutes before half time. Firstly Marlon Beresford displayed a familiar weakness in rushing outside his area and getting nowhere near the ball which left Harewood with only Arthur to beat. Arthur did what all good goalkeepers should do in standing up big and strong in front of him and superbly saved Harewood's shot with his feet.
Harewood then shot wide from another decent chance before West was caught out of position allowing Lester to dart down the Burnley right and fire in a cross for Harewood who made good contact but somehow raised his shot over the bar from only 6 yards.
This was scary stuff but as the half time whistle blew the Clarets received a deserved round of applause for a good performance in what was turning into a very good match.
Robbie Blake replaced the injured Tony Grant at half time and showed some nice touches but it was difficult to tell if he was playing in midfield, the moon, attack or New York City as the Clarets struggled to find their shape and it was Forest who started to have the best chances.
In almost carbon copy attacks a ball into the middle found first Reid and then Harewood unmarked but Beresford saved brilliantly on both occasions. The second of these chances saw Stan take off Robbie Blake, who had only been on the pitch for 20 minutes, and replace him with Gordon Armstrong. More scratching of heads occurred as Blake didn't appear to be injured but it was clear that Stan wanted a more defensive minded midfielder to sit in front of the back 4 and that is exactly what Armstrong did.
At the other end Burnley were left looking to feed off scraps from Gareth Taylor and, as happens the world over, the crowd started to get frustrated at the Clarets inability to create a clear-cut opening.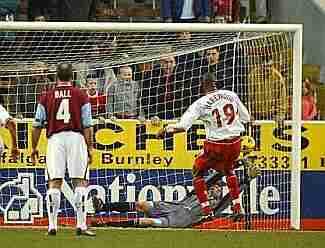 Beresford nearly saves it
On 70 minutes disaster struck as Harewood, who had been allowed a lot of leeway by referee Frankland in his challenges on Cox and Gnohere, hauled Cox off the ball on the touchline and advanced into the box. Arthur hauled him off the ball in a similar way to which Harewood had just been allowed to get away with and it was a penalty. Harewood went down very easily and it looked a harsh decision to me but Harewood was fit enough to score from the spot though Beresford again almost kept it out.
The crowd called for the introduction of Ian Moore and got it as Cox came off allowing Armstrong to drop into centre half. Whether it was simply a case of Forest sitting back I don't know but Armstrong and Arthur didn't allow them another chance and with 20 minutes to go it was a question of if we could get an equaliser.
It didn't look likely as chances came and went with Taylor probably the biggest culprit when he glanced a free header from a free kick straight at Ward. Corners came and went as did a couple of free kicks on the edge of the box and you just thought it wasn't our day again when on 88 minutes Briscoe curled over a free kick from the left onto the head of Arthur at the far post. His header wasn't the most powerful but it was headed down and towards the corner, which is all you can ask for and it had enough on it to beat Ward's despairing dive.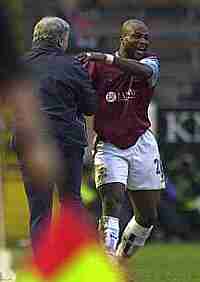 Stan congratulates Arthur
At last the home crowd was treated to Arthur's goal celebration as he galloped back upfield, did a little dance, shook Stan's hand and then kissed him, magnifique.
3 minutes of injury time but no real chances for either side and we had to settle for a point from a match in which most Clarets fans would have been looking to pick up all 3. There were signs of some frustration at the end at our failure to win but most folk stood to applaud what had been an entertaining First Division game between two decent sides.
Arthur was my Man of the Match for a much improved defensive performance, his clearance from Harewood being worth a goal in itself. He is certainly unorthodox and prone to the occasional lapse but there aren't many defenders in this Division that I would swap him for and I certainly wouldn't want him to change. As Chris Cross sang:
'Living his life one day at a time, he's showing himself a pretty good time, he's laughing about the way, they want him to be'