Gordon Harris, Andy Lochhead, John Connelly, Willie Irvine, Alex Elder, Brian O'Neil, Terry Cochrane, Tony Morley, Brian Hall, Jason Shackell and Danny Ings. When I left home yesterday, these were the players I've seen score in wins at Ewood. When Keith Stroud blew that final whistle yesterday the name of Scott Arfield was ready to be added.
Arfield will be remembered as the hero yesterday and rightly so. He scored the only goal of the game at the Blackburn End before leading the charge down to the Darwen End where he was met with over 4,700 delirious Burnley fans while thousands more watching on televisions across the world were joining in with the celebrations.
It crowned a long day with the bus operation. I know people won't go because of that, and I totally respect their decisions. I have very good friends who won't attend this fixture because of it, but, as I said last time, I wouldn't miss it for the world. There is nowhere else I would want to be when the final whistle signals a win than right there taking in every last minute of the occasion.
That bus operation is becoming part of the occasion and I do have to say that the return journey along the A666 can be quite an enjoyable one as the home fans daft enough to think they can achieve something by abusing us make themselves look fairly ridiculous.

For our group yesterday it was a bit different. We opted for the Lower Philips Road pick up so actually were given the opportunity to drive to Blackburn before being taking in by coach, yes coach, an outstanding improvement on some of the transport used in previous years.
Six years ago they got us there so early that I think I had to take about three meals with me; this time it was much later and I think it must have been around 12:10 when I went through the turnstiles.
There had already been a surprise with the team news. George Boyd, it had been suggested, was touch and go and I wasn't expecting him to be involved. But he was back, and straight back into the starting eleven with Matt Taylor back on the bench.
I'm not sure it has ever happened before but there were four players involved in this game who gave played for both sides. Shane Duffy and Nathan Delfouneso were in the Blackburn side, although I think to say Delfouneso's was minimal was being kind on him. In the Burnley side, of course, were David Jones and Michael Keane, both of whom have had the misfortune to experience this derby on the other side, Keane actually making his debut for them on our last visit.
"Ewood Park, make some noise," screamed the tacky announcer just ahead of kick off. We did, and we didn't need to be prompted.
Some will view the first half differently than me. We certainly had differing opinions during half time, but I thought we were the better of the two sides although, in fairness, they probably created the best chances.
We played the neater football, looked more assured generally, but I accept that on another day Jordan Rhodes might have accepted one of possibly three chances although I'd say only one of them could have been classed as a real chance.
In front of us there was some decent play but there were just two stand out moments. I remain convinced we should have had a penalty for the foul on Joey Barton and had referee Stroud seen the afters from Grant Hanley then we most certainly would have had one and the Blackburn captain might well have been leaving us early.
Arfield came closest to scoring for us with a shot across goalkeeper Jason Steele from the left but the keeper made a good save as he got down and pushed it out wide.
The half ended with Rhodes, well positioned, blazing over the bar. It hadn't been the best of halves but, jus as was the case at Forest earlier in the week, I had no real concerns at half time and felt we were the better side and would come out and win it after the break.
For the first 18 minutes of that second half I had to concede that Blackburn were in the ascendancy. They took the game to us and were undoubtedly the better of the two teams. I could say they might have gone in front but the truth is they should have with the best opportunity of the match.
Rhodes and Tom Lawrence linked with Rhodes setting up Lawrence for an easy finish. It was there right in front of me. My heart was initially in my mouth but then I felt gutted at going one behind because there really was no other likelihood.
Thankfully he missed it and well done to the big screen operator who then repeated the miss on the big screen to our right on at least three occasions, allowing us to enjoy it a few more times with the appropriate roars accompanying each showing.
Rhodes had another half chance but when the next chance of the game came it decided the contest. Don Goodman on Sky described it as wonderful, a moment of beauty, accomplished and composed. I'm not sure whether I used exactly the same words at the time as the celebrations started ahead of the arrival of the players right in front of us.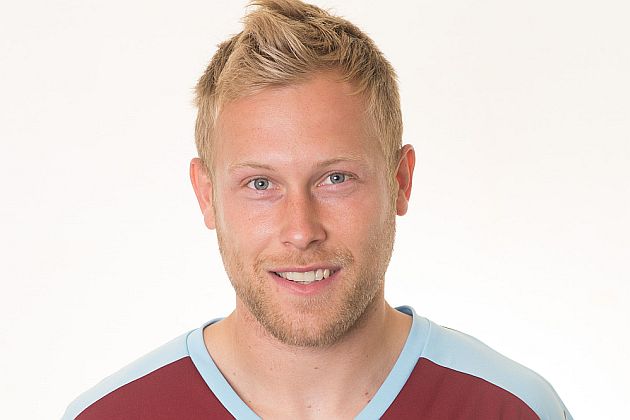 David Jones took a free kick on the left hand side which Sam Vokes won in the box. His header went almost straight up and the telling header came from Corry Evans who did not more than head it across for Ben Mee.
Ben would probably not be your first choice to be hitting a ball first time when it drops and he swung his left leg and missed. But he reacted quickly to get back onto the ball and lay it back for Arfield about four or five yards outside the penalty pox. From the moment his right foot shot left his boot there was only one place it was going.
Arfield turned to come and join us wheeling his arms to encourage every other member of the team to join him. Last time we got the goals right in front of us so with it having been scored at the far end it did bring it closer to us.
It hadn't occurred to me that once all of our players were back in our own half the game could have been restarted. It did to Sean Dyche which is why he said after the game that he wasn't happy with it. I have to say I enjoyed it.
It was the 63rd minute; I checked because I had 64 in the first goal sweep but the winner was mkmel. To be honest I wished it had been 83 minutes, or even 89, so we could get the thing over with.
Blackburn did put us under some pressure at times and they did deliver some good balls into our box. But I thought, once in front, we defended brilliantly and the only real scare was a shot from Craig Conway that rattled the woodwork.
Some will say had it been a couple of inches lower they would have equalised; having seen it again I'd say that a couple of inches lower and Tom Heaton would have saved it.
We got to the 90 minutes and were, given the high numbers these days, that there were only three minutes to be added. The home side huffed and puffed but we saw them out almost without a scare until Duffy saw Heaton tip over his header with two seconds of that three minutes remaining.
When Tom caught the corner it was all over. The final whistle blew and the celebrations could start. It was fantastic. We all waited for Arfield and the brilliant Joey Barton to complete an interview with Barton giving his shirt to a young Burnley fan at the front before taking abuse from the few remaining home fans.
Eventually, Dyche came out to do an interview and then came over again to applaud the fans. He had a grin as wide as you like across his face. He'd enjoyed it too and he knew what his team had given us.
When we were beaten there in the FA Cup over a decade ago, despite a really good performance, then manager Steve Cotterill said: "I'm only sorry I couldn't give our fans what they crave,"
Eventually we got it last year and now we've got it again. For so many these have been the first occasions of seeing us beat them. This was my eighth Ewood win and I can promise you that every one of them is just as good as the other.
We've played better than that, undoubtedly, but right now I don't care. This is the derby, this is the one where only the result can ever matter and we've only gone and done it again.
"We're not going home," we sang when the PA announcer asked us to depart the stadium. But we did, there's only so long you want to stay there before getting back to the land of claret and blue.
Once the bus convoy started to move it was an easy and, I have to say, enjoyable journey back to get those three points home.
It's only gone and happened again. Burnley have gone to Ewood Park and come home with all three points having beaten Blackburn Rovers in their own back yard.
The teams were;
Blackburn: Jason Steele, Ben Marshall, Grant Hanley, Shane Duffy, Markus Olsson, Craig Conway, Hope Akpan, Corry Evans, Nathan Delfouneso (Chris Taylor 79), Tom Lawrence, Jordan Rhodes. Subs not used: David Raya, Adam Henley, Matt Kilgallon, Tommy Spurr, Lee Williamson, John O'Sullivan.
Burnley: Tom Heaton, Tendayi Darikwa, Michael Duff, Michael Keane, Ben Mee, George Boyd, Joey Barton, David Jones, Scott Arfield, Sam Vokes, Andre Gray (Chris Long 86). Subs not used: Matt Gilks, Matt Lowton, Stephen Ward, Matt Taylor, Michael Kightly, Rouwen Hennings.
Referee: Keith Stroud (Hampshire).
Attendance: 19,897 (including 4,723 Clarets).
View Short Highlights Below