Warnock thought they'd been mugged but I think he'd have been better employed last night actually watching the match and taking it what did happen. On the message board, enola_gay said: "I can only assume from this that the away dugout at the Turf doesn't face the pitch." That explains it. No wonder Owen Coyle had them switched a few seasons ago.
As I said, not a classic and at times you wondered if we were going to see a goal, but for most of the game there was only really one team deserving of any goal and that was certainly not Warnock's Leeds.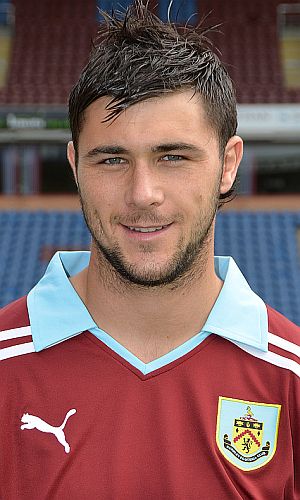 Another goal from Charlie Austin
Apart from one opportunity for the distasteful El-Hadji Diouf in the first half, and a close call when Jason Pearce came close to equalising towards the end, I can't honestly recall them ever really threatening to score and on a colder night our goalkeeper Lee Grant might have had some serious problems preventing hypothermia so little did he have to do.
The only goal, our winner, came inevitably from Charlie Austin with just seven minutes remaining. It was worthy of winning any game. Ross Wallace, out on the right touchline, played the ball inside for Chris McCann.
The midfielder's first time ball out to the overlapping Kieran Trippier was exquisite and Trippier's subsequent cross was perfect for Austin to get between two defenders and head the ball back across Paddy Kenny.
It lifted three sides of Turf Moor and just over ten minutes later it was all over and the celebrating of another win, and one, in the end that really was deserved.
Manager Sean Dyche made just one change to the starting line up. McCann was fit again and came in for David Edgar who returned to the bench at the expense of Kevin Long. Marvin Bartley was also fit and on the bench with Cameron Stewart the one to miss out.
The change saw a change in formation with McCann joining Dean Marney further up the pitch, leaving Brian Stock to patrol on his own in a defensive midfield role in a 4-1-2-3 formation.
The colourful Leeds side, which included Aidan White and Michael Brown in the starting line up and both Paul Green and former Claret Andy Gray on the bench, showed two changes from that which had drawn at Brighton with Adam Drury coming in for Tom Lees who had almost had his eye poked out and Luciano Becchio replacing Luke Varney up front.
In a goalless first half, Burnley were the better side and more than once Leeds had their Tyrone Dobbs look-a-like in goal to thank for keeping them level. He saved well from Ross Wallace and then recovered quickly to deny Marney.
He saved a long ranger from Martin Paterson and was by some distance the busier keeper as Burnley pressed for a goal.
Leeds hardly flattered, let alone threatened, and their only real sight on goal came when Diouf found himself in a good position but he put his effort over the bar.
I felt we probably deserved to have edged that first half and we all but did when again Kenny came to their rescue tipping over a Trippier screamer and then seeing Austin come close from the resulting corner.
But 0-0 it was at half time, the first goalless first half at Turf Moor since the last game of last season.
Things changed in the second half, and I think this is where, perhaps, Warnock struggled for a view. After an early flurry we were put on the back foot for around 20 minutes as Leeds pushed forward and forced us to do some defending.
But during this spell they only created one real chance of any note which saw Grant save from Aidan White. Yes, they forced us to defend, but we defended so well that was the only real glimpse of goal they got and that came just after we'd been forced into a change.
Ben Mee went down in what looked a poor challenge. Interestingly this couldn't have been much closer to Warnock and Ronnie Jepson and their backroom team but they didn't see it, or chose not to.
Mee twice required treatment before being forced off and replaced by Danny Lafferty who got his first league action of the season. That one chance for Leeds caught the full back cold but they weren't really to get the better of him again.
Dyche then made his second and last change. Sam Vokes came on for Stock in a formation change and the game changed very much back into our favour. It was just what was needed and now there was much less defending to do and much more of Burnley on the attack.
It did look as though it was going to be one of those nights though, for Burnley and for Austin. He got onto a ball from McCann following a great run but hit a weak shot straight at Kenny. Then he headed straight into Kenny's hands.
But he doesn't need many opportunities and as much as the winner was all but put on a plate for him by Trippier's cross, his movement to get in between the two defenders was so good it earned him the right to have that chance.
Just before the goal I'd reached the nervous time where Leeds games are concerned. We've conceded so many late goals to them in the last two seasons I could see it happening again, but this time it was us scoring and, in truth, one chance apart, they did not threaten to rob us of this win.
It was Pearce, a player Eddie Howe wanted in the summer, who got in the shot but Grant was up to it with a superb save. Leeds still looked likely to score but defenders appeared as if from nowhere to eventually get the ball clear.
The game was won and the reaction of the fans leaving the ground was brilliant. There were smiles, the punching of air, all that comes with a win against this lot.
It never was the prettiest of games, but it is never going to be so against a Warnock team. He left winging and talking nonsense, we left delighted with three more points and a place in the top half of the table.
The teams were;
Burnley: Lee Grant, Kieran Trippier, Michael Duff, Jason Shackell, Ben Mee (Danny Lafferty 59), Brian Stock (Sam Vokes 64), Dean Marney, Chris McCann, Ross Wallace, Charlie Austin, Martin Paterson. Subs not used: Brian Jensen, David Edgar, Marvin Bartley, Junior Stanislas, Danny Ings.
Yellow Card: Dean Marney.
Leeds: Paddy Kenny, Sam Byram, Lee Peltier, Jason Pearce, Adam Drury (Danny Pugh 81), Aiden White (Luke Varney 86), Michael Brown, Rodolph Austin, Michael Tonge, El-Hadji Diouf, Luciano Becchio. Subs not used: Jamie Ashdown, Patrick Kisnorbo, Paul Green, David Norris, Andy Gray.
Yellow Card: Adam Drury.
Referee: Geoff Eltringham (Sunderland).
Attendance: 14,470.