On the way home I learned it was the first time West Brom had scored as many as four in a Premier League game since that remarkable 5-5 draw against Man United at the Hawthorns in what was Sir Alex Ferguson's last game as United manager, and it was their biggest Premier League win since they recorded a victory by the same score against Sunderland in February 2012.
For us, this was the first time we've lost a league game home or away by more than two goals since Cardiff gave us a 4-0 smashing just days before Sean Dyche became manager.
Clearly from those statistics you won't be expecting a positive report from this latest game and it would be very wrong to provide a report in any sort of positive manner.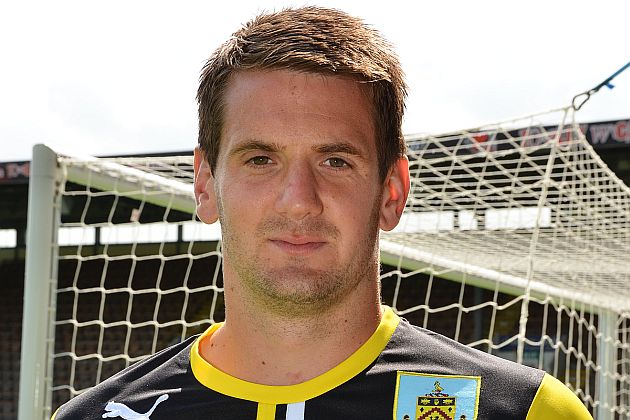 Beaten four times for the first time as Burnley goalkeeper
I wrote in my match preview that I enjoy going to the Hawthorns. I still don't know why, but I do, so I was looking forward to yesterday's trip there, and I was positive that we could get something out of it and maybe even end this goal drought that has ended any hopes of a Clarets Mad Goal of the Month vote for either August or September.
That being the case, I returned home bitterly disappointed, not only with the result but with the overall performance which exposed a real lack of quality in the midfield in the absence of Dean Marney and David Jones.
I know Sam Vokes and Danny Ings scored all those goals last season; I know we kept loads of clean sheets and I know that Kieran Trippier provided assist after assist. I think readers of my reports will also know how important I viewed the contributions last season of our central midfielders Dean Marney and David Jones.
Jones played in all of them; Marney missed eight of which only two, away at Doncaster and at home to Watford, were won.
We'd heard both were doubtful as was Trippier but you get it into your head that they'll all be fit and so it was a positive journey down and a good lunch at our regular West Midlands game stop. That was until we were just getting out of the car close to the ground.
"Take me home," I heard from one of our travelling group, as he passed the team news on. Both the midfielders were out but with their replacements being Ross Wallace and Michael Kightly it took some working out just how we were going to line up.
I had a nice walk up to the ground chatting to a West Brom fan; one even holder than me which I know is difficult to find. We reminisced about our early days of McIlroy and Connelly and some of their top players including the likes of Bobby Robson and Jeff Astle.
Astle is always included in any conversation with West Brom fans and yesterday was more pertinent than usual. Astle died over 12 years ago from chronic traumatic encephalopathy, a brain disease linked to repeatedly heading heavy footballs, the same disease found in brain damaged former boxers.
A 10-year FA study on the subject saw nothing published but the 'Justice for Jeff' campaign received news just this week that the PFA intends carrying out research into the issue.
Astle wore the number nine shirt for West Brom and we'd already heard that the fans intended staging a minute's applause after nine minutes of play, a minute I am pleased to say the Burnley fans fully supported.
As for our team; Wallace and Kightly took the wide positions with the rest playing centrally. I wasn't so sure whether we were playing 4-1-4-1 with Steven Reid in the holding position or whether it was more 4-4-1-1 with George Boyd playing behind Lukas Jutkiewicz. One thing was certain; Reid, like Wallace and Kightly, was making his first league start of the season.
Attacking the Smethwick Stand, where the Burnley fans were situated, in the first half, we actually didn't start too badly. I'm not suggesting the first half an hour but maybe the first five or ten minutes.
We had a penalty shout for handball from a Boyd cross which I don't think a fanatical Burnley fan would have given let alone a neutral referee, and Kightly fired a shot over the bar. That was as good as it got and as the half progressed more and more of the play was down at the far end.
However, other than a Michael Duff deflection which took the ball just wide, we looked reasonably confident defensively although we were having more defending to do than at any time since that first half at Swansea.
The one positive is that we don't give goals away easily, or so we thought, but on the half hour we did exactly that. They'd already worried us from corners and this time a right wing kick led to the opener.
It was so routine. Chris Brunt's flag kick found Craig Dawson at the far post after Tom Heaton had got himself caught up as the cross came over. Dawson, who was strangely booed by the Burnley fans ahead of kick off, climbed above Jason Shackell to head home despite the attentions of Kieran Trippier on the line.
The remainder of the first half was frightening. Saido Berahino almost got through on goal, Heaton brilliantly saved a swerving long ranger from Graeme Dorrans and as the board went up for one extra minute I think we were relieved to be going on just one behind.
Then disaster really did strike as they scored yet again from a corner. This one was from the left. Dorrans flicked it on and Berahino had lost Boyd to head home from virtually on the line.
How much did that second goal influence things in the dressing room at half time? We made a double substitution immediately and I'd love to know whether we'd have made them both had it remained at 1-0.
Wallace and Reid were hooked, and neither of them could have one word of complaint at the decision. Others, still on the pitch, might well have considered themselves fortunate to still be on there.
Switching back to a more familiar system, Ashley Barnes replaced Wallace whilst Nathaniel Chalobah prepared for his first Premier League action as Reid's replacement.
Back in 2005, Ade Akinbiyi's Burnley debut lasted just over two and a half minutes. Chalobah might have beaten that with a challenge on Craig Gardner just over a minute in that earned him a yellow card.
Some referees might have got a red card out; Darren Deadman would probably have deemed it that bad he'd have sent him off twice, but Jon Moss, who had a decent game, opted, rightly in my view, for a yellow card.
I'm pleased he did. Apart from the fact that a red card would have left us facing the second half with ten men it would have robbed us of our first opportunity to see Chalobah who I thought, given the circumstances in which he came on, did well.
As much as we deserved to be two goals behind, football is such that had we pulled one back then there was every chance we might get back into it. As it happened we didn't threaten to pull one back and just over ten minutes in a second goal for Berahino made it 3-0.
The home fans started to boing boing, the blasted drum was banged even harder and they treated us to a few verses of Psalm 23.
This was a shocker of a goal to give away. So much has been said about how good our defending has been but the back four were so stretched it was easy for them to thread a ball through. My dad would have said the gap was so big you could have got a fleet of Ribble buses through (Ribble was bought by Stagecoach in 1989).
That was it, game up. Marvin Sordell replaced Jutkiewicz who had just got his head to a Trippier cross and forced Ben Foster into his first save of the afternoon.
We created a bit more with the best opportunity coming the way of Barnes after the ball was played to him by Sordell. He shot over but should have, at least, found the target.
The goal drought was continuing, and there was just time for things to get even worse at the other end when Dorrans ended a move down the right with a shot into the bottom corner.
4-0 it was and there were some very disappointed Burnley fans leaving the ground at the final whistle. I saw disappointed, because that's what they were. There were no dissenting voices to be heard, that was reserved for social media and this site's message board with the usual, alarming overreaction.
"Dyce Out", was the thread started by poster SAM_WELL. He said he'd never seen a Burnley team with as little heart, that the midfield was clueless, but then said we needed an experienced manager to come in if we have any aspirations to stay up.
I wondered, if he had such concerns over the manager, why he hadn't voiced them after any of the previous five league games this season.
I suppose it is similar with MrLongsider who claimed the board's lack of ambition was coming home to roost. No mention of it previously from him.
This was the very reason I came home last night, watched the programme on Bumble, caught up with some other television and didn't bother with Clarets Mad until around 10:30 this morning. It hadn't even calmed down then with some of them.
There are some positives. Jones should be fit for next Saturday whilst Marney has a decent chance and Danny Ings might also be available.
The players who came in yesterday, in the main, didn't do themselves many favours in trying to win a first team place and I do think the manager got it wrong tactically. Unlike SAM_WELL though, he still very much has my support.
I'm looking forward to Leicester and I'd love to beat them and shove it down the throat of gobby Alan Young who talks crap on their local radio.
I know we will take some beatings this season. I have to say I didn't expect West Brom to be one of them, but we just get on with it. Last time we allowed our season in the Premier League to be ruined due to the departure of the manager in January; thank goodness this time that the overreaction to a defeat is only on the internet and not at the ground where the support was again exceptional despite the performance and result which, we all agree, was not good enough.
It was another poor day at the Hawthorns; maybe one day I'll actually admit to it not being a ground I enjoy visiting.
The teams were;
West Brom: Ben Foster, Andre Wisdom, Craig Dawson, Joleon Lescott, Sebastien Pocognoli (Cristian Gamboa 83), Graeme Dorrans, James Morrison, Craig Gardner (Claudio Yacob 87), Chris Brunt, Stephane Sessegnon (Georgios Samaras 74), Saido Berahino. Subs not used: Boaz Myhill, Youssoff Mulumbu, Sebastian Bianco.
Yellow Card: Graeme Dorrans.
Burnley: Tom Heaton, Kieran Trippier, Michael Duff, Jason Shackell, Ben Mee, Steven Reid (Nathaniel Chalobah ht), Ross Wallace (Ashley Barnes ht), Scott Arfield, George Boyd, Michael Kightly, Lukas Jutkiewicz (Marvin Sordell 68). Subs not used: Matt Gilks, Kevin Long, Michael Keane, Stephen Ward.
Yellow Cards: Nathaniel Chalobah, Ben Mee.
Referee: Jon Moss (West Yorkshire).
Attendance: 24,286.