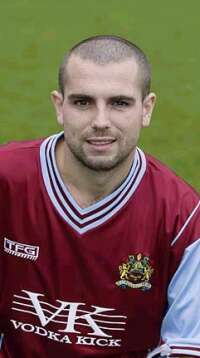 Mark McGregor - outstanding game at the back
After the 2-0 win at Mansfield and the 0-0 draw at Palace it was expected that Wigan would be a much tougher match for us although it nearly wasn't played at all with referee Uriah Rennie only passing the pitch fit one hour before kick off at the concrete jungle.
"The JJB Stadium boasts the best pitch in Europe using the latest technology," claim our hosts but this was far from being anything like a decent pitch and even the home manager Paul Jewell was keen for the game to be called off.
There were no starting places for two of the new boys, Paul Rachubka and Bradley Orr, but Neil Wood was in the starting line up at the expense of Alan Moore who somewhat surprisingly didn't even make the bench.
Wood lined up on the left hand side of the midfield in the only change from the previous week with the two other new boys replacing Nathan Abbey and the quickstepping Arthur Gnohere on the touchline.
It soon became clear that we weren't going to get a classic, the pitch was going to make sure of that, but both sides could have gone ahead early in the game with the two goalkeepers coming to the rescue.
Firstly John Filan, who so upset Stan at the Turf when we last played Blackburn, was quick to get out of his box to kick clear as Ian Moore run onto a through ball and then at the other end Brian Jensen got down to his right to save well from the impressive Jimmy Bullard.
It was the Clarets who started to dominate the play and we more than once came close to opening up the Wigan defence with Ian Moore's pace although we failed to put Filan under enough pressure.
The game was lit up by Robbie Blake who produced a wonderful 'Soccer AM Showboating' piece of skill in the centre of the pitch before hitting a ball out wide to Glen Little. It really will be a surprise if it doesn't make the Saturday morning programme next week.
But it was Jensen's skill we were thankful for again when he got down, this time to his left, to make another good save.
Needless to say the offensive Jason Roberts was trying to bully himself through the Burnley defence but his nasty way of playing cost his side when they had a goal chalked out as he unnecessarily pushed his way through as his team mate Lee McCulloch headed in.
That was as much as he did and was well marshalled by the Clarets defence throughout as was his partner in crime Nathan Ellington.
We hadn't created too much in the first half but had more than held our own and fully deserved to go in level at half time.
It could have been so much better early in the second half when Mooro put Robbie clear in a one-on-one with Filan but he hit his shot too close to the Wigan keeper and the chance was gone.
In the next move Blake was again put clear but was stopped this time by an assistant referee who got his offside flag horribly wrong. Not learning from his petulance of last week he again kicked the ball away and was again yellow carded.
This assistant was about to have a nightmare spell that ended when Glen threatened to throttle him but that was not until he had missed two bad fouls and then ignored the pleas as referee Rennie booked Tony Grant, a booking that will now keep him out of the cup tie at either Telford or Millwall.
In the middle of all this there was one player in the Burnley side who was very much making us all sit up and take notice – debutant Neil Wood. He had a quiet first half but was now having more and more of an impact on the left hand side of midfield.
It all eventually calmed down again and now the Clarets looked as though they might be settling for a point as they sat a bit deeper. But we were defending well and the nearest Wigan seemed to get was from free kicks outside the box, many of them somewhat harshly awarded.
Some went wide, some went high but a couple of them were on target but Jensen was able to gather them with some ease. It was just about the only time he was called on in the second half other than to deal with crosses and that was very much because of the performances of the two central defenders.
As the game petered out there was just time for Stan to introduce a second of his signings Bradley Orr and the Newcastle midfielder was able to get one positive touch on the ball.
This was always going to be a tough test, we can't beat this lot when we are way above them. They are up in the top six and looking for a second successive promotion but there looked to be very little difference between the sides today.
We seem to have got out of this throwing men forward idea for now away from home and we are going out to make it difficult for the opposition to score. We certainly did that today and it is in defence where I find my man of the match, Mark McGregor.
He is forming an excellent partnership with David May who was also in top form alongside him. There were good performances elsewhere with Brian Jensen and Neil Wood deserving of special praise.
So another point closer to safety and a point we would certainly all have been happy with as we kicked off. Now we have to start winning games though, only two wins in the last seventeen league games tells its own story. But we have stopped throwing goals away and that's a start and things will definitely look a hell of a lot better with a couple of wins.
One thing for sure though is that if we continue to play for the rest of the season as we did today then we won't be going down.
Today's teams were:
Wigan: John Filan, Nicky Eaden, Leighton Baines, Ian Breckin, Jason De Vos, Gary Teale, Jimmy Bullard, Jason Jarrett, Lee McCulloch (Andy Liddell 70), Jason Roberts, Nathan Ellington. Subs not used: Gary Walsh, Matt Jackson, Steve McMillan, Michael Flynn.
Burnley: Brian Jensen, Lee Roche, Mark McGregor, David May, Mo Camara, Glen Little (Bradley Orr 88), Richard Chaplow, Tony Grant, Neil Wood, Robbie Blake, Ian Moore. Subs not used: Paul Rachubka, Dean West, Graham Branch, Luke Chadwick.
Referee: Uriah Rennie (Sheffield).