Barnes, and goalkeeper Tom Heaton, who saved a second half penalty, will rightly receive all the plaudits, but this was another performance and win for the team when the credit should be shared out amongst all of them.
It wasn't the most free flowing game we've seen all season against a strong and, at times, over physical Southampton, but it was one where we gave it absolutely everything in all areas of the pitch.
Sean Dyche spoke after the game about the desire and energy in the side and it was there in abundance again, coupled with no little ability against a Southampton side who were expected to bounce back after three defeats against teams up at the top end of the league.
We were chatting in the pub before the game yesterday about writing and it turned to match reports. I said I'd once been given some advice from London Clarets writer Firmo that you needed two or three incidents to focus on to write a good report.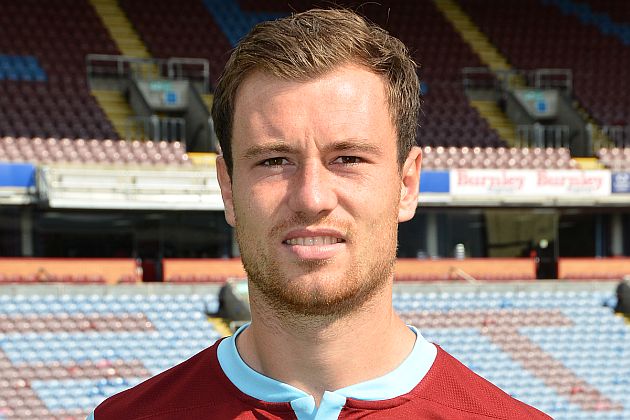 Ashley Barnes got the winner just as he'd done in the last home win against Hull
I've reported on many games over the years when those incidents have been hard to find, and I think you could all nominate some games where that's been the case. But certainly there were two major incidents yesterday, the penalty save and the goal, which came within around 12 minutes of each other in the second half.
We can have no arguments over the penalty award. George Boyd caught Ryan Bertrand just inside the box on our right with referee Mark Clattenburg, who I have to say refereed well yesterday, in close proximity. Not even Boyd complained at the decision; instead he was almost apologetic towards his team mates.
Heaton pulled him out with a sensational save to his left to deny Dušan Tadić. Apparently it was the first top flight penalty Southampton have failed to score since Jim Magilton missed one in 1997 but what a pointless stat that is given they played seven seasons outside of the Premier League between 2005 and 2012 during which they could have missed a hat full of spot kicks.
Still, it wasn't as pointless as the one on Soccer Saturday. They claimed we hadn't beaten Southampton in a top flight game since 1974. It is correct but that stat was hardly a surprise; we hadn't played them in a top flight game since 1974. And for the record it was April 1974 and we won 3-0 at home with goals from Paul Fletcher, Leighton James and Geoff Nulty.
Maybe if they'd told us Southampton hadn't beaten us in a top flight game since 1971 it would have been of more use. That was the day the aforementioned Fletcher made his Burnley debut.
Who knows what would have happened had the penalty gone in, but it didn't and thirteen minutes later Heaton played his part in what proved to be the winner. In dealing with a back pass from Jason Shackell he cleared the ball down the left hand side where no one was and it went harmlessly out for a throw around twenty yards from the corner flag.
It has to be said that Southampton didn't make the best of it but don't let that take anything away from either Danny Ings or Barnes. Nathaniel Clyne took a short throw but when it was returned to him his intended pass was blocked by Ings who had superbly closed him down.
The ball found its way to Barnes whose shot was deflected off the defender with the long name, Toby Alderweireld if I have got it correct, and in at the near post with Fraser Forster, who was so close to joining us in 2010, helpless.
Barnes cupped his ears in front of the Jimmy Mac. What that was about I don't know. I didn't see it at the time; I was too busy celebrating during that wonderful period between a goal being scored and Tom Hark.
Both of the incidents of note, and they weren't the only two, came in the second half but Burnley, who had started with an unchanged team from that which had been beaten at QPR, were the better side for much of the first half.
It might have tailed off a bit towards half time but I don't recall Heaton having too much to do, other than making one save down to is right from James Ward-Prowse who had come on for their young debutant Jake Hesketh, but we certainly had our moments and might have even scored in the first minute when Ings just couldn't get a decent header to a Boyd cross.
It was Ings again soon after when he fired just wide from outside the box after receiving the ball from Barnes. These two haven't played too often together, just a few games at the end of last season when Ings returned from injury and then the recent games since Barnes came in, but they are certainly developing an excellent partnership.
Ings was right in the thick of it again when Forster didn't hold the ball from his own defender. I think they had been distracted with Hesketh being down injured. There was a scramble in the six yard box. They cleared one effort off the line before Clattenburg halted it all with a free kick for what reason no one could quite work out.
By half time there was some disappointment that we hadn't gained a lead and there was a worry, as we've seen in other games, most notably West Ham, that they would come out better in the second half.
To some extent the fears were confirmed. Southampton were much improved and there was a period when we struggled to get the ball from them. Having said that, they didn't trouble Heaton too much until the penalty, although they did fire one effort over the bar when they might have done better.
The penalty save was a turning point. It gave the crowd a lift as well as the players and we came right back at them. Ings again was close from just outside the box. He created the space all by himself to get his shot in only for Forster to save well. Boyd tried to get onto the rebound but was flagged offside.
Then came the goal. We'll done Danny, Danny Ings and well done I-I-Ashley-Ashley- Barnes. Yes, a bit of good fortune for once but who cares?
Almost immediately we had to make our first, and what proved to be our only, change of the afternoon. Ben Mee, who has settled back in well, was forced off with Danny Lafferty coming on.
It's a while since we saw the Northern Ireland international in action. His last first team appearance was during Mee's injury almost a year ago and that last appearance came on 18th January in a 1-1 home draw against Sheffield Wednesday.
As you would expect, Southampton pushed for an equaliser. For the most part we looked comfortable. Ward-Prowse hit a free kick wide and, with us all looking at our watches, Clyne, who scored a screamer against us last January in the FA Cup tie, fired just wide.
Up went the board for four extra minutes. We got through over three of them with no problem at all. In fact, we got through over three and a half minutes before Victor Wanyama got a chance with a header. Most of Turf Moor held their collective breath and then sighed with relief and screamed with delight to see it miss the target.
That was it. Clattenburg blew the final whistle before dashing off to watch the X Factor final featuring Ed Sheeran and we'd got another win and had again moved out of the bottom three.
It hadn't been a free flowing extravaganza for the neutral observer. At times it had been a real battle against a team that could be a little bit nasty, but my word how well we did against them.
Yes, Heaton and Barnes will be the names on everyone's lips but take a look at our line up below because every single one of them played their part in this win.
It really is a special time to be a Burnley fan. This is the best team we've had in many a year and you go to games knowing that, no matter how the game goes, they will give us 100 per cent right across the pitch.
I loved all those wins last season, some of which were comfortable wins against lesser sides. Playing in games as the one yesterday are our reward for that fantastic promotion season and only someone with their glass all but empty can say they are not enjoying it.
It's Spurs next week and I can't wait. For someone in their 60s it will be a reminder of all those wonderful fixtures between the two sides in my early days as a Claret. It's a fixture I always look forward to. And with this team under Sean Dyche's management, anything is possible.
The teams were;
Burnley: Tom Heaton, Kieran Trippier, Michael Keane, Jason Shackell, Ben Mee (Danny Lafferty 74), George Boyd, Dean Marney, David Jones, Scott Arfield, Danny Ings, Ashley Barnes. Subs not used: Matt Gilks, Kevin Long, Nathaniel Chalobah, Ross Wallace, Michael Kightly, Lukas Jutkiewicz.
Yellow Card: George Boyd.
Southampton: Fraser Forster, Nathaniel Clyne, José Fonte, Toby Alderweireld, Ryan Bertrand, Victor Wanyama, Steven Davis, Dušan Tadić, Jake Hesketh (James Ward-Prowse 32), Sadio Mané (Shane Long 78), Graziano Pellè. Subs not used: Kelvin Davis, Maya Yoshida, Florin Gardoş, Emmanuel Mayuka, Harry Reed.
Yellow Cards: Jake Hesketh, Sadio Mané, Graziano Pellè.
Referee: Mark Clattenburg (Tyne & Wear).
Attendance: 17,287 (including 1,496 from Southampton).