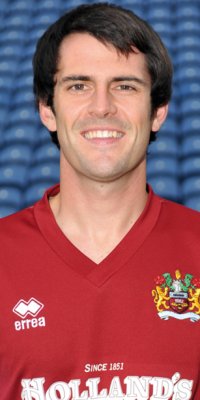 Steven Thompson - caused West Brom problems after coming on as a substitute
It brought to an end a week full of emotion, where tears have been shed by players and fans alike, but what a comeback both on the pitch and in the stands as everyone stood together to earn a home replay against the Baggies.
I love my away games, getting up on a Saturday morning is always more enjoyable for me when we are on our travels then when we're playing at home, but I have to say I wasn't ready for this one. I, like so many other Burnley fans, had coped with a difficult couple of days following the events of Wednesday night in the Carling Cup.
The trip to West Brom felt more like something I had to do than something I wanted to do, and I continued to wonder just how the players might be feeling, after all we were very much dependent on them.
The journey down was fine, a good lunch stop that even involved a quiz (and I know where Chinese gooseberries come from now), before reaching the Hawthorns. Inside the ground the talk was not of the afternoon's FA Cup tie, but reliving the cruel events of Wednesday and when I took my seat in the away end around ten minutes or so before kick off I was still far from ready for the game.
Then the 'We're proud of you' chant started and everything changed. The welcome being prepared for the players was fantastic and the response from the players as they appeared from the tunnel said everything. Finally I could settle down to watch us play football again.
The team showed just two changes from that which had started the semi-final. Christian Kalvenes came in for the injured Stephen Jordan whilst Joey Gudjonsson was very unfortunate to lose his place. Steven Caldwell came back in after serving his suspension, Michael Duff moved to right back and Graham Alexander took the holding role in the centre.
I think it took all of two to three minutes to realise that, no matter what had happened, our players were up for this one as we took the game to the Baggies right from the start. Chris McCann almost got on the end of a ball into the box from our first attack as the Clarets let their intentions be known.
It wasn't one way by any stretch of the imagination, but one routine save apart, Brian Jensen had little to do. A word here about our goalkeeper. Just before kick off when his name was announced we got the usual, and now predictable, chant of 'Beast'. But this time it came from all four sides of the ground.
We'd done ever so well in the first quarter of the game and probably had the edge. Then we got possibly a bit of good fortune. Robbie Blake was moving onto a ball in the box from Martin Paterson when he was pushed by Jonathan Greening.
It was a push, no doubt about that, and referee Mike Dean pointed to the spot. There was no complaint from the West Brom players either but it was one of those decisions that sometimes you get, sometimes you don't. For once we got.
Scott Carson adopted some strange method for a goalkeeper facing a penalty as he initially positioned himself about a yard from his left hand post. But it mattered now what he did as Alexander blasted it into the corner.
It was just what we needed but unfortunately the lead lasted only a few minutes. From a right wing corner the ball was headed out but only to the unmarked Roman Bednar who hammered in a right foot half volley. If Carson had no chance with the penalty then it is debateable whether Jensen had any more chance with this as it flew into the net.
We didn't let it bother us though and we went looking for another goal and Blake came within inches. Wade Elliott pulled the ball back and the inrushing Blake hit his left foot shot against the inside of the post.
We were still doing well as half time approached and we were certainly good value for the 1-1 scoreline. But we are getting used to knock backs and here came another. With just seconds remaining of the half West Brom got themselves a free kick not too far outside our box. South Korean Do-heon Kim took it, and it would have caused no problem at all but it got a deflection off Blake in the wall and completely wrong footed Jensen leaving us a goal down at half time.
It took us a while to get into our stride in the second half and we could have fallen further behind when Bednar took the ball inside Duff, and then past Jensen. Thankfully he missed the target with the ball coming back off the post. That for me was the last time West Brom seriously threatened a goal.
We got on top and when Owen Coyle made two substitutions in the space of four minutes things got even better. Gudjonsson came on for Chris Eagles and then right back Duff was replaced by Steven Thompson. Both Joey and Thommo made telling contributions.
The whole pace of our game increased with Joey's arrival whilst Thompson up front caused the Baggies' back line no end of trouble. And twice Burnley came so, so close to levelling the tie.
Robbie got the ball down the left and just after teasing the West Brom defender he crossed the ball for Thompson to head home from close range. At the time I couldn't understand just how it hadn't gone in, but it needed a wonderful save from Carson to keep it out.
Then McCann, who had an excellent game, played in Wade but he screwed his shot across the keeper wide of the far post. He should have done better but he was causing them all sorts of problems down the right hand side and he played his part when we finally got the goal our performance so richly deserved.
Robbie, on the left hand side and virtually on the half way line, hit an inch perfect ball out to Wade on the right. He looked to go inside the defender, and then turned outside him before curling in a low cross. There was Pato to come storming in, right in front of the Burnley fans, to hit home. It was the very least we deserved and was enough to ensure a replay at the Turf.
Jay Rodriguez, who had come on for Kalvenes as we really went for it in the last few minutes, McCann and Thompson were all there as the ball came across putting the West Brom defence under severe pressure to give Paterson that chance to come in unmarked at the back post.
The celebration right in front of the Burnley fans said it all, it was if a weight had been lifted. As I left the ground I said to one Burnley fan that there really was some justice in this world. He pointed out that we had a long way to go before we could say that, but what a start.
What can you say about this performance? I honestly feared the worst after Wednesday and wondered just how on earth they could be up for another game, even worse another cup tie.
But somehow they were and in my view turned in a terrific performance against another Premier League team. With any luck we would have won it, we were the better team, but more than anything else we turned in a top display.
There are so many candidates for man of the match. Both Robbie Blake and Wade Elliott were in my thoughts, as was Chris McCann. And such was Steven Thompson's impact that I considered him despite him playing less than half an hour.
I've gone for Graham Alexander who again was at his very best, both in the midfield role and then at right back after the substitutions.
But this was a team day, both on and off the pitch. We've mourned together over the last few days after suffering that Tottenham heartbreaker, but we all stuck together and fought back together yesterday at West Brom as only Burnley can.
"We're proud of you," was the chant before the game. Never have truer words been spoken.
The teams were;
West Brom:
Scott Carson, Carl Hoefkens, Pedro Pele, Ryan Donk (Gianni Zuiverloon 72), Paul Robinson, Robert Koren, Do-heon Kim, Jonathan Greening (Borja Valero 40), Filipe Teixeira (Chris Brunt 71), Jay Simpson, Roman Bednar. Subs not used: Dean Kiely, Marek Cech, Graham Dorrans, Marc-Antoine Fortuné.
Burnley:
Brian Jensen, Michael Duff (Steven Thompson 66), Clarke Carlisle, Steven Caldwell, Christian Kalvenes (Jay Rodriguez 86), Graham Alexander, Chris Eagles (Joey Gudjonsson 60), Wade Elliott, Chris McCann, Robbie Blake, Martin Paterson. Subs not used: Diego Penny, Alan Mahon, Kevin McDonald, Alex MacDonald.
Referee:
Mike Dean (Wirral).
Attendance:
18,294.