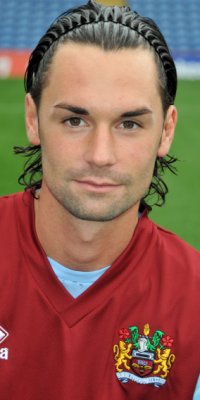 Chris Eagles - Burnley's best player
So I had high hopes of our FA Cup match against Reading today. I know there had been some talk on Clarets Mad, suggesting that the game was a bit of an irrelevance, and that we should concentrate on the Premier League. My view is that a win is a win, and that victory against Reading would be the best preparation, and boost confidence, for the league challenges to follow. Their Championship form suggested that we should not have too much to fear.
Brian Laws had chosen a strong team. It was great to see Chris McCann back in first-team action - even if injuries meant he was, notionally, at left back - and the return of Martin Paterson and Jay Rodriguez on a very attacking bench was even greater reassurance. So - all the omens were good.
And then we kicked off...
It soon became apparent that both teams, struggling in their respective leagues, were lacking confidence. We huffed and puffed, but never seemed comfortable on the ball. A football first-timer would have struggled to say which team was in the higher division, on the evidence of the first half. Steve Thompson gave an honest, hard-working performance but seemed isolated. Joey ran around a lot. Wade did not even do that.
Reading weren't a lot better, but became more confident as we failed to gain any sort of control. Grzegorz Rasiak made perhaps the greatest individual contribution to the first half. Unfortunately, this was in the shape of one of the most laughable penalty-box "dives" I can remember seeing. Tyrone Mears may have breathed on him as they both chased the same ball - but that was it. I don't know how he escaped without a booking. Perhaps more worrying for us though were the three chances Rasiak had. Our new-look defence wasn't working too well.
Brian Jensen was the busier of the 'keepers, and there were signs that Reading were gaining the upper hand. We had one goal chance - an overhead kick by Chris Eagles from a rare Wade cross. Eagles was the one Burnley player who gave a consistent and measured performance. His class and composure stood out all the more, as none of his team-mates seemed to possess much of either. Surely there would be changes in the second half? Surely we would improve?
Well...yes, and for a few minutes. Martin Paterson came on for Steve Thompson, and all of a sudden we seemed to have more urgency and belief .Reading were under pressure, and the visiting Clarets had cause for encouragement. Kevin McDonald had a threatening long-range shot, and Edgar a fine goalbound header. Sadly, Federici was equal to both. Our best opportunity came 15 minutes from the end. Kevin McDonald had a good shot well saved; the ball rebounded to Paterson two yards out from the goal where he scored
that
goal...and he hit it way, way over.
It looked as if we were destined for a draw. Neither team deserved more, and neither would want further distraction from league survival. And then, with three minutes to go - Reading scored. Jensen could not be faulted, for the goal or any other aspect of his performance. Sigurdsson ran well onto a hopeful ball from Griffin - defence? What defence? - And took his chance coolly.
And that was that. A real disappointment. I have been supporting Burnley for 40 plus years, and seen some poor displays. But this, given the context, and the opportunity the game provided, was amongst the most worrying. There seemed little cohesion on the pitch. Graham Alexander lacked his usual assurance. Kevin McDonald grafted, but seemed off the pace. Wade, a player whom I have long admired, was anonymous. (a really cynical person would say his most positive act of the afternoon was when he and Brian Jensen - the only two I saw - came over at the end to show their appreciation of the travelling support).
The one player who showed true Premier League class was Chris Eagles. He was our best player - and not just "best of a bad bunch" best. He has always had skill. Today, that was equalled by energy and endeavour. It was a shame that none of our other players came near him. They, and the rest of the squad, will need to improve greatly if the Premier League challenges ahead are to be met successfully.