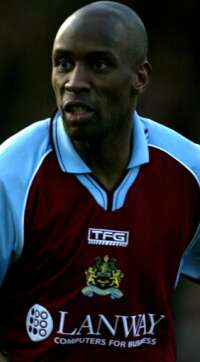 Star Geezer - Driss Diallo
Plucky Fulham no match for a buoyant Clarets side progressing to the last eight and now with half an eye on the last four for the first time in twenty nine years, the tie with Watford guaranteeing at least one club from outside the Premiership a big pay day.
Despite Stan's pre-match "baloney" statements regarding Fulham's miserable record at Turf Moor over the last fifty years, Jean Tigana's pitiful team departed the pitch hoping never to venture back, their nil never looking in doubt after the first half departure of Boa Morte robbed the visitors of any serious forward threat, the Clarets doing well to keep the score down to three, with such an abject performance thrown in by the visitors, their cause made ever more difficult after Sean Davis' straight red on fifty minutes, saw the Premier outfit down to ten men for the second time in only forty eight hours, their Cup mountain too steep to climb.
For most of the Fulham team the final whistle could not come soon enough, they were simply an embarrassment to the hardy one hundred and fifty or so, who had taken time off from their work to follow their under performing heroes.

Stan had the luxury of who to leave out for this one, so it was that Blake and Little donned the tracksuits once again, with Stan retaining the same team as had played at Fulham and who had so convincingly beaten Derby at the weekend.
The options were not so comfortable for the tooth pick chewer, deprived of Marlet maybe, but there was still enough of a threat in his starting line up with only four changes from those that had played Spurs. Including livewire Boa Morte and the inept Louis Sowhat up front, ably supported by Malbranque; this was still a Premiership side, still able to field a full strength defence.
In what proved to be a strange game, with very little goalmouth action, Clarets began by paying their visitors far too much respect. Fulham were grateful for this and showed in the early stages, that their neat, precise, passing game had travelled north to the land of shiny terraced roofs (BBC - get the footage ready), though it was the home side who had the first opening, Ian Moore curiously electing to dive when well placed moving into the area.

The man in black was not swayed by this and Moore was deservedly booked, his only blot on an otherwise professional night of endless energy, capped by a fine goal. The two Moore's Alan and Ian, combined well on eight minutes, the former sending the latter clear with a defence splitting pass, Harley's superb tackle robbing Moore of a shot at goal.
Fulham's main threat was their pace, West was tackling the shadow of Boa Morte on more than one occasion, the Clarets right flank Fulham's preferred route to goal, Saha only a stud away from connecting with Boa Morte's dangerous cross on the quarter hour mark as the game swung either way.
Saha tried his luck from the edge of the area on twenty minutes, but the save was a comfortable one for the under worked Beresford. For arriving later than an Arriva train, Legwinski was rightly cautioned for a crude challenge on Alan Moore, before on twenty five minutes, Clarets enjoyed that little bit of luck needed on nights like this, Briscoe having been harshly penalised twenty five yards from goal.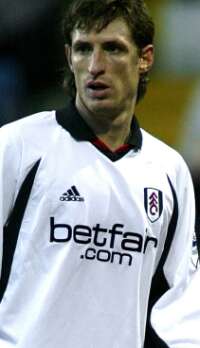 Star Gazer - Facundo Sava
The in swung free kick eluded everyone, most thankfully Djetou, who could only scuff the ball wide from little more than six yards with the goal at his mercy. Within a minute the Clarets were ahead, the move started by an early release from Beresford that saw Ian Moore charge at goal. Turning back on himself, he found Grant, whose deep cross was cleared but only to West who, in returning the ball, saw Briscoe miss his near post header, but not Taylor, who headed home for goal number eleven, his namesake grasping at thin air.
Fulham's reply was almost immediate, Malbranque's shot well parried by Beresford, before Davis volleyed just wide from the resulting corner. An accidental collision of West's boot and Boa Morte's head, saw the danger man leave the field and whilst in the pits, Clarets raced into a two goal lead on thirty five minutes, West's lob over Harley allowing Ian Moore to run in behind, before coolly lifting the ball over the stranded Taylor and into the vacated goal.
Sava replaced the injured Boa Morte, but from that moment, Fulham, plot and lost, were a constant theme, their game plan shattered and their main outlet out of it. On the stroke of half time and with Fulham wilting, Clarets almost gained a third, Taylor's header was deflected and fell kindly to Cox, whose shot on the turn was fortuitously deflected for another corner. And so to half time, with many a Claret starting, just starting, to dream.

Into the second and after only three minutes it got worse for the hapless visitors, Davis deservedly given a straight red for an awful tackle on Grant that saw all twenty outfield players converge in a heated meeting of frustration.
Ten men for the second time in two days, it was psychologically up for too many of Fulham's players, Clarets running the clock down at a canter. Right on cue, straight after the dismissal, the patched up Grant sent over a corner from which an unmarked Diallo powered home a majestic header into the top corner. Game well and truly over, with still forty minutes to play, oh the luxury of leaving a ground with finger nails intact.
Contradicting his pre-match comments of the week's games and their relative importance, the tooth picker withdrew two of his stars, Malbranque and Saha, immediately making way for Wome and Ouaddou, the move allowing home jesters to start their banter, "Can we play you every week", and "No ground no fans" cockily chanted as the result now a formality, the only question the size of the winning margin.
Strangely, the Clarets elected to play keep ball, Stan elected not to use any subs until very late in the game, so neither side could be bothered entertaining the many viewing neutrals, the global audience and their magic lanterns no doubt switching off in favour of the attraction of drying paint.
A knackered Cook was replaced by Weller, then Alan Moore made way for Little, as Sava showed a pitiful array of poor attempts at goal, before dazzling us all with a scrape on his rib cage, the poor soul coming second in a hard but fair challenge. Ninety seconds of sponsored injury time passed without incident and Stan was off to do his interviews, in the knowledge that this was his day, a chuckle in his boots no doubt.

Att:- 11,625.

Star Gazer
Normally reserved for Clarets, but not exclusively so. The award goes to Sava. Please, please whenever we need a striker, can we make sure his signature is not sought. A marvellous selection of ridiculous attempts at goal, from the forty yard shot to the header from the edge of the box that had the ball boys scampering. A performance epitomised by the pathetic showing of a scratch on his ribs.

Glass Half Empty
We lost the toss.

Star Geezer
Driss Diallo. Does this guy ever miss a header or a tackle? Yet another clean sheet of clinical defending, the partnership with Cox once again suppressing dangerous strikers and a performance culminating in his first English goal, a peach of a header into the top corner. Our thanks to Saha for not marking.

Glass Half Full
A result never really in doubt once the first whistle had been blown. Fulham like Spurs earlier this season, capitulated once behind, lacking the desire and fight to match a determined Clarets side enjoying the rarity of a Cup tie at Turf Moor. 80-1 before this win, somehow the odds will be tumbling down in the morning.