In the end we fell five points short of safety, but yesterday was not about that, it was about seeing the season out hopefully with a positive result which would ensure we wouldn't be bottom of the league.
Nigel's lot beat bottom of the league QPR convincingly which assured us of 19th place, but an early Danny Ings' header clinched the points and took us within two of also relegated Hull.
I think we'd determined we were going to have a good day out and left, with complimentary coffees available, with our first destination Tipton and Mad O'Rourke's Pie Factory. We'd been tipped off that it was a potentially good stop for food and drink and so it proved with a nice pint of real ale and, of course, pies of choice all round.
Then followed the short drive to Villa and we were parked up and there in good time with news having come through that Michael Keane was back in at the back for Michael Duff and Fredrik Ulvestad getting a first start in place of Matt Taylor who occupied a place on the bench alongside Duff.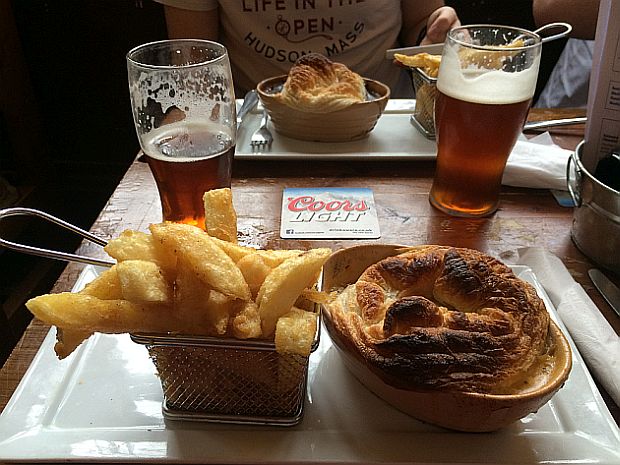 A healthy lunch before the big game
I like Villa Park. That could possibly be something to do with their chosen colour scheme, but I wasn't too impressed with my seat yesterday. I thought I'd done well to get a front row seat in the upper tier but since our last visit they've decided to place a piece of Perspex on the wall (only where the away fans sit) meaning you had to watch the game through it. So a big thanks to those who had tickets on the row behind who didn't bother to turn up. I hope you didn't mind us claiming your seats.
It had an end of season feel to it. The Burnley fans there, like me, were there to enjoy it and give the team as much support as possible; the Villa fans meanwhile were giving us renditions of Que Sera Sera, something to do with a game they've got arranged for next weekend apparently.
We didn't have to wait long for the opening goal. Ings won the ball on the left and played it across the pitch to Kieran Trippier. His lofted ball into the box was headed out but to Ulvestad whose looping header reached Barnes to the left of goal. Barnes headed across and the third Burnley header from Ings beat goalkeeper Steer and into the net.
Villa came back at us and defender Ron Vlaar should perhaps have done better with a shot he hit over the bar, but, despite BBC's attempts at showing Burnley scoring in a game otherwise dominated by Villa, we were causing them far more problems than they were causing us.
Ings might have, and probably should have, had another. He was set up by George Boyd only to shoot over the bar.
Things were going well but an injury to Ashley Barnes changed things. He'd had a really good first half hour but went down in an aerial challenge and required treatment. He was forced to go off but came back on only to collapse in a heap immediately. His game and season were over with Sam Vokes coming on. Hopefully it will be nothing serious but I do believe we weren't anything like as good once he'd gone off.
Christian Benteke, all over Trippier, forced Tom Heaton, he who is, according to the Burnley fans at Villa Park, England's number one, into a top save by the foot of his post and right on half time he made a more spectacular save, tipping over an Ashley Westwood effort.
We went in at the break with a 1-0 lead and fully deserved it, but for much of the second half it was Villa who were in the ascendancy, certainly in terms of possession and moving the ball forward.
But we did have our moments and Ings, who bowed out with an outstanding performance, pushed one ball through for Boyd that would have been a certain goal but for Steer coming out to block him so quickly.
Ings again all but set up David Jones. Whether Jonah, hardly a regular scorer, would have made the most of it I don't know, but the ball was just behind him.
By then, Ulvestad's day was over. He played 65 minutes but did look to be tiring. That's no surprise for a player whose last start was in Norwegian football. He certainly did more than enough to suggest he could be an important player next season.
Villa, though, wanted a win, and when needed our England man was there to keep us level. Despite their play, Villa didn't create too much, but Heaton was called upon on a couple of occasions to keep out long range strikes.
His confidence must be sky high and it looked it. I thought he gave us an almost faultless performance although he was almost beaten in stoppage time when he saw a ball go just wide of his right hand post.
Just a few minutes earlier, the Burnley fans, who had been in great voice again throughout, had a chance to say goodbye to Ings. He'd gone down injured but we were about to make a change with Steven Reid coming on for his last ever game just days after he'd announced his retirement.
You'll always be a Claret, the Burnley fans sang. I once remember hearing those same words directed at Steve Davis when he played against us for Luton. I don't think he'd benefit from such words today.
They were very genuine. Ings has at times looked a frustrated figure recently but his contribution over the past two seasons cannot be underestimated. Some of the criticism aimed at him recently I've found difficult to understand, although I can appreciate people being disappointed, just as they were with Glen Little, when he opted to run down his contract.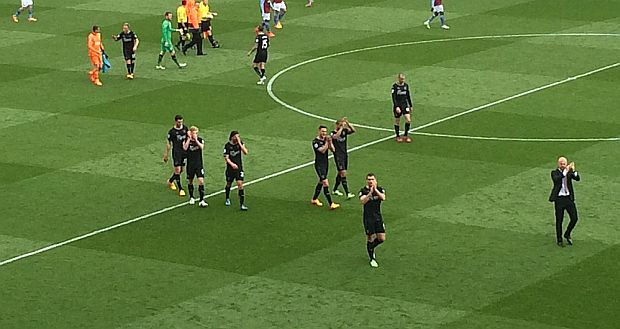 The end of another season
When the final whistle blew at 1-0, the Villa fans consoled themselves with the knowledge that they are now off to Wembley. The Burnley fans celebrated the win as if it had kept us up. Sean Dyche led the players over, getting a brilliant reception for himself, before some of the players decided to show us the full extent of their body art (upper body only I might add) as they chucked their shirts into the crowd, obviously being as keen on the black as we were.
It's over, we are back in the Championship, and I'll give my thoughts on our Premier League season later in the week.
For now, I'm delighted we went out on a win; I'm delighted we won more points than last time, but I have to confirm, despite our club suggesting otherwise, that we didn't win as many games this season as we did in 2009/10.
It was just a matter of getting home then. It was trouble free (apart from the driver) and we were back in Burnley around 7:30 after one stop on the way home, just under 10 hours since we'd departed in the morning. Another good day out and a third away win of the season to enjoy.
My next match report will be some time in July at a pre-season friendly somewhere ahead of what we all hope will be another successful season for Burnley Football Club.
The teams at Villa Park were;
Aston Villa: Jed Steer, Leandro Bacuna (Alan Hutton 80), Ron Vlaar, Nathan Baker, Charles N'Zogbia, Ashley Westwood Tom Cleverley (Scott Sinclair 72), Jack Grealish, Fabian Delph, Gabriel Agbonlahor, Christian Benteke. Subs not used: Brad Guzan, Andreas Weimann, Carlos Sánchez, Andre Green, Callum Robinson.
Yellow Card: Ron Vlaar.
Burnley: Tom Heaton, Kieran Trippier, Michael Keane, Jason Shackell, Ben Mee, George Boyd, Fredrik Ulvestad (Matt Taylor 65), David Jones, Scott Arfield, Danny Ings (Steven Reid 87), Ashley Barnes (Sam Vokes 34). Subs not used: Matt Gilks, Michael Duff, Michael Kightly, Lukas Jutkiewicz.
Yellow Cards: Fredrik Ulvestad, Scott Arfield.
Referee: Mike Jones (The Home Club).
Attendance: 40,792.