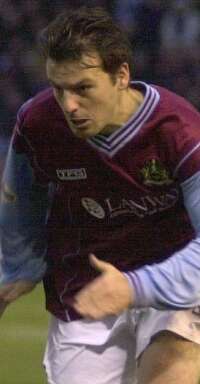 Star Geezer - Robbie Blake
For long periods, Clarets were quite simply the better side and going forwards always looked a threat, creating more chances than the home side in a captivating and end to end second half. Clarets were undone by persistent, woeful defending, 'keeper Jensen in particular having a day to forget.
With only seven shots to save he let the net do most of the catching. His opposite number Gould by contrast, earned his joint man of the match award and despite an early failure to deal with a shot leading up to Clarets first equaliser, two fantastic saves and at crucial moments, kept his side in the game providing the counter attacks from which goals were scored. It must have been an unusual game if a home goalkeeper earns a man of the match award, yet concedes three goals.
The teams took to the field in front of a near full house. Clarets backed by a large and vocal following, were encouraged to see not only the rarity of five subs, but also that Chaplow returned in a five man midfield, which could find no place for substitute Chadwick.
Defensively, West kept his place, though quite where that is was anyone's guess and centrally, Arthur and May made up what proved to be a fragile partnership. In a slow start to the game, played in very wet conditions, it was referee Dean who had most of the say, adjudicating the advantage rule in favour of PNE and not in favour of Clarets in the early stages.
First blood almost went the way of the Clarets, but oh Robbie, Robbie was inches wide with a curled free kick, Gouldilost in a desperate scramble across his goal. PNE were to enjoy the freedom of their left wing, West was intent on giving Lewis acres of space and Weller in front, did little to stop the flow of passes to the overlapper.
On the quarter hour it was still the Robbie Blake show and his rising drive from distance warmed more the hands of applauding Clarets than those of Gould, as Clarets continued to enjoy the better of possession.
PNE's initial reply was a good cross from danger man Fuller, but the ball in was awkward for Cresswell and the chance passed. Lewis, with little resistance cut in and thankfully the shot was poor, wide and weak from the good position afforded by poor defending from West.
More poor defending, led up to the opening goal. May was slow to clear, got caught in possession on the half way line by Fuller, who then had half the field in which to run. Run he did and unchallenged, he picked his spot wide of the slow to advance Jensen and the ball nestled in the net, quicker than Arthur could shout "yours" to West as the two ambled back.
Immediately, Cresswell was deservedly booked for an awful challenge on West. From the free kick Camara set up Little, who, after cutting inside, fed Weller, only for a weak shot to result from the good position created.
A minute on it mattered not, the equaliser came. Chaplow's low, long range shot deceived Gould, who failed to hold and Ian Moore was on hand to shoot home silencing the Town End with a crisp low shot into the corner. The equaliser gave new impetus to the Clarets who returned to a position of enjoying the better of possession, though not until Cresswell had scuffed a shot after more good work from Fuller.
The game was being played at a rather slow pace, bursting into life briefly as each side looked to threaten. Little was booked for dissent - again and Arthur was booked for another of his silly fouls caused by a willingness to switch off.
Mr Dean completed his first half name taking by adding West to his collection, the slippery surface not once affecting his award of fouls as the half time whistle brought to an end a derby which at times had threatened to burst into life. (HT 1-1).
Into the second and what a half it proved to be. Six goals, no end of excitement and drama, with plenty to discuss on the splash through the puddles on the journeys home.
In only the second minute of the half, Grantona's vision set up Little whose back heel played in West and the dangerous ball in stretched Gould to the limit, punching clear as Clarets closed in.
Five minutes in and a simple ball was all that was needed to bypass both Clarets defensive lines allowing Fuller a clear run at goal. Jensen dallied, slipped and was thankful to his defenders as the ball, when played in, was cleared from under the bar.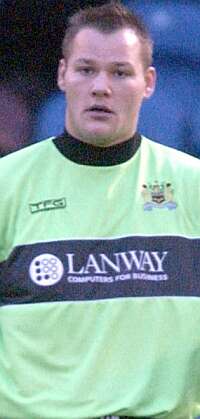 Star Gazer - Brian Jensen
Clarets rallied immediately, good work from Little saw a low ball in smothered by Gould as Weller looked to pounce. In what proved a crucial switch, Healy replaced Etuhu on twelve minutes, a move Clarets failed to counter and three minutes later PNE retook the lead.
Fuller again got the better of May, pulled the ball back from the dead ball line and following a scramble in the six yard box, Lewis toe poked home as Jensen failed to claim the loose ball.
Once again Clarets rallied and Cresswell was very fortunate not to see red, when fouling Moore from behind. Further punishment did though come from the free kick, Arthur nodding home from six yards as Gould failed to get to Blake's free kick for 2-2.
The goal served only to lift the Clarets, and the PNE rearguard was at full stretch for a period and then some as May's header came back off the bar from another well taken Blake corner. At the other end Jensen, saved well from Healy as a scissor kick went goal wards, but the save was nothing in comparison to Gould's one-handed reflex save from Moore's crisp, far post volley a minute later, after a great move between Little and Blake carved open the PNE backline.
With both full backs committed forwards in the move, Clarets were exposed and PNE took the lead from the resulting Clarets corner. Healy's run down the right went unchecked and his low cross eluded all but Fuller at the far post, who finished with some force into the roof of the net. 3-2 and still twenty minutes to go.
Abbott replaced Cresswell and Chadwick replaced Weller for the final quarter hour, as Clarets this time took all of six minutes to draw level, when Moore's downward header set up Blake, tripped by Broomes for a penalty.
Despite gamesmanship from both Gould and Fuller, Blake remained composed and despatched a well placed left footer beyond the gloves of Gouldilost and the third goal, PNE had led only for six minutes at any point in the game.
Clarets went for a fourth goal as the game reached its pinnacle and so nearly got it two minutes later. Chadwick had a superb run down the right and cut a low ball across the area that was cleverly stepped over by both Moore and Blake, the ball finishing at the feet of an unmarked Little. Only twelve yards from goal, Little elected to side foot home and shot across Gould who made a great save diving low to his left, though you felt he would have had no chance had Little instead gone for his near post.
The save was again to prove crucial, PNE went in front in the counter attack that followed. With West again out of position, Abbott's clever pass released Fuller and he had the freedom of Clarets right hand side to pick his spot, despatching a shot for his hat trick, sending three sides of the ground into delirium and one into despair with the efforts of the previous sixty seconds.
The Clarets rearguard further evaporated and moments later Healy shot over a gaping goal, having rounded Jensen, once again in no mans land. Stan had clearly suffered enough of the antics of his two wandering full backs and both West and Camara were waved off in favour of Branch and McEveley.
Grantona added another to his high and wide collection of shots when placing a twenty yarder high into the visiting ranks, Clarets still trying to get a fourth equaliser. The ball would not sit properly in the area between the desperations of Chaplow and Moore as Branch tried to slot a ball through.
Though there were only two minutes remaining, you sensed there was another goal in the game, both defences continuing to be out of shape whenever attacked and the goal duly came in the final minute.
McEveley was caught in possession by Fuller, lost the resulting tussle and Fuller sent Healy away with a simple cross field pass. True the defenders retreated when a tackle wouldn't have gone amiss, but the shot to the near post was not a particularly good one, yet it deceived Jensen, the failed interceptor, passing through his gloves and into the goal for an embarrassing finale. Cue Mr Dean to blow on a somewhat flattering score line for PNE.
It had been a superbly entertaining game and one that Clarets had deserved something from, such was their superiority and quality going forwards. Their let down was the defence and Clarets now possess the second worst record in the Division, a record Stan was clearly and rightly upset about in his post match reviews. (FT 5-3).
Att:- 18,802.
Star Gazer
Jensen, West and May were contenders, but Brian Jensen gets the nod. Had another day to forget and apart from one good save in the second half, every aspect of his game was dreadful, culminating in a howler for goal number five, fumbling Healy's low shot over the line. Having now picked the ball out now on 43 occasions this seasons, his off days considerably outnumber his better days.
Beer Money
Defensively, Clarets were disorganised and at times shambolic, seldom looking either composed or resolute, contributing greatly to PNE's win with, at times dreadful defending. The central defenders never decided which was supposedly marking Fuller - scorer of three and provider for the other two, whilst both full backs were away from home in more ways then one. No wonder Stan was livid and scathing in his post match comments as Clarets slipped down to eighteenth position.
Star Geezer
Robbie Blake. Simply magnificent and a constant threat to PNE wherever and whenever he received the ball. His first touch and intricate ball skills were an inspiration to his team mates and he worked tirelessly throughout in what was probably his best performance this season.
Champagne Tastes
Going forwards, Clarets were looked dangerous and for long periods in this game, Clarets were the better side. The midfield was both hard working and well organised, supporting the lone striker option well and creating many chances, probably more than PNE in this entertaining and memorable game.