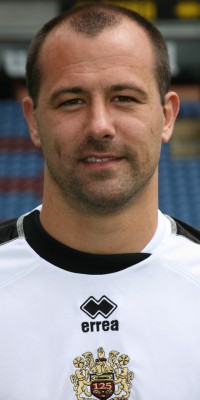 Gabor Kiraly - world class save
They don't come round very often, our last win there was under Jimmy Adamson's management whilst John Bond was in charge the last time we got even a point and interestingly our last three points have all come from goalless draws.
In the 1980/81 season we earned our point from a dour defensive performance, three years later and it was like Bambi on Ice in a game that seriously should never have started, but this particular 0-0 draw could so easily have been much better. We took the game to our hosts, played some delightful football at times, and no one could have claimed injustice had we come away with all three points.
I really don't like going there; I just feel that no matter what we do, no matter how we play, that we'll lose the game. Years of it have accustomed me to defeat. I felt the same yesterday; I wasn't looking forward to it at all. I had the opportunity to speak to Brendan Flood before the game and he asked me if I thought we could get a result. "Here?" I said, "No chance," I added.
In to the ground and our new position in the lower tier the team news came that I was expecting. David Unsworth was in against his old club for the injured Steven Caldwell but other than that it was the side that had started a week earlier in the defeat against Southampton.
Andy Gray was the other ex-Blade in the side whilst the home side lined up with Phil Bardsley and Gary Cahill in defence and Luton Shelton in a three pronged attack alongside Danny Webber and James Beattie, the latter getting the sort of welcome from the Burnley fans you would expect of a former Blackburn player.
After Star Wars and John Denver we were ready to start and our latest ninety minutes of Bramall Lane hell. We didn't start too brightly and the home side had the first opening when Danny Webber from the left hit a shot just wide of the goal although Gabor Kiraly looked to have it covered.
It got us moving and we started to play some really neat football through the midfield. It was good to watch and we got ourselves on top. The nearest we came to a goal was from a Clarke Carlisle header following a Graham Alexander cross which went just over the bar.
We were the better side now but midway through the half we came so close to falling behind when Beattie headed a Gary Naysmith cross goalwards. When Gordon Banks saved from Pele in the 1970 Mexico World Cup commentator David Coleman just screamed, "GORDON BANKS". I'm not sure what I shouted as I got to my feet but this save was on a par with that, world class from Gabor.
He did well again a few minutes later, going in to kick clear when he realised he wouldn't get there comfortably enough with his hands. Was this the start of the Sheffield United onslaught we were just waiting for?
No, because Robbie Blake went close with a free kick and the Blades had a couple more worrying moments before Richard Beeby, strangely anything but controversial, brought the half to an end.
We'd done well, we'd played well in that first half and were very much deserving of being level, but I still sensed disaster and still thought it was just a matter of time.
If I'd been expecting them to really come at us I got a shock, although it wasn't one I was going to complain about. It was us who got on top and it was Burnley who were doing the attacking.
Wade Elliott got his head to a cross from Robbie but it was saved by Ian Bennett. Another inch taller and Wade might just have been able to beat him. Then a free kick on the right hand corner of the box. Robbie and David Unsworth stood over it, but it was rolled across to Alexander who came so close to his first Burnley goal. It looked headed for the bottom corner but Bennett did well to save.
Not as thought it was on way traffic, but when they did get forward they found a rock in the centre of our defence that they knew all about in David Unsworth, and he was joined by another Blade when Jon Harley came on for the injured Stephen Jordan. The much maligned Jordan had played well but having bravely tried to run off an ankle injury he had to be replaced.
Carlisle went down, but thankfully was able to continue. Being a Burnley defender these days must be a health hazard, and then Kyle Lafferty picked up a knock when he was stamped on by Bardsley. Kyle was eventually replaced by Alan Mahon.
We just needed a goal, and I thought we'd got it when Unsworth appeared to have crowned his performance with the winner. He headed home a Robbie corner but there was our old friend Mr Beeby to disallow it.
One minute to go, we were still level, we hadn't given them a sniff in the second half, and then disaster struck as Beattie headed home. I felt sick, what I thought would happen had happened. It was down the far end and I couldn't quite make out what was going on, but seeing the television pictures neither had Beattie. But Beeby had come to our rescue and ruled that one out.
Stoppage time was a worry, and he played more than the three minutes indicated. They threw two long throws into our box, they got a couple of corners, and they had a shout for a penalty that was rightly ignored. But a home win here would have been a travesty.
The whistle finally went and the reaction from the Burnley fans could not have been bettered had we won. Forget what's going on there, although I do find fans running on throwing scarves at Robson somewhat funny, this was a damn good result for us.
But more than that, this was a damn good performance from us and how we needed it after last week. We could have won it, I thought we deserved to win it, but I'll always more than settle for a point here. And for me 0-0 was better than 1-1 or 2-2, we really needed that clean sheet.
We drove in past Hillsborough on the way and I commented that it was the last place we had kept a clean sheet. "We won't do it twice in this city," I said.
Man of the match time. There were so many good performances all across the pitch. Alexander had his best game yet for us, Elliott was superb in the second half. Gabor turned in an almost faultless display including that wonder save.
But sorry Graham, Wade, Gabor and the rest of the side, my choice just has to be David Unsworth. I was totally unconvinced about this signing but everything I've seen from his since he first pulled on a claret and blue shirt tells me I was completely wrong. This was a towering performance and had his goal stood it would have been richly deserved.
We're still looking for that first win there since Doug Collins and Martin Dobson netted in 1973, but this is a start, and a good one. You can always tell how good an away performance is by the reaction of the Burnley fans at the final whistle. This, I can tell you, was a good one.
The teams were;
Sheffield United:
Ian Bennett, Phil Bardsley, Gary Cahill, Matthew Kilgallon, Gary Naysmith, Keith Gillespie (Nick Montgomery 63), Michael Tonge (Alan Quinn 63), Chris Armstrong, Luton Shelton, James Beattie, Danny Webber. Subs not used: Chris Morgan, Jonathan Stead, Billy Sharp.
Burnley:
Gabor Kiraly, Graham Alexander, Clarke Carlisle, David Unsworth, Stephen Jordan (Jon Harley 58), Wade Elliott, John Spicer, Chris McCann, Kyle Lafferty (Alan Mahon 75), Robbie Blake, Andy Gray. Subs not used: Brian Jensen, James O'Connor, Ade Akinbiyi.
Referee:
Richard Beeby (Northampton).
Attendance:
25,306.