It might have been even better had Scott Arfield, again in excellent form, not been denied from the penalty spot by a superb save from Julian Speroni with just over six minutes of time remaining. It would have been a befitting finalé after what I consider to be a better away performance than any we saw in 2009/10.
I've nothing particular against Palace but it is always a bonus when they are not in the same league as us, simply because of the difficulties in getting to Selhurst Park by road. Our plans were slightly delayed by one hold up but, even so, we were outside the ground around 2 p.m. where already there were a hefty following of Clarets.
This is not your typical new style Premier League ground. It still has the two old stands down each side and a Sainsbury's supermarket behind one goal. We didn't see any foxes on the pitch this year but the eagle was there flying from one end to the other of the pitch looking very impressive.
There was also a somewhat distasteful smell throughout the game. We were trying to decipher what it was and the best description I could come up with was that it was like having been working in the greasiest of greasy spoons on a long shift. I turned out that there was a Jamaican jerk barbecue close by which was causing the problem.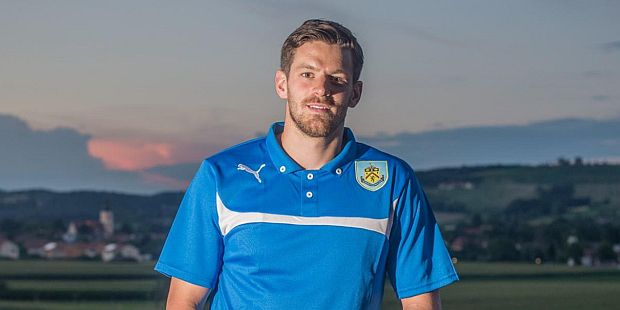 Another impressive performance from Lukas Jutkiewicz
Inside the ground I spotted an active high profile member of the Labour party and, according to Clarets Chronicles, celebrity Burnley supporter. I'm sure there's every chance that Alastair Campbell was there but this potential Parliamentary candidate for Dulwich & West Norwood and former Mayoress of Camden Amy Lamé who I've not actually spotted at a Burnley game since the last fixture of the 2003/04 season.
She was a bit of a giveaway with the letters L A M E on the back of a claret & blue shirt but, having said that, the bloke sat in front of her also had four letters on his shirt which were I N G S and I don't think it was Danny.
Danny was actually in what was not an unchanged Burnley team. An Achilles injury had prevented Matt Taylor, who has started the three previous Premier League games, from travelling. His place was taken by new signing and Crystal Palace fan George Boyd in an otherwise unchanged team which also saw the same seven players on the bench who had been on there for the United game two weeks ago.
The eagle took flight again just before the teams came out with Burnley, thankfully, not in the all tin foil kit we'd been warned to expect earlier in the week. I don't like the black kit at all but those who have seen the silver kit have warned that it is considerably worse.
Neil Warnock came out to rapturous applause from the home fans. I'd been asked to report at what stage of the afternoon there was any reference to him from the Burnley fans. We were more intent in welcoming our players and the first customary Neil Warnock is a w***** chant didn't come until the 18th minute of the game.
We started slowly against Swansea in the previous away game and it was of some concern that we got off to a similar start here as the choreographed home support, accompanied by drums and the Dave Clark Five, got behind their team.
Jason Shackell cleared one ball away too close to the line for comfort to prevent an own goal after a Tom Heaton save from Wilfried Zaha had rebounded off him, and Scott Dann fired a header against the bar following a corner, a corner that was correctly given via a deflection of Michael Duff.
Referee Mike Dean got that one spot on but I have to say I remain unconvinced he got his decision correct when he yellow carded Danny Ings. In fairness the signal came from his assistant that Danny had gone down untouched but that was clearly not the case. There was contact, however slight, and it should have been a free kick to us.
It wasn't Ings' day. By half time he was sat nursing a hamstring injury that had forced him off three minutes before the break. By then, despite Dwight Gayle missing an opportunity, we'd got ourselves right back into the game and were in the ascendancy.
The injury to Ings caused some debate where we were sat. I thought Ashley Barnes would be the replacement but there were others who called for Marvin Sordell. They were the ones who got this right and the former Watford and Bolton striker was set to get his longest run out in a Premier League game.
I thought he did really well in the second half when, for me, we were much the better side. He linked well with the hugely impressive Lukas Jutkiewicz whilst behind them the midfield were superb at times in their support. Arfield, as mentioned, was again in top form as was David Jones who, but for the performance of Juke up front, would have received my man of the match nomination.
On the left, George Boyd had a very good debut but probably his best spell came in the first half when he showed us just what an asset he can be for this Burnley side. He himself admitted he'd tired a little in the second half but there is much more to come from him.
At the back, the four defenders all played well, as did Heaton behind them.
Until the penalty the closest we'd come were via Jutkiewicz and Arfield. Jones played in the former but he took the ball too wide and wasn't able to get a shot on target. Arfield, however, forced Speroni into a terrific save from a powerful swerving shot from the edge of the box.
Then came the penalty. We won a free kick for a Mile Jedinak foul on Boyd for which he was yellow carded, and that is significant. Jones aimed the kick towards Jutkiewicz close to the right hand post where Jedinak, with both arms grabbing him, pulled him to the ground.
Dean pointed to the spot and there was absolutely no protest from the Palace midfielder, but he must be thinking he's very fortunate not to have received another yellow card for it and subsequently a red.
Arfield had the ball in his hands ready within seconds and looked confident. There wasn't too much wrong with the kick. It was powerfully struck but maybe just at a decent height for Speroni. But the goalkeeper has to take the credit for what was a magnificent save to deny us a winner.
I don't know if Arfield has a penalty taking record previously. He never scored from the spot in a league game for Huddersfield but did scored their fifth in the penalty shoot out in the play-off final against Sheffield United after his side had missed the first three. I do know that this was certainly his first for Burnley. All players miss penalties at some time or other, apart from the former Claret I spotted shopping in Tesco this morning who goes by the name of Peter Noble, and there was certainly no hint of criticism of Arfield from the away stand.
I believe we should have had another penalty two minutes later for a clear shirt pull on Jutkiewicz. Dean could not possibly have seen this but his assistant had the clearest of views but did what he'd done all game and gave nothing.
It was our last opportunity and Palace, frankly, had long been seen off by us, so a point it was. The response to the players from the fans at the end was very positive but the loudest cheer and the longest chant was reserved for Arfield which he turned and acknowledged.
I only learned, via the message board, that it was a year ago this weekend that his back pass helped cost us against Blackburn. That didn't do us much harm did it?
We're learning at this level but this was another good performance and that's the view we got from Palace fans as we made our way back to the station after the game.
This is as good a Burnley side as we've had for years. We might not be likely title challengers in this league but if we can continue to play, and build on, this kind of performance then there is every chance we can have a far better season than many of us dared hope.
For Boyd it was a Burnley debut whilst for both Heaton and Jones it was league appearance number 50 since they signed for the Clarets in the summer of last year.
And for Burnley this was a first ever clean sheet away from home in the Premier League. It was the first time we've kept a clean sheet away from home in the top flight since April 1976 when a goal by the aforementioned penalty taker scored the only goal in a 1-0 win at Newcastle.
It's also the first time we've kept successive clean sheets at this level since the wins against Manchester United and Everton, both at home, in 2009/10, a season that saw only one more kept in the entire season.
When Owen Coyle left Burnley I happened to speak to a Football League manager who told me that the best chance of staying up would be to start keeping clean sheets. Alas the poor defensive record continue in that we didn't keep one.
This time round this is a team far more capable of defending well and therefore far more capable of collecting results. It's Sunderland next, a match that will see one of my best friends sat in the cricket field stand. I really hope he has a miserable Saturday night.
The teams yesterday were;
Crystal Palace: Julian Speroni, Adrian Marriapa, Scott Dann, Damien Delaney, Joel Ward, Jason Puncheon, Mike Jedinak, James McArthur, Wilfried Zaha (Yannick Bolasie 69), Fraizer Campbell (Jonny Williams 75), Dwight Gayle (Kevin Doyle 61). Subs not used: Wayne Hennessey, Zeki Fryers, Joe Ledley, Martin Kelly.
Yellow Cards: Jason Puncheon, Mile Jedinak.
Burnley: Tom Heaton, Kieran Trippier, Michael Duff, Jason Shackell, Ben Mee, Scott Arfield, Dean Marney, David Jones, George Boyd, Danny Ings (Marvin Sordell 42), Lukas Jutkiewicz. Subs not used: Matt Gilks, Steven Reid, Kevin Long, Stephen Ward, Ross Wallace, Ashley Barnes.
Yellow Cards: Danny Ings, Marvin Sordell, George Boyd.
Referee: Mike Dean (Wirral).
Attendance: 23,929.