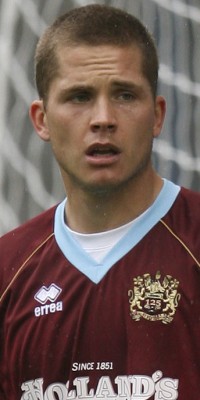 Joey Gudjonsson - on as a sub and twice had shots parried by the Stoke keeper
It had been about two weeks since Steve Cotterill's departure and ever since Coyle's appointment on Thursday 22
nd
November many questions had sprung into my mind such as who would he play? How would we play? Would the fans return?
My first impressions of Coyle were good, he seemed to be saying the right things, and he was saying he likes attacking football, on the deck using the wings. It all sounded good but as I took my seat in the Bob Lord Stand I was still unsure and those questions kept returning.
As the Burnley and Stoke teams were read out there were a few smiles on my face, firstly because Stoke were without Ricardo Fuller, as we already knew he was suspended, and they were also without a player I highly rate Liam Lawrence.
For Burnley David Unsworth returned from a one-match ban and Alan Mahon came in for John Spicer. They were the only changes from the team who beat Leicester City. However one name that was on the substitutes bench, and had me smiling was Joey Gudjonsson who was included in the 16 man squad for the first time at home since he made a sub appearance vs Oldham in the Carling Cup 2
nd
round.
At 2.50 Burnley, in their 125
th
anniversary shirts (looking a bit like Argentina) ran out along with the Stoke team, in front of a larger crowd of 11, 758 compared to recent attendances. They were soon followed out by the new manager Owen Coyle who got a huge reception from all sides of the ground including the Stoke fans who sang who are ya? (I'm sure they later regretted it)!
The first half got under way with Burnley attacking the David Fishwick stand, the first few signs were good with Wade Elliott looking a tricky customer on the right hand side of midfield and he was causing Stoke problems, Robbie Blake was as skilful as ever and he played a part in Burnley's first chance when he found Alan Mahon from a free kick just inside the box who shot wide.
Stoke rarely troubled Gabor Kiraly in the Burnley goal with fancy pants catching all the Stoke crosses consistently. Owen Coyle's Claret and Blue army rang around Turf Moor for the first time with Burnley mounting the pressure on the Stoke back line. Firstly Robbie Blake having his shot blocked by what seemed to be one of his own players, then by Wade Elliott who soon came close to scoring when a fierce shot was deflected wide for a corner.
Then came a show of quality from both Alan Mahon and Stoke goalkeeper Steve Simonsen. As the ball came out to Mahon on the edge of the box he volleyed it with the outside of his foot only for Simonsen to tip it onto the post and out.
Turf Moor was buzzing with this attacking display and Stoke only really troubled late in the first half when Gabor Kiraly punched away a header from one of the Stoke players.
At the half time whistle I'd been impressed with the first half performance, we were solid at the back and were rarely troubled and up front we were exciting and creating lots of chances.
It was really really impressive play from Coyle's Clarets and as Glen Little reminded us of the old days when he made the half time striker draw we were thinking about the future and where could Coyle take us playing like that, only time would tell.
The second half started in the same fashion with Burnley knocking the ball around really well and creating a couple of half chances with Robbie Blake and Chris McCann trying to test Simonsen.
Yet again Wade Elliott was causing Stoke more problems on the right wing it was a shame that on the opposite side of the pitch Kyle Lafferty was not having the same impact. He kept giving the ball away with wasted chances, as his crosses were poor ones.
Stoke had not improved one bit and even when substitute big Jon Parkin ran into the box our very own David Unsworth was equal to him making a fantastic challenge and even won a goal kick from it.
Burnley carried on attacking Stoke and had a huge chance to take the lead when Alan Mahon's through ball found Robbie Blake who pulled it back to the unmarked Kyle Lafferty who only needed to slot it home in to one of the bottom corners but he blasted it over.
No one in the crowd could believe he had missed and unfortunately that summed up Kyle's day, with around 15 minutes left he was substituted by former City striker Ade Akinbiyi.
The crowd in good spirit greeted him by wearing facemasks as Burnley tried to get that elusive winning goal. Unfortunately Ade never really made an impact, Alan Mahon soon made way for Joey Gudjonsson, a brilliant substitution that certainly put a smile on my face and when Joey started to make some great interceptions and forward play it was something I had certainly missed seeing.
Burnley continued to put pressure on Stoke but to no avail with Andy Gray having a header go just wide and Joey Gudjonsson twice having shots parried by Simonsen only to find a Stoke player rather than Gray or Akinbiyi.
And that was it a 0-0 score line in Coyle's first game in charge but that was nowhere near the full story as Burnley were brilliant at attacking and defensively strong and if we keep this up under Coyle who knows where we can go!