Willie can add Brighton to his list of former clubs, along with our next home opponents Preston, and our club took the opportunity yesterday to recognise Willie's goalscoring feat of fifty years ago when he broke the club's post war record for goals in a season.
He was something special back in the 1960s and the recognition was fully deserved. I was a massive Irvine fan back then and someone I know really well now. He was a phenomenal goalscorer who might just be getting a bit edgy right now a the potential of losing that record.
Winter arrived over the weekend. The League One game at Port Vale was played on a white snow covered pitch with the lines cleared. It was like something from the days when Irvine was scoring goals but the Turf Moor looked in its usual pristine condition even though we were watching in lower temperatures than at any previous game this season.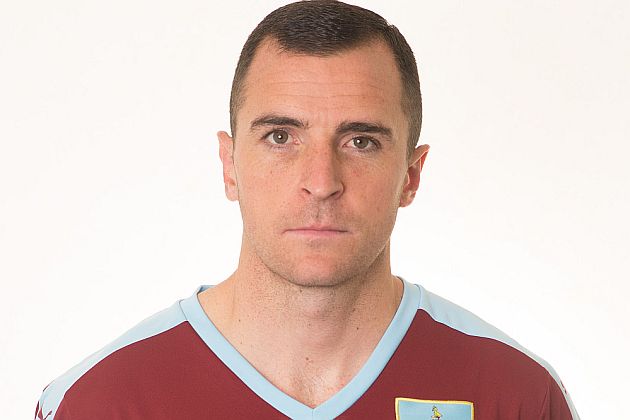 A welcome return to the squad for Dean Marney
We'd learned a couple of days earlier that Brighton would be without Sam Baldock and the team news confirmed that our Sam was also missing. Vokes had come off injured at Wolves. It had forced him to withdraw from the Wales squad and, although close, he didn't make it with German Rouwen Hennings coming in for only his third start.
There was also a very welcome sight on the bench. With Hennings now in the starting line up and Kevin Long gone on loan, there was a return to the match day squad for Chris Long and a very welcome to return for Dean Marney, the first time he's been involved with the first team since suffering his ACL injury at the beginning of February.
They reckon seeing one magpie is for sorrow but two for joy, but what about a flock of seagulls prior to a home game against Brighton. Despite being some way from the coast there were a number, far more than would be required to be considered a flock I would think, hovering over the corner of the ground ahead of the game ready to swoop on any discarded food outside the Park View.
Prior to kick off, I have to say that the minute's silence to show our support for those who lost their lives in Paris just over a week ago was impeccably observed. The only sound I heard was that of a pigeon sat somewhere within the stand.
The game got off to a sensational start with two goals scored with little over three minutes played. It's incredible to think that we kicked off, we won two throw ins down the right hand side as we went forward, but still managed to concede a goal with less than a minute on the clock.
It happened so quickly I could hardly piece it together but further viewing has shown how unfortunate we were to concede. Ben Mee blocked a cross from the right which fell nicely for Dale Stephens. His effort came off David Jones and again fell nicely for Brighton, landing at the feet of Tomer Hemed who scuffed his shot, via possibly a touch off Michael Duff, onto the bar. The ball came out, went through the legs of Tendayi Darikwa, maybe even getting another touch, and there was Bobby Zamora to turn it in left footed right by the left hand post.
Every time the ball seemed to bounce in their favour and it left us facing a big task against an unbeaten side, but straight from the restart we worked the ball forward down the right, played it across to the left for Mee to win us a corner.
As the corner came over I saw a Burnley player going up to head the ball. Most of his back was in view and his shirt number had disappeared over his shoulder. I was up for a penalty kick as referee Simon Hooper pointed to the spot.
There's been some debate about this since, even pundits saying that referees don't usually give them. Keane's only offence was to try and get Lewis Dunk's hand off his shirt which he was so clearly pulling. Referee Hooper got this one 100 per cent correct and Clarets' defender Ben Mee, who had such a good game, said in interview that he'd even heard the rip of the shirt.
If Hooper got it 100 per cent correct then so did Andre Gray as he scored the penalty to draw the Clarets level. It's taken his tally for the Clarets to nine now from twelve games and eight of them have come at Turf Moor.
Dunk and his partner Gordon Greer, who returned from injury, are uncompromising defenders. They are a very good pairing but too often let themselves down with unnecessary fouling. Both were eventually yellow carded in this game and both could have received those cards much earlier in the game.
Without there being anything serious, Brighton are a physical side all round and keen to break up play with niggling fouls and the like. It's nothing quite so serious as Gus Poyet's team that were labelled a disgrace by Burnley fans but it is certainly no surprise to see them with double the number of yellow cards we've received this season.
They are a decent side though, no doubt about that, and they played some good football at times, but it was Burnley who came closest to scoring again during the first half and Brighton were thankful to David Stockdale who made a brilliant stop to deny Hennings his first goal in Burnley colours.
David Jones must have been happy at Hennings' inclusion in the side yesterday, it certainly spared him the grief he usually gets from some situated behind us in the stand. Unable to see anything positive in Jones, yesterday their vitriol was directed at Hennings who apparently, for them, didn't have one redeeming feature.
I thought we missed Vokes. I don't think Hennings is the player to give us what Sam does. I think he's a player learning to adapt to the English game but I thought he did okay in the first half although was fading away in the second half prior to his substitution.
Who knows, had Stockdale not made that save, the best of the game, we'd have had the name Hennings on the scoresheet. Those same detractors, just over a year ago, were turning on Ashley Barnes during the first half of the home game against Hull.
For all their controlled play, Brighton didn't come close to another goal. They did cause us some anxious moments in our box but Tom Heaton didn't have much to do for the remainder of the first half whereas Stockdale was called upon another couple of times.
And we might have gone in at half time with a lead when George Boyd, having his best game of the season, linked up with Gray only for the striker to see his effort blocked by a defender just as it looked as if Stockdale might be required again.
The second half certainly didn't start in the same way as the first half and in truth there wasn't much goalmouth action at either end with the two goalkeepers having reasonably quiet 45 minutes.
Both teams replaced their replacement strikers with Chris Long coming on for Hennings just after the hour and Zamora giving way a few minutes later and replaced by Jake Forster-Caskey. But it was Burnley who carved out the openings and probably should have won the game.
The two main chances fell the way of Scott Arfield. It's just four weeks since he scored that all important winner at Ewood but he hammered a shot off target and then got the chance of the match when a ball pulled back from Gray rolled nicely into his path.
He opted to stroke the ball into the corner but it went agonisingly wide. Only a late chance for Long, that was flagged offside in any case, threatened to change the scoreline after that Arfield miss and I think both sides will be generally pleased with the point.
Brighton are a decent side, no doubt about that. They are very organised and defensively sound but they didn't offer too much of an attacking threat, certainly once Zamora had gone off. This is the striker who scored his first ever goal at this level back in 2002 at Burnley and he also scored in both Premier League games against us for Fulham in 2009/10 season. I still shudder at the torrid time he gave David Edgar down at Craven Cottage.
I'm surprised he doesn't start more games, that was just his second start this season, and I was relieved when he went off; He'd been a threat all afternoon.
They will go home with their unbeaten run of now 18 games in tact while we've moved ours up one to eight games since Reading took all three points at the Turf.
We did miss Vokes and that had an effect on our play, but I thought we played some really good football at times. It's been said many times this season that we've been getting results without playing well. I think we are starting to get there. There were times yesterday when I thought we played some good stuff.
We're fifth but only two points from the top of the league. A return of 33 points from 17 games is excellent in a league that looks as though it is going to be very close at the top.
Maybe we could have just thrown Willie Irvine on for the last ten minutes. He might be 72 now but I reckon he still might have a goal or two in him.
The passport's out now and ready for Cardiff on Saturday, a team who will be playing in the EFL next season, something they don't like one bit.
The teams were;
Burnley: Tom Heaton, Tendayi Darikwa, Michael Duff, Michael Keane, Ben Mee, George Boyd, Joey Barton, David Jones, Scott Arfield, Rouwen Hennings (Chris Long61), Andre Gray. Subs not used: Matt Gilks, Matt Lowton, Stephen Ward, Dean Marney, Matt Taylor, Michael Kightly.
Yellow Card: Ben Mee.
Brighton: David Stockdale, Bruno Saltor, Gordon Greer, Lewis Dunk, Liam Rosenior, Solly March, Dale Stephens, Beram Kayal, Jamie Murphy, Bobby Zamora (Jake Forster-Caskey 65), Tomer Hemed (Elvis Manu 82). Subs not used: Niki Maenpaa, Connor Goldson, Danny Holla, Adam Chicksen, Daniel Akindayini.
Yellow Cards: Solly March, Gordon Greer, Lewis Dunk.
Referee: Simon Hooper (Wiltshire).
Attendance: 15,622 (including 375 from Brighton).
View Short Highlights Below