It was, frankly, a disappointing game of football almost from first to last, with little positive action from either side and the game was decided with two goals from the penalty spot with arguments that both spot kicks were soft awards at that.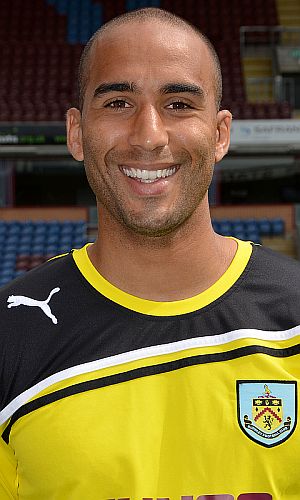 Lee Grant was the man of the match
We had the advantage of an early goal, ours coming in just the second minute, but we couldn't capitalise on it and whilst we were probably the better of the two teams on the day could hardly justify having done enough to have won the game.
Before leaving home for the game I learned of the sad death of manager Eddie Howe's mum Annie and that certainly puts into perspective anything that happened at Turf Moor in the afternoon. He was rightly not at the game and that left Jason Tindall in charge of the team on the day.
That team showed changes from the one that had surrendered a two goal lead at Watford seven days earlier. Out went loanee Josh McQuoid and striker Charlie Austin with Danny Ings, for a first start in Burnley colours, and Martin Paterson replacing them.
At the back, the good news was that Michael Duff, forced off at half time at Watford, was fit to resume although there was no defender on the bench with Brian Easton left out of the squad after a nightmare 45 minutes at Vicarage Road.
Walking up to the ground it was suggested to me that we might be one of the first teams in the Championship this season to pack for our holidays with little prospect of us being involved in either the promotion/play off or relegation issues.
I had to agree. With the results over the last month even those with glass three quarters full would find it hard to argue a case for us finishing in the top six but likewise, and as has been the case for some weeks, it would be impossible to suggest, even for those with glass three quarters empty, that we could get sucked into any sort of fight at the bottom.
Still, a win here could just parachute us that bit closer to the much sought after top six places but I always felt, against a Palace side that doesn't give too many goals away, that we'd need an early goal.
Ahead of kick off Turf Moor paid tribute to Annie Howe with an impeccably observed minute's silence and within no time at all after that we got that much sought after early goal.
It was a real defensive calamity from Palace too when it came. Goodness knows what encouraged Jonathan Parr to turn towards his own goal whilst in possession of the ball, but that's what he did and then tried to play it to team mate Anthony Gardner. The ball came off him and left Martin Paterson in the clear.
In fairness to Parr he did get back as Pato made his way into the box but his arm came out and pushed the Clarets' forward who went down. No penalty was the decision from referee Dean Whitestone but his assistant put his flag across his chest and a spot kick we got.
Yes, Parr pushed but to me it appeared it was as much Pato looking for it and one I'd certainly put into the 'soft' category. Now it was a question of what colour the card would be with the home crowd baying for red. It was yellow, and on closer scrutiny I think, with Patrick McCarthy having got back, it was the correct decision.
Up stepped Jay Rodriguez against Palace goalkeeper Julian Speroni, as good a goalkeeper as you are likely to find at this level. It reminded me of our last two appearances at Selhurst Park when Jay has done all but score because of the brilliance of the Argentinean.
This time Jay was the winner, planting the penalty to Speroni's right and giving him no chance. We'd got that early lead which would surely change Palace's approach. Now we needed to take things on.
We didn't, and in reality we never really threatened to. Oh yes, we had some opportunities. Ings weaved his way inside the box after a ball from Jay, but he was denied by Speroni who was quick off his line; Kieran Trippier shot just wide and then Jay Rod was off target with a shot from the edge of the box after he was played back by Trippier.
Palace hadn't offered very much at all despite coming into the game with the confidence surely gained from being on a run of seven games without defeat, but as the half drew to a close they could so easily have equalised and even gone in front as they tested Lee Grant.
The much maligned Grant, thankfully, dealt with it all with saves that went on to win him the man of the match. The best of the saves was one that kept out a header from Glenn Murray but even so those latter stages of the first half should have been ringing some alarm bells.
Overall, however, in a first half that had little to excite the crowd, we were probably deserving of the lead.
Last week we lost Duff at half time; this time it was Jay. Apparently he's been struggling with a groin injury and he was replaced for the second half by McQuoid.
In truth we never got going at all. It was awful stuff with the only consolation being that Palace weren't a lot better and weren't threatening us.
Wilfried Zaha, a supposed superstar in the making, won a free kick when Duff took a yellow for the team and Darren Ambrose, thankfully, hit his free kick straight at Grant.
Zaha, and I can think of a few choice words more suitable than superstar, was the centre of attention just past the hour when he won Palace a penalty. Was it? If it was then it was even softer than ours but I'm not convinced he's been fouled. Taking a closer look he's already decided he's on his way down whether there's a touch from Trippier or not.
Ambrose's penalty was almost a carbon copy of Jay's and it was all square. Palace players celebrated, other than Zaha who decided to gesture at the Burnley fans in the Jimmy Mac. His day wasn't to last much longer.
He was on long enough to see Stuart O'Keefe incredibly get away with a bad, bad challenge on Dean Marney. It earned him a yellow card but It could so easily have been a red.
That red card was soon evident though. I didn't see the incident and neither did the television cameras so I haven't had that to confirm anything. However, the eagled eyed man to my right immediately shouted 'red card'. He'd seen Zaha kick out at David Edgar.
Whitestone, like me, had seen nothing. He spoke at length to his assistant before bringing out the red card. Palace were down to ten and Zaha was no more.
We almost immediately brought on Austin for the disappointing Ross Wallace, and we certainly had most of the play, but there was little to suggest we might snatch it.
There was one Trippier cross that fizzed across the box without anyone getting a touch and right at the end Austin had a chance when Edgar deflected a cross from late substitute Junior Stanislas into his path.
Had we scored it would have been more than we deserved. There really had been precious little to enthuse over in this game, something that's happened far too often this season particularly in home games.
I'm convinced we'll finish the season in the middle of the table, I have an inkling we'll be just below half way. I'm totally convinced, no matter how my glass is, that we won't be going up and we certainly won't be going down.
We need to start playing better than this though, and soon. It was hardly an entertaining afternoon.
The teams were;
Burnley: Lee Grant, Kieran Trippier, Michael Duff, David Edgar, Ben Mee, Dean Marney, Chris McCann, Ross Wallace (Charlie Austin 75), Jay Rodriguez (Josh McQuoid 45), Danny Ings, Martin Paterson (Junior Stanislas 88). Subs not used: Brian Jensen, Marvin Bartley.
Yellow Cards: Michael Duff, Dean Marney.
Crystal Palace: Julian Speroni, Nathaniel Clyne, Jonathan Parr, Patrick McCarthy, Anthony Gardner, Darren Ambrose, Mile Jedinak, Wilfried Zaha, Glenn Murray, Stuart O'Keefe, Chris Martin (Dean Moxey 73). Subs not used: Lewis Price, Paul McShane, Owen Garvan, Jermaine Easter.
Yellow Cards: Jonathan Parr, Stuart O'Keefe.
Red Card: Wilfried Zaha.
Referee: Dean Whitestone (Northamptonshire).
Attendance: 13,216.