There had been so much negativity around after we'd firstly lost our two goal lead against West Brom on Sunday and then lost Dean Marney for some considerable time to a cruciate ligament injury, that news bringing our transfer window activity back to the fore.
"We'll get absolutely hammered," I heard one Burnley supporter say on the concourse at Old Trafford before the game, almost revelling in his suggestion, and there were many who thought Louis van Gaal's long ball outfit would be far too good for us, and don't be fooled by his double Dutch, that's exactly what they are (a long ball outfit).
I just wish I could be writing of our first Old Trafford win on well over half a century; I wish I could be writing of us again climbing out of the bottom three, but I can't. All I can write about is a night when we lit up the Premier League's biggest stadium with a stunning display only to lose the game because of some defensive slips.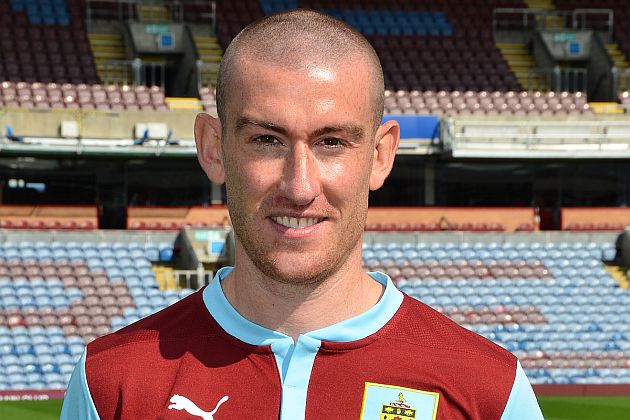 An outstanding midfield performance from David Jones
I will be writing about this performance though, particularly in the first half, and offering up some praise for some individual players and the team in general on a night when I felt nothing but pride for the way my team had performed.
We'd had some good news ahead of the game; the tram strike was off and so our preferred route there was back on. We gave ourselves ample time too. We know the traffic problems around Manchester and the motorway network have been horrendous recently so we thought a 3 p.m. departure from Burnley would give us more than adequate time to reach our destination which was Ladywell tram station.
The trip provided me with a surprise. I've not been on this line before and suddenly it came to a stop at one station (Broadway) and I found myself looking it at my old office window from the 1990s. We were soon off, looking for food and drink before taking the trip over more bridges than Amsterdam to the stadium.
Stood outside, I had an enormous feeling of pride. Here we were, our club, playing a league game at the home of the team who have won more titles than anyone else in recent years. I've not been able to understand all the negativity this season at all and it made me wonder what some people actually want.
The teams news had just come through and, as far as we were concerned, was the expected line up with Michael Kightly coming in for Marney. We got to our seats in good time to see the teams come out and I have to say that the tin foil kit looks even worse under the lights. I'm told it is the last time we'll wear it which I'll be delighted with as will, from what I've been told, the players.
It was a big night for three of our players who all started their careers at United. David Jones had played league football at Old Trafford previously as a substitute for Wolves in 2009 but neither Tom Heaton nor Michael Keane had, although Keane did play a Carling Cup game for United at home.
Keane nearly made a name for himself in our first attack. We won a corner on the left but he could only head it wide and we were soon defending when Tom Heaton turned a Paddy McNair shot round the post for our hosts' first corner of the night.
Before it could be taken they brought on Chris Smalling for the injured Phil Jones and with his first touch he gave them the lead as we conceded yet again from a corner although this time it was after a bit of head tennis and not directly from the corner.
I have to admit that some of my optimism from before kick off drained somewhat. I could not have known that I was to witness us outplay United for the rest of the first half.
The response was immediate and brilliant. Kightly got down the left only to see his shot saved by David de Gea but it wasn't to be long before we were level, and what a fantastic goal it was.
It came from a Kieran Trippier cross that was as good as any we've seen from him. Once Danny Ings got there it had goal stamped on it. It was a diving header but some will say it was on a plate for Ings. Just watch his movement which enables him to get the space, it's top class (Premier League class Martyn Tyler would have said).
Wow, back in it and we simply took the game to them, pressed them and didn't ever let them settle at all. It was incredible to watch. Ings came close to a second, only to see it blocked, the hugely impressive Ashley Barnes fired just wide. It only needed another goal and I am convinced we'd have gone on to win this one comfortably.
We were, quite simply, head and shoulders above the home side. The 2,500 or so of us in the corner were enjoying every minute of it. Even at 1-1 on 45 minutes I was delighted and really thought we could go on and win this in the second half.
Then disaster struck in the four minutes added on, much of it for Daley Blind who had also, by now gone off. They won another corner and the disaster that continues to hurt us went and did it again as Smalling was able to get above Keane too easily to make it 2-1.
Almost immediately the half time whistle blew and the Burnley fans just looked stunned. At 1-1 we could have counted ourselves unfortunate but to be behind at half time was simply difficult to take in given how well we'd played.
Had our chance of an Old Trafford win gone? Could we even get a point now? The answer was that our chance had gone but we were still the better side in a second half where United changed their system to try and contain us.
Our best chance of that second half came just a few minutes in when it looked as though Ings might have got his second. Trippier had played the ball through to Ings who knocked it wide to George Boyd with his first touch.
I don't think Ings could have ever expected two home defenders to make a complete mess of it to allow it through to him which meant his first touch took the ball just that stretch too far away from him allowing de Gea to save well when the shot came in. Even then, they had the fortune when the ball rebounded back of Ings but went out for a goal kick.
We didn't get as many opportunities in that second half, we weren't able to get behind them as much, but we pushed for that second equaliser and at no time did I ever really think we were in danger of conceding another goal.
But we did unfortunately. A poor ball from Scott Arfield saw Angel di Maria take possession and he went on a run down the left, cut into the box and was fouled by Arfield who had got back to try and rectify the situation.
Robin van Persie, with his only shot at goal all night and that was one more than the inept Radamel Falcao, scored the penalty and we were looking at a 3-1 defeat.
This was, without any doubt, the cruellest result of the season. Yes, you can point to our defending of the two corners and yes, you can look at Arfield's mistake for the penalty, but we were by some distance the better side here and this was a result that was so hard to take.
This was such a good team performance that had some outstanding individual performances within it. Kightly came in and had an outstanding game on the left and Trippier had a superb game whilst Barnes gave the United defence a torrid time.
I'm not sure Ings has had a better game for us than this one and he was so close to being my man of the match. But I have to go for Jones. Talk about stepping up to the plate in the absence of Marney, surely he is another who has never had a better game for Burnley.
As the final whistle blew I was gutted at the result but so proud of the performance. I was so disappointed that we hadn't been able to get back out of the bottom three but this performance left me so positive that we do have enough about us to win this scrap at the bottom. It's going to be tough, and the next match certainly won't be an easy one, but don't ever write off this Burnley team.
All that was left was to get out and make our way home, but what an experience walking back to Exchange Quay. When we've won at home there is a real buzz about the place as you leave; when we've lost away from home you usually have to walk through that same buzz from the opposition fans.
Not here you don't. It was always as if it didn't matter and that's because so many of those leaving were not United fans. It's the same when you go to Arsenal and the like, there are so many 'one match' tourists getting tickets. One of our group remarked that this is the damage that Sky and the Premier League have done to football.
I had to laugh too at Richard Scudamore's comment about 95% of seats being taken at games. He was at Old Trafford on Wednesday when he must have noticed the thousands of empty seats. The official attendance of 75,356 (shown below) is nothing like the numbers that were inside; that is unless those tourists were all dressed up as red seats for the duration of the game.
If you are brave enough, just look at the footage of their penalty again and watch the crowd behind the goal. So many of them don't react because it doesn't matter one jot to them.
I'd love to know what the real attendance was.
The bottom line however is we've been beaten, we haven't got any points and I've still not seen us win a first team game there. But what a performance our lads gave us.
The teams were;
Manchester United: David de Gea, Paddy McNair, Phil Jones (Chris Smalling 5), Jonny Evans, Marcos Rojo, Wayne Rooney, Daley Blind (Ander Herrera 39), Angel di Maria, Adnan Januzaj, Radamel Falcao (James Wilson 74), Robin van Persie. Subs not used: Victor Valdes, Antonio Valencia, Marouane Fellaini, Juan Mata.
Yellow Cards: Wayne Rooney, Radamel Falcao, James Wilson, Angel di Maria.
Burnley: Tom Heaton, Kieran Trippier, Michael Keane, Michael Duff, Ben Mee, George Boyd, Scott Arfield, David Jones, Michael Kightly (Sam Vokes 86), Danny Ings, Ashley Barnes (Lukas Jutkiewicz 90+2. Subs not used: Matt Gilks, Steven Reid, Michael Duff, Danny Lafferty, Ross Wallace.
Yellow Cards: Michael Kightly, Ben Mee, Scott Arfield.
Referee: Kevin Friend (Leicestershire).
Attendance: 75,356.