I'm not sure why, but some fan have been getting into a panic in the last couple of weeks. When Derby scored their opener against Doncaster on Friday there was immediate concern from one supporter I was travelling home with who immediately thought we wouldn't make it.
Another, just ahead of kick off yesterday, was suggesting that Derby would win all their remaining games and would, perhaps, stop us.
But, the one game at a time mantra team just kept going and they went out yesterday and gave one of their best performances of the season with goals from Michael Kightly and Ashley Barnes, the two players Sean Dyche has brought to Turf Moor since the start of the season.
My dad, if he were still with us, would have been shocked at the quality of the performance. He always believed that we turned in the poorer performances in front of the biggest crowds.
The crowd was big, the third highest since we last played Premier League football (and on the other two occasions the cricket field stand was full), and the queues were lengthy at the ticket office even before they opened for business at 9 a.m.
By 9:15 I was told it was beyond the Bob Lord Stand reception and it was not far short of that when I pitched up to get my match programme around 1 o'clock before making my way to the Bridge for my pre-match pint.
I'm very much the nervous and emotional type of supporter but I've been strangely calm during the last few weeks as we edged closer and closer to the number of points we needed to confirm the promotion.
Whilst some were going through the potential permutations over a drink I was relaxed and enjoying my pint with the obligatory pie and peas. Fellow supporters were telling me they hadn't slept all night; I was more concerned we had no injuries and the team was as expected, and it was.
It was always going to be a tense afternoon though, or so I thought. I suspected it might be a scrappy game with the Clarets hopefully edging it to avoid going into the last home game still needing points.
How wrong could I be?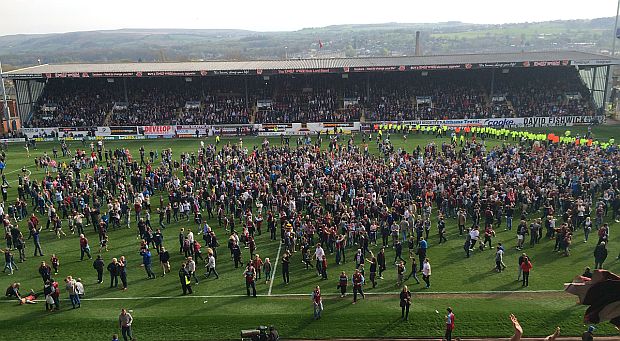 We've seen it before this season; when the games get tougher, Burnley get better, and they turned in another simply outstanding performance.
Not too much happened in the opening exchanges but we were the better side, and then, midway through the half, the ground lifted with one of the best goals we've seen all season.
It was one touch football at its best. Scott Arfield played the ball in from the left to David Jones. Jones moved the ball out right to Kightly and the one touch started. First Kightly, then Danny Ings who flicked it on to Dean Marney. He produced the cross for Barnes to brilliantly volley home his first ever Turf Moor goal.
He went flying in front of the crowd during his celebration but this was just what was needed to ease any tension that others might be feeling.
There wasn't much of a response from Wigan to be honest but they did force one easy save from Tom Heaton and then came as close as they were going to all afternoon when Marc-Antoine Fortuné headed a Jordi Gómez free kick against the bar.
We'd had a goal before card man Stroud got going in this game, but he yellow carded Barnes for a stray arm and then, incredibly, only yellow carded Fortuné after he'd smashed Jason Shackell in the face.
As always, the Burnley fans in the Longside were incensed but we still all had something more to celebrate, and no surprise it came from yet another foul conceded by Wigan when James Perch brought down Arfield down the side of the penalty box on the left.
Kightly, the goal hero three days earlier at Blackpool, did the trick again, hitting his free kick straight in at the far post. Did a Wigan player just get a touch on it? I'm not so sure but Barnes certainly played his part as he deliberately ducked to allow distract the defender and goalkeeper at it sailed in.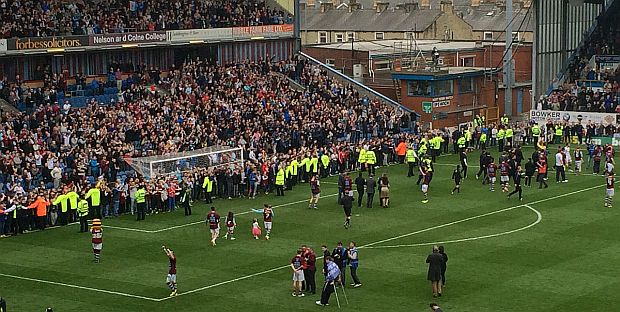 It was dreamland and it might have even been three before half time but Ali Al-Habsi saved a long ranger from Ben Mee, who was in inspirational form, for what would have been his first goal of the season.
I'm not sure what Wigan boss Uwe (and not the most popular Uwe to appear at Turf Moor) Rösler was up to at half time but he remained behind for a while and then came out again minutes before his team.
He must have spent very little time in the dressing room but did make two changes with Rob Kiernan and Callum McManaman replacing Stephen Crainey and Gómez.
For a while they did see more of the ball. There was a scare when Heaton and Michael Duff got in a mix-up before Shackell cleared, but then they really didn't offer much against us at all other than a few balls into the box that came to nothing.
In footballing terms, we'd seen them off. They'd nothing left to offer and as the game moved into its last period there was only ever going to be one team scoring and that was us.
A defensive blunder let Ings in and he hit the post from a ridiculous angle and then Al-Habsi was just in the right place to stop a ferocious Barnes shot.
Mee did get in a superb block to deny McManaman but by then the Turf was almost becoming an all stander stadium as the home support grew in volume behind this fantastic team.
We were forced to replace Trippier with Chris Baird on 78 minutes but we teased and tormented Wigan in the closing minutes, reaching the 90 minutes whilst having all of the play. Four more minutes it said on the board but everyone in the ground now knew exactly what was coming.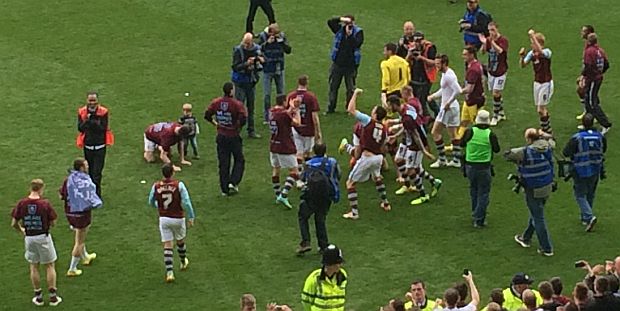 Everyone knew that at the final whistle our promotion to the Premier League would be confirmed. It's a long, long time since the Longside was like this. It was rocking with E-I-E-I-E-I-O and Sean Dyche's Claret & Blue Army.
We'd done it and eventually Stroud confirmed it with the final whistle as the ground went crazy.
Fans from the lower tiers flooded onto the pitch in celebration. I even saw a couple of fans, casting off their blankets, jumping over the Bob Lord Stand wall.
Pleas for them to get off the pitch fell on deaf ears for some time but eventually the pitch was clear to enable Sean Dyche, the simply remarkable Sean Dyche, to lead his players, his staff and his directors back onto the pitch as the crowd saluted their heroes.
What a wonderful climax to a wonderful season.
We are now a Premier League club again but maybe we should continue with this one game at a time mantra. That means it's Ipswich at home this Saturday.
I'll be looking back at this amazing season later in the week but for now let's celebrate this fantastic performance against Wigan, the 2-0 win and just what OUR club has achieved.
The teams were;
BURNLEY:
TOM HEATON
KIERAN TRIPPIER
MICHAEL DUFF
JASON SHACKELL
BEN MEE
SCOTT ARFIELD
DEAN MARNEY
DAVID JONES
MICHAEL KIGHTLY
DANNY INGS
ASHLEY BARNES
ALEX CISAK
CHRIS BAIRD
KEVIN LONG
DAVID EDGAR
ROSS WALLACE
JUNIOR STANISLAS
KEITH TREACY
Wigan: Ali Al-Habsi, James Perch, Emmerson Boyce, Leon Barnett, Stephen Crainey (Rob Kiernan ht), Jack Collison, James McArthur, Jordi Gómez (Callum McManaman ht), James McClean (Nicky Maynard 77), Marc-Antoine Fortuné, Jean Beausejour. Subs not used: Scott Carson, Gary Caldwell, Nick Powell, Shaun Maloney.
Yellow Cards: Ashley Barnes, Ben Mee (Burnley) - Marc-Antoine Fortuné, James Perch, Emmerson Boyce, Jack Collison (Wigan).
Referee: Keith Stroud (Hampshire).
Attendance: 19,125.