When November came around I don't think any of us envisaged a situation where the Clarets would still be winless, and while by no means being time for panic stations, losing can become as big a habit as winning can. For the sake of morale as much as anything else, this game was one we had to win.
I personally don't think our points tally truly reflected some of the football that had been played. It could be argued that Manchester United could have been beaten. On another day the penalty against Palace goes in and West Ham are out of sight by half time. But while that was not the case, Burnley's recent record against Hull was good, and the word from the dressing room was that the confidence levels were still high.
And so I went to bed at 10.30pm in my Melbourne, Australia flat after a busy Saturday, confident that the Clarets could get that first win against Hull City and get the survival campaign back on track.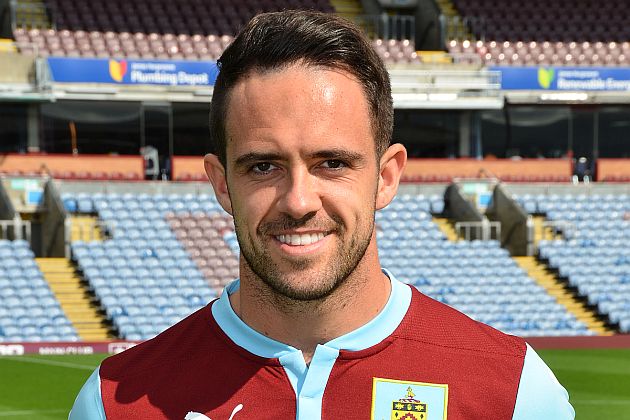 Danny Ings was the man of the match with the sponsors and in Melbourne
After three hours sleep I awoke for the 2am kickoff time to find that Ashley Barnes had been recalled for Marvin Sordell. This had surprised me – I had thought that Sordell had done his job well against Arsenal, but as was soon to be seen I know nothing, and once more Mr Dyche had pulled the right rein.
If this Burnley side didn't have plenty to play for already, it was to be a big day for George Boyd and Dean Marney, given that they had previously been servants of the amber and black of Hull City and would be extra keen to put one over on their former employers.
And it was not long after an impeccably observed minute's silence to honour the fallen and also the recently departed former player and manager Joe Brown, that the visiting defence was given their first big scare. 43 seconds to be exact, as Danny Ings was played through on the inside-left channel and beat the advancing Harper in the Hull goal, only to finish just wide of the right hand post.
This was not to be the last time that Ings was a handful on the day, and he turned provider six minutes later, playing Boyd through only for the ex-Tiger to be unfairly stopped by James Chester, who became the first of ten names into Mr Clattenburg's overworked notebook.
The atmosphere appeared quite intimidating even on a television several thousand miles away from Turf Moor, with "we are Burnley" and "Sean Dyche's claret & blue army" drowning out anything that the travelling Hull contingent could muster, as on 20 minutes the away goal came under its most serious threat of the first stanza.
A Boyd corner from the right was hit to the back post and in the ensuing scramble the ball broke to Ings, whose right foot shot was blocked by Harper. McShane's errant clearance did its best to sneak into the net but was blocked on the line, with the goal-line technology proving that parity had been preserved – just.
Jason Shackell then went into the book for a block on Aluko thirty yards out from goal, as did Stephen Ward later on after a mistimed challenge. In between a similar block by away captain Curtis Davies on Ings remained unpunished.
Such inconsistency continued in the second half where the yellow card left the referee's pocket for a variety of blocks and fouls, but not when the likes of Marney and Kightly were, well, clattered. On many occasions it appeared as though Mr Clattenburg's head was still at the Ed Sheeran concert for which he was forced to miss the previous week's football. Certainly if he looks back on his performance here objectively, he won't be seeing this as one of his better games.
Thankfully it was not long after the half time break when Burnley hearts were gladdened and nerves were settled. A neat interchange of passes saw the ball break to Kieran Trippier on the right hand side. Tripps played a pinpoint cross for Ashley Barnes to rise above the away defence, and bury a bullet-like header into the back of Harper's net.
Thus Burnley took the lead for the first time since Scott Arfield netted against Chelsea in the first match of the season, causing this correspondent to scream and dance around his lounge room at 5am on that Tuesday morning, frightening neighbourhood pets and residents alike in doing so.
My reaction was rather more subdued on this occasion, hoping that the lead would last somewhat longer than it did on that day against Chelsea. However, I need not have worried, as the claret and blue continued to dominate against a Hull side that posed no credible threat.
The only real chances that they created were in effect half chances, such as the overhead kick which forced their captain Davies to land awkwardly and injure his back, which led Hull to play the final twenty minutes one man short, manager Bruce having already cleared his substitutes bench.
The rest of the match was notable only for becoming the Clattenburg show as the cards kept flying, and the fact that Tom Heaton in the Burnley goal continued to have a remarkably peaceful afternoon. Danny Ings was named the sponsor's Man of the Match, a decision that I could not argue with. Mind you, there was no player in claret and blue that could not be heartily satisfied with his afternoon's work.
And so, after four minutes of added time, the final whistle blew and those precious three points were in the bank. I would love to be able to claim some credit for being a lucky charm, but I think this would be drawing a very long bow.
Instead I shall continue to move amongst my Manchester United, Liverpool and Chelsea supporting friends in the Australian springtime warmth, very proud to look them in the eye and declare, "I am Burnley til I die".