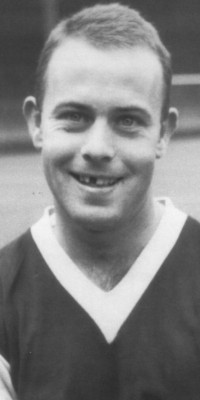 Billy White - scored the first goal
Restrictions were already in place across town with no domestic water supply for 12 hours a day, but worse was to come for over 6,000 households because of a fracture to a 12" main at Towneley.
It came as representatives discussed further economy measures as supplies dwindled but negotiations were taking place to draw half a million gallons a day from the main trunk supply to Manchester from the Lake District.
Things were even worse for four young Burnley lads who had all been arrested outside the Garrison Hotel on Padiham Road. They had been shouting and worse still had been using bad language.
They appeared in court and all were fined £2 by the magistrates and they left with a severe warning from Mr E. S. Thornber, presiding, who told them: "We are not going to have this sort of work in Burnley. I am warning you that if you come again we shall seriously consider sending you down straight away."
There was also news from the Old Duke on Briercliffe Road where 57-year-old landlord Herbert Cheetham was struck by a vehicle on his way back from the phone box on Thursby Road. He'd just learned he was a granddad and was off home to tell his wife when the vehicle hit him and failed to stop. Mr Cheetham sadly died in Victoria Hospital.
We had a star name in local theatre at the time. This week, Norris Cole has taken over as the sole proprietor of the Kabin in Coronation Street, buying out Rita Fairclough's share. He was seen on Monday interviewing for an assistant.
But in 1959, Norris (played by Malcolm Hebden) was starring as a peasant at Queensgate school hall in the Highcliffe Players' production of 'To Live in Peace'. As always, this team pulled in full houses every night of the week.
And as we awaited news of the football there was great news for Burnley housewives with the new washing up sensation reaching the town. "It's easy with Lemon sqEzy - the new washing up wizard," was the headline in the local newspapers.
For just two shillings a pack you got this wizard that saw dishes sparkle as they drained dry with grease dissolving in a flash.
Meanwhile the Burnley players had left town, a party of thirteen who would take in three games before returning to Lancashire almost a week later. The first of these three games was an exhibition game against Folkestone to celebrate the switching on of their new floodlights by Sir Stanley Rous CBE.
Burnley won, and with the vital game at Tottenham on the Saturday there was good news that there were no injuries incurred.
White, in for the unavailable McIlroy, opened the scoring but Tyrell equalised for the home team.
It was Connelly who won it for Burnley with two goals. He was able to make the most of his speed and quick changes of direction and had excellent support from a defence who held the home attack comfortably.
Pilkington was always a threat on the left flank against an overworked Folkestone rearguard and goalkeeper Collins saved them from an even heavier defeat.
Burnley were applauded frequently throughout the game for their passing, inter-changing and general understanding.
A 3-1 win, and now a visit to Spurs to come. A vital game at the top of the division but with both sides set to be weakened because of international calls.
McIlroy was set to miss the game because of the Northern Ireland v Scotland game. He'd missed the trip to Folkestone to play for an 'All Stars' team at Birmingham City's ground. He scored in that game.
Burnley's team at Folkestone was: Adam Blacklaw, John Angus, Alex Elder, Bobby Seith, Tommy Cummings, Brian Miller, John Connelly, Billy White, Ray Pointer, Jimmy Robson, Brian Pilkington.