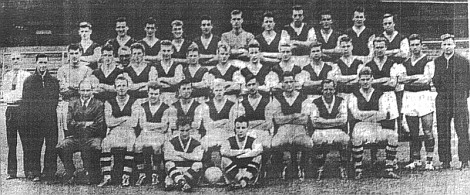 Burnley ahead of the new season
With the public practice match between the Clarets and the Whites ready to take place in the afternoon, the club announced that season tickets would go on sale ahead of the 1959/60 at 9:00 a.m. on Saturday 15
th
August.
There were no computerised sales, no ticket office, fans were asked to buy them from the secretary's office just inside the main door until 12:30 p.m. and then they would be on sale at Mrs Blakey's house across the road from 2:00 p.m.
Mrs Blakey, whose son Peter was the physiotherapist at Manchester City during the Mercer/Allison reign of the late 60s, had a pile of season ticket books on her sideboard and you just knocked on the door, paid her your money and got your book.
Now the Clarets v Whites was the only public match played by Burnley ahead of a season. No pre-season tours and no friendlies against cash needy Accrington Stanley. The Clarets were the first team and the Whites were the reserves.
Ahead of the game manager Harry Potts spoke of Burnley's link with John Kelly who played for Third Lanark. "We heard that Kelly was going to live in Manchester and so I asked Third Lanark if we could give him a trial," said Potts.
"Their manager said that he did not object, but he would have to see his directors before permission could be given. Since then I have heard nothing."
The purpose of the practice match was, according to the Burnley Express, to give supporters an opportunity of watching the boys and infusing into them, if they need it, an enthusiasm for the forthcoming season.
On this occasion the reserves, even when including substitutes, had no answer to the first team who were easy winners. It was only 2-1 at half time. Tommy Cummings and Ray Pointer raced the first team into the lead before Ian Towers pulled one back before half time.
The second half saw another three goals, this time all to the first team. John Connelly hit two and Jimmy Robson completed the scoring.
The supporters, some clutching their season tickets, were delighted with the performance of the first team and there were hopes that we could at least do as well as in the previous season when we finished seventh, if not better.
There were seven days to the opening day game at Leeds but there was one more game to play before then, a friendly against Glentoran in Belfast on the Monday.
The teams for the public practice were;
Clarets:
Blacklaw, Angus, Cummings, Seith, Miller, Adamson, Connelly, McIlroy, Pointer, Robson, Pilkington.
Whites:
Furnell (Dicken), Marshall, Elder, Cockburn (Weir), Talbut, Joyce, Meredith, White, Lochhead (Rawson), Fenton (McAuley), Towers (Lenton).