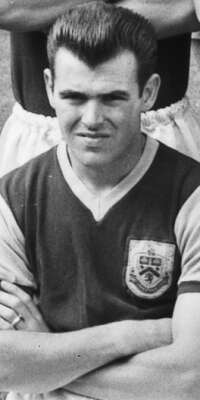 John Connelly - scored Burnley's goal
With the drought continuing the water shortage was still a major talking point in town but there was worse news to come with more mill closures putting another 1,000 Burnley workers under notice. The list of closures just continued to grow.
It was reported that some youths had stolen a car in the Marsden Road area and driven it as far as Haggate where they had crashed it causing considerable damage. The total cost of the repair was as high as £105.
In local sport top crown green bowler Ingham Gregory took part in an exhibition match at the Bowling Green Hotel whilst next door at Turf Moor professional Collie Smith had a superb day for Burnley in their Lancashire League game against Haslingden although the visitors did hang on for a draw.
Smith scored 70 in Burnley's total of 198/5 declared whilst captain Derek Riley batted through the innings to score 79 not out. Smith then returned figures of 6 wickets for 30 runs as Haslingden limped to 117/7. Smith earned himself a collection worth £1 17s 3d for his batting and a further £1 8s 5d for his bowling.
At the Everton game in midweek, Colin McDonald had arrived without his walking stick and was besieged by autograph hunters and it was also good to see a Turf Moor return for Les Shannon who was part of the Everton coaching staff.
Today's opponents would bring with them no one with Burnley connections at the time although their right back would have an association with our club almost a quarter of a century later.
Jimmy McIlroy had suffered a bruised foot in the win but he was passed fit to play against West Ham with Harry Potts naming an unchanged side for the third successive game.
West Ham arrived having undergone a course of special training, they had been lifting weights to develop muscles. Scoffed at by the press at the time it was thought it would not serve them well against Burnley's nippy home forwards.
Whether the weight lifting worked or not, they were too good for Burnley on the day and those who had bought season tickets after the 5-2 win against Everton were now left regretting parting with their money.
"Poor old Burnley," said Sportsman in the Burnley Express. "They merely proved that they have not shaken off the habit of rising to the heights, rousing the enthusiasm of the public, inspiring them with optimistic hopes of a shining season and then plunging them into doubt and despondency. It is the old formula with an uncertainty which is more gloomy than glorious."
We started brightly and took the lead in only the third minute with a goal from
CONNELLY
but, sunshine apart, that was the only bright part of the afternoon.
West Ham weren't upset and dictated the pace of the game with a nonchalant and leisurely ease. Burnley had no answer.
Sportsman suggested that the lack of form from McIlroy was a decisive factor. He wrote: "It has been said on various occasions that if McIlroy is off form so is the whole of the Burnley forward line. This is a rather flattering tribute to the undoubted ability of the Irishman, and a somewhat slighting reference to the talents of his colleagues.
"One swallow does not make a summer nor one forward make a team - but his influence can be a tremendous help. In this game Mac played like a general who had left the plan of campaign in the officers' mess and was trying to conjure up an impromptu substitute with little home of success."
Burnley worked hard but had little answer to West Ham in the end. They equalised through WOOSNAM just four minutes after we'd gone in front but had to wait until the second half to go in front.
It was SMILLIE who put them ahead and GRICE scored the third to complete the scoring and condemn Burnley to a 3-1 defeat. That third goal came from way out on the wing with Blacklaw appearing to be under the impression that the ball was swerving out of play before making a desperate last second leap as it swung into the far corner of the net.
"The Hammers wore a rather dapper outfit of all-white with a claret and blue stripe round the midriff," Sportsman told us, adding: "But there was nothing dapper about their play. Perhaps there is something in this weight lifting training after all!"
The game left Burnley in seventh place in the league but worse was that Blackburn Rovers had gone top above West Ham and reigning champions Wolves on goal average. Burnley would play again on Wednesday with the return against Everton at Goodison Park.
The teams were;
Burnley:
Adam Blacklaw, John Angus, Tommy Cummings, Bobby Seith, Brian Miller, Jimmy Adamson, John Connelly, Jimmy McIlroy, Ray Pointer, Jimmy Robson, Brian Pilkington.
West Ham:
Noel Dwyer, John Bond, John Cartwright, Andy Malcolm, Ken Brown, John Smith, Mike Grice, Phil Woosnam, Vic Keeble, Andy Smillie, Malcolm Musgrove.
Referee:
Mr M. McCoy (Doncaster).
Attendance:
26,783.
First Division Results 29th August 1959
Bolton 2 Everton 1
Burnley 1 West Ham 3
Fulham 1 Blackpool 0
Leicester 3 Chelsea 1
Luton 0 Leeds 1
Manchester United 3 Newcastle 2
Nottingham Forest 2 Blackburn 2
Preston 1 West Brom 1
Sheffield Wednesday 1 Manchester City 0
Tottenham 0 Birmingham 0
Wolves 3 Arsenal 3