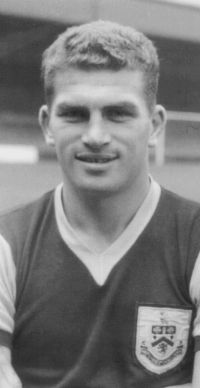 Brian Miller - a defensive power
The town was still in shock at the news over the weekend of West Indian cricketer Collie Smith, the Burnley professional. Smith had sadly still not regained consciousness two days after the crash in Staffordshire and fears for his life were continuing to grow.
Rev Walter Ridyard, who was also Smith's landlord in Burnley, had led prayers for Smith and asked the Burnley public, and cricket fans worldwide, to join him. Meanwhile Harry Langton, the Burnley chairman, had returned and was set to visit Smith provided he could locate the hospital.
Whilst Smith hung on to life there was no such news for a former head of the Burnley Borough police force with news that Chief Constable Stockwell Murgatroyd had been found hanged at the age of 57.
On a lighter note, Boer War veteran Arthur Crabtree had grabbed some of the headlines locally. At the age of 87 he had married for the fifth time.
There had been no change in the weather and we'd had no rain whatsoever for 24 days. There was to be a special meeting to be held on the water shortage with a suggestion that standpipes might have to be used.
With Burnley about to play Preston, two local men wouldn't be at the game. They were committed to custody to face trial at Burnley Quarter Sessions after being charged with stealing two postal orders, total value £5 3s, from their employer T Haythornthwaite & Sons of Barden Lane.
They missed a game that Burnley could so easily have lost, and had that been the case it would have been successive home defeats, but came back to win with the winner scored just six minutes from time.
After the poor defensive display at Stamford Bridge there were suggestions that Harry Potts might just make some changes to the team, but when it was announced on the Monday morning it was 'same again' from Potts who was still to make a team change all season.
One concern for Burnley was having to keep the visiting star man quiet, namely outside right Finney, but he wasn't involved when Preston took the lead just past the 20 minutes. Burnley had probably been the better of the two teams at this point without ever really threatening the Preston goal too much.
Robson and Pointer had missed what could only be considered half chances and then Adamson broke through and whipped a cross just wide of the far post. From that Preston got forward. Taylor's pass found SNEDDON who beat the advancing Blacklaw to scored despite Angus doing all he could to head it away.
That lifted Preston's game and when Burnley did get forward, which was by now less frequent, they became even more unreliable in their attempts to equalise with wild, high finishing which was in contrast to the quieter work from the visiting forwards who used the space better.
Miller was a defensive power for Burnley but Preston were still the more likely scorers. The Whites were making football look easy compared to Burnley's more hurried close passing game. Our shooting was weak and gave visiting goalkeeper Else more anxiety than any action.
It was still 1-0 to Preston at half time and that's how the score remained with Preston still the more likely up to the midway point in the second half. Then Burnley started to come into it. Pilkington hit a first time shot that Else just managed to keep out and Connelly went close.
At long last, with nineteen minutes remaining, Burnley got the equaliser. Connelly jinked his way out to the left, appeared to lose possession but regained it and centred for
POINTER
to head home just inside the post.
This put new heart into Burnley and the excitement grew. This was no longer a struggle for a point saver but a fight for a win. Else was doing all he could now to keep Preston level. He saved from Pointer; he tipped over a Pilkington right foot drive and then punched away the resulting corner.
Then, with just six minutes remaining,
ROBSON
snatched the winner with a header from another Connelly cross. There was no way back for Preston and Burnley played out the remaining minutes with some ease.
The win took Burnley to third in the table, behind Wolves on goal average and a point behind leaders Blackburn. Not many teams played their midweek games on a Tuesday and by the following night, when most clubs played, we'd dropped down to fifth with both West Ham and Spurs also going above us on goal average. Leaders Blackburn didn't play and had still dropped only one point.
Click
HERE
to see the League Table after the midweek games
We could now look forward to the visit of West Brom on Saturday to retain our place near the top of the table.
The teams for the Preston game were;
Burnley:
Adam Blacklaw, John Angus, Tommy Cummings, Bobby Seith, Brian Miller, Jimmy Adamson, John Connelly, Jimmy McIlroy, Ray Pointer, Jimmy Robson, Brian Pilkington.
Preston:
Fred Else, Willie Cunningham, Joe Walton, John Fullam, Joe Dunn, Frank O'Farrell, Tom Finney, Gordon Milne, Dennis Hatsell, David Sneddon, Sam Taylor.
Referee:
Mr K. A. Collinge (Sale).
Attendance:
29,175.
First Division Results

Tuesday 8th September
Burnley 2 Preston 1
Wednesday 9th September
Birmingham 1 Chelsea 1
Bolton 0 Arsenal 1
Fulham 3 Wolves 1
Leicester 1 Blackpool 1
Luton 1 Manchester City 2
Manchester United 6 Leeds 0
Nottingham Forest 2 Sheffield Wednesday 1
Tottenham 2 West Ham 2
West Brom 2 Newcastle 2