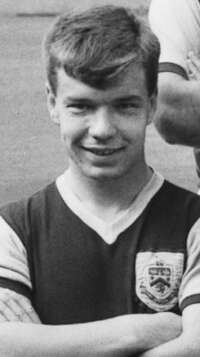 Alex Elder - the game was played as part of his transfer to Burnley from Glentoran
It might be difficult to believe but the big news in Burnley at the time was regarding the weather and the heat wave we were enduring. There had been hopes that we'd get some rain but the local press led with headlines claiming those rain clouds had passed us by.
News of the opening of a new school was banished to the inside pages because of the weather, but it was a welcome to the new Burnley Grammar School building on Byron Street just four years before the editor of this site took his first steps there.
Nothing to do with sport, but local 21-year-old Peter Lawson qualified in law with a LL.B at Manchester and was articled to Mr Newton at Donald Race & Newton. Peter was to become a name in local sports circles. He played cricket for Lowerhouse and for many years was chairman of Burnley Cricket Club before his untimely passing at the start of this millennium.
But in Belfast, and I have no idea what the weather like, it was certainly raining goals as the First Division side from Lancashire had no difficulty in beating their Irish League counterparts.
The young Elder, just 18, was still to make a first team debut for Burnley but was included in this game alongside another former Glentoran player in Jimmy McIlroy.
Burnley won the game 8-1 with the only reply from the penalty spot. Jimmy Robson scored four of those goals whilst the others came from Brian Pilkington, Ray Pointer, John Connelly and Jimmy McIlroy.
It was an exciting way for the first team to end their public build up to the new season with five goals in the win against the reserves and another eight against Glentoran.
The Burnley team was: Adam Blacklaw, John Angus, Alex Elder, Bobby Seith, Brian Miller, Jimmy Adamson, John Connelly, Jimmy McIlroy, Ray Pointer, Jimmy Robson, Brian Pilkington.
Now it was time for league action and an opening game against Leeds and their new manager Jack Taylor who had moved from QPR at the end of the 1958/59 season. It was a game Burnley had drawn 1-1 in the previous season after we'd led for much of the game through Jimmy Robson.
Season tickets were selling well at both the secretary's office and from Mrs Blakey's and there was a mood of optimism in town that we could better the seventh place finish of 1958/59.