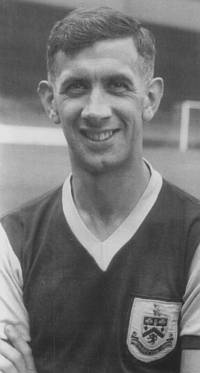 Jimmy Adamson - one of his finest games
Back in Burnley the town was still praying for remain as further measures to restrict water usage got closer and closer. An agreement had been reached to take water from the Lake District and the borough was now receiving 800,000 gallons per day to try and protect the low levels remaining.
There was further bad news on the job front with the impending closure of no less than 24 mills under the Government's cotton reorganisation scheme. Burnley Corporation were re-doubling their efforts to attract new industries into the town and had set up meetings with the Board of Trade.
Less than a week before the General Election, and with job losses increasing, Conservative candidate Alderman Brooks proclaimed that Burnley would become one of the most prosperous towns in the country. He said that the only problem the town would have was not having enough workers to fill all the jobs that a Conservative Government would create.
Labour candidate Dan Jones when asked how the money would be raised for social reform confirmed that it would come from the expansion of industrial economy. Brooks retorted that they would be robbing post offices.
For those few people with cars there was a rush to the Skipper's showrooms in Oxford Road where the new revolutionary Ford Anglia was on display. Not only that, customers could drive one away for just a £60 deposit with a set time to pay the full amount for the car of £589.
As the drivers looked at the car, the women in Burnley were hurriedly entering a housewife's competition organised by Hoover. There were no trips to America on this one but for the winner there was a three bedroom house complete with a full range of Hoover products.
Should the winner not wish to move into this brand new luxury home they were able to take the cash equivalent equal to the value of the prize at £4,000.
Meanwhile in London, Burnley had to name a team without Jimmy McIlroy who was away on international duty playing for Northern Ireland against Scotland. If that weakened our side then Spurs were harder hit. Danny Blanchflower was in the same Irish side as Mac whilst both goalkeeper Bill Brown and Dave Mackay were in the Scotland side.
Burnley had scored an 89
th
minute equaliser through Albert Cheesebrough in the previous season and lightening struck twice this time with another late goal winning a point for the travelling Clarets.
This time it was Miller, a mighty man who believes in deeds, not words, and, when driven by the dictates of a situation, crashes through defensive barriers with the determined mien of a rugby forward who has strayed into the wrong game and decided to make the best of it.
However, it was the recurring spirit of refusing to acknowledge defeat rather than a wandering and kindly Ariel which brought Burnley their first draw of the season, inspired by skipper Adamson, who surely had one of his finest games to date.
Tottenham fell away from their early high standard which had been crowned by an eighth minute goal from a Harmer-Smith move with MEDWIN shooting past Blacklaw.
The Hotspurs were then forced into mistakes partly owing to their sense of superiority, but mostly due to the magnificent spoiling play of Adamson and Miller, who began to restrict the scheming of the inside forwards and give support to their own.
As Burnley improved Tottenham did come close to a second goal but there was an element of comedy when Blacklaw was beaten by a cross-shot and Angus and Miller fell on the goal line, the ball hitting a prostrate body and Elder calmly booting away before the home forwards could recover from shock.
Burnley though were after that point and a series of hectic attacks with Pilkington, Pointer and Robson fighting hard and White's scheming combining with Connelly, and Tottenham were in extreme danger.
Elder came up in support and it was from the back that the goal came. He transferred to Pilkington and
MILLER
came storming through, burst his way into the penalty area and from an acute angle managed to smite the ball past the sprawling Hollowbread.
And there might have been a winner but White hung on that second too long with Pointer placed for a shot near goal.
The result was enough to keep Tottenham on top of the league but now only on goal average from Wolves. Burnley moved above Arsenal into third place, just one point behind the top two.
Click
HERE
to see the League Table
The teams;
Tottenham:
John Hollowbread, Peter Baker, Mel Hopkins, Bill Dodge, Maurice Norman, Tony Marchi, Terry Medwin, Tommy Harmer, Bobby Smith, David Dunmore, Cliff Jones.
Burnley:
Adam Blacklaw, John Angus, Alex Elder, Jimmy Adamson, Tommy Cummings, Brian Miller, John Connelly, Billy White, Ray Pointer, Jimmy Robson, Brian Pilkington.
Referee:
Mr R. H. Mann (Worcester).
Attendance:
42,717.
Whilst the first team were drawing there were crowd problems at the reserve game at Turf Moor where Burnley beat Derby County reserves 1-0 with a goal from Ian Lawson.
It wasn't a good performance but Jim Furnell, the home side's polished goalkeeper, emerged with added prestige with his anticipation and cool thinking under pressure which could not be bettered.
Some of the Derby defenders were guilty of robust play and at one stage the game took on an ugly mood when Towers was lying hurt on the touchline. A spectator ran on the field and tried to catch hold of Daykin, the visiting right half, remonstrating with him. The spectator retired hurriedly as police ran to the scene.
First Division Results 3rd October 1959
Birmingham 2 Leeds 0
Blackburn 1 Preston 4
Blackpool 1 Manchester City 3
Bolton 1 Sheffield Wednesday 0
Everton 3 Arsenal 1
Fulham 3 Nottingham Forest 1
Luton 1 Wolves 5
Manchester United 4 Leicester 1
Newcastle 0 West Ham 0
Tottenham 1 Burnley 1
West Brom 1 Chelsea 3