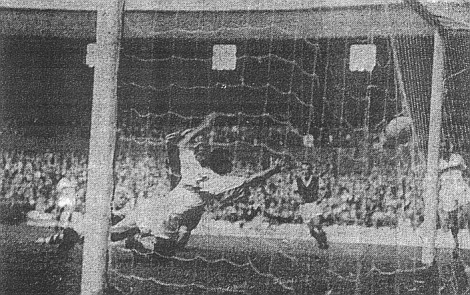 Burnley's third goal from Pointer
There had been no change in the weather but at least the good news was this being a midweek game it would be played in the evening when the heat was not quite so bad.
News in the town centred very much on the opening of the new upgraded casualty department at Burnley Victoria Hospital. There might not have been any rain, and we might have been running short of water in 1959 but at least we had our own casualty department at the local hospital.
There was an intriguing advertisement in the Burnley Express ahead of the game from Burnley born Daphne Clunies-Ross although I probably should have referred to her as Queen Daphne.
Now aged 29, she had swapped life in her home town of Burnley for the Coco-Keeling Islands when she married he husband John, King Ross V, who reigned over the islands. She was advertising for a new girl to move there to teach her children on the romantic coral island.
King John was the great-grandson of a Scottish trader who had landed there and Queen Victoria granted him the islands. John and Daphne brought in a law restricting all families to a maximum of two children whilst they had five.
They were forced to sell the islands to the Commonwealth of Australia in 1978 and both John and Daphne now live in Perth, Western Australia in exile.
Whether any young Burnley girl took up the offer I don't know, but I do know that the first home game proved to be something special. "This match, never mind the result, was a splendid introduction to the home programme," wrote Sportsman in the Burnley Express.
He continued: "Burnley won because of a three goals in six minutes spell in the first half which shook the game out of the class of the ordinary and gave it the label of an all action thriller."
It was a scrappy start to the game with Bobby Collins the best player on view in the opening exchanges, but Everton had a worrying start defensively and was described as unorthodox in its efforts to stop the eager Burnley attack.
Burnley really were soon into their stride and both Robson and Connelly missed chances before we got the breakthrough on 14 minutes. That came from a Brian Pilkington centre which was headed home by right winger
CONNELLY
.
Four minutes later a
PILKINGTON
diving header doubled the lead and on 20 minutes
POINTER
made it three after another ball in from Pilky.
The Burnley attack was showing more bite than they'd done for seasons in this spell against a slow looking Everton side but the visitors did pull one back ten minutes before half time when Collins set up THOMAS.
Thomas almost brought Everton right back into it with a storming shot just after the break but Blacklaw saved brilliantly at full length.
Everton's revival made it imperative that Burnley got another and it almost came from our well rehearsed long throw. Seith's throw in was headed by Pointer but McIlroy just couldn't convert.
The long awaited fourth finally did arrive 18 minutes from the end and it was all down to McIlroy brilliance down the right. He got in a cross and
ROBSON
was there to turn it in.
It looked all over but Everton came back to score a second, an own goal from MILLER, although Burnley claimed it had not gone over the line when it came down off the bar.
It was given but there was no further response from Everton and Burnley wrapped it up when Robson and
CONNELLY
combined with the winger getting goal number five.
Two wins in two games, the Burnley fans went home delighted and looking forward to Saturday's game against West Ham.
The teams were;
Burnley:
Adam Blacklaw, John Angus, Tommy Cummings, Bobby Seith, Brian Miller, Jimmy Adamson, John Connelly, Jimmy McIlroy, Ray Pointer, Jimmy Robson, Brian Pilkington.
Everton:
Albert Dunlop, Alex Parker, John Bramwell, Brian Harris, Tom Jones, Mick Meagan, Jimmy Harris, Edward Thomas, Dave Hickson, Bobby Collins, Edward O'Hara.
Referee:
Mr F. Cowen (Manchester).
Attendance:
29,192.
First Division Results

Tuesday 25th August
Burnley 5 Everton 1
Preston 1 West Ham 1
Wednesday 26th August
Birmingham 4 Newcastle 3
Bolton 0 Blackburn 3
Fulham 5 Manchester City 2
Leicester 3 Leeds 2
Luton 0 Blackpool 1
Manchester United 0 Chelsea 1
Nottingham Forest 0 Arsenal 3
Tottenham 2 West Brom 2
Wolves 3 Sheffield Wednesday 1