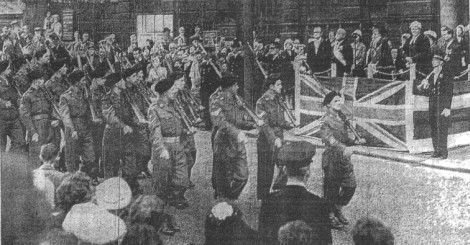 The 4th Battalion of the East Lancashire Regiment march past the dais in front of the Town Hall at the public ceremony for the dignitaries from Vitry-sur-Seine
Meanwhile the standpipes were on their way up in Burnley and some domestic supplies of water had already been turned off. By Monday all Burnley folk would have to go out to get the water they would need.
I can recall having to walk to the Park View Chippy where our nearest standpipe was but the plan was to have 250 in total in town meaning no one would have to walk more than 200 yards to get water. The volunteer groups said that youngsters must find out who needs help in their areas and collect the water for them.
No water but at the end of the big visit from the dignitaries from Vitry-sur-Seine, a 'Friendship Pact' was to be signed between the two towns. On a packed Manchester Road at a public ceremony, the Vitry Mayor, Monsieur C. Perrot said: "We promise to make every effort to fulfil a desire on the part of the people of Vitry-sur-Seine to establish a full bond of friendships and contacts throughout all the spheres of life of the two towns".
Replying for Burnley Mayor Councillor Edith Utley believed there should be a build up of contacts through schools, cultural organisations, work, trade and sport and Perrot confirmed: "It is my belief that it should be relatively easy to achieve."
For one poor housewife the news of the friendship pact was hardly of interest. Stood at her kitchen sink doing the washing up she was shot by a 19-year-old youth who told the court it had happened by accident whilst climbing a wall. The magistrates suggested to him that his explanation was highly improbable.
He was charged with shooting with intent to cause grievous bodily harm. Not only that, he was charged with stealing a double barrelled shot gun and £2-12-8 from an electricity meter.
Burnley would be set to see 'Gay' coaches passing through the town during the New Year. The gay coaches were luxury double deck coaches which served refreshments to long distance passengers and had been such a success that Ribble had ordered a further 24 for 1960.
The new ones would operate through Burnley with services to such as Glasgow, Edinburgh, Torquay and London.
A warning was issued to children, particularly those playing in the Turf Moor area, to stop playing with matches. The fire brigade had been called out several times to grass fires with each one caused by this.
It was a sad week in Burnley with the news of the passing of Louis Page at the age of 60. Page had played 248 league games for Burnley between 1925 and 1932. In 1926 he created club history by becoming the first, and to this date the only, Burnley player to score six goals in a game as we beat Birmingham 7-1. Page had suffered from a painful illness and sadly passed away in hospital in Birkenhead.
For current Burnley players there were representative call ups for two. John Connelly was selected to play outside right for England against Wales meaning he was ruled out of the game at Blackburn. John Angus had received his call up to play for the FA against the army on 21
st
October.
And the club were delighted to get news that they had been chosen to play the Great Britain Olympic team on the following Monday.
Burnley supporters travelling to Ewood could go by any means they chose and many went by train. There were three choices of train from Brierfield, Burnley Central, Burnley Barracks and Rosegrove with two from Burnley Manchester Road. Fares were 2s/4d (around 12p) from most stations but 2/11 from Brierfield and just 2/2 from Rosegrove. Return from Blackburn was at either 5:16 or 5:30 p.m.
Motorists wishing to drive to Ewood were given recommended routes in the local press to ensure they made their journey in good time and in some comfort.
Ahead of the game, Sportsman wrote in the Burnley Express: "A match involving the visit of Burnley to Ewood Park always appears to be an occasion of strain to the supporters of both clubs. It is a super derby with local reputations at stake, and both boroughs are so closely related in business and industry".
Harry Potts announced the team changes on Friday ahead of the game. Bobby Seith was back in at right half with Jimmy Adamson moving to centre half to replace Tommy Cummings. This would be Adamson's first appearance at centre half since the end of the previous season.
Gordon Harris was in at outside left with Brian Pilkington moving to outside right for the missing Connelly. The last time Pilky had played there was as far back as April 1953. There was also a doubt about Jimmy Robson's fitness and if he didn't play then Billy White would come in at inside right with Jimmy McIlroy switching to inside left.
Blackburn revealed that Bill Smith would come in for Ronnie Clayton who would be captaining England. Smith, an inside left, would play right half. Good news for the home side was that Roy Vernon had passed a fitness test on the Thursday.
Definitely out of the Blackburn side though was left back Dave Whelan who was playing in the reserves as he came back from an ankle injury.
The day proved not to be a good one for Burnley and we were beaten 3-2. Defeat is inevitable at times, but when it is administered by the feet of near neighbours it is apt to assume the aspect of a catastrophe of some sporting importance.
At least that must have been how those from Turf Moor regarded the second beating in successive league matches, particularly when a draw would have given most of the moderates a deal of satisfaction.
The match could not be described as a memorable derby. It had incident with both sides enjoying periods of ascendancy, but neither could claim an overall superiority which could give them supreme satisfaction in holding out eager hands for bonus money.
Douglas, left out of the England side for Connelly, was causing much movement in the Burnley defence and it was a sudden beating of three men and a short pass that led to the opening goal from a shot taken in his stride by DOUGAN.
Play was fast and Burnley got on top and that period of ascendancy was emphasised by a deserved equaliser. A Seith-McIlroy free kick act saw
PILKINGTON
shooting in by the far post.
Unfortunately Blackburn regained the initiative and the lead. With everyone expecting a pass, DOBING fired in a hard angled shot. Blacklaw seemed to have the situation covered but threw up his hands a fraction late and the ball tipped the fingers of his left hand and curled over his shoulder and under the bar.
The first half had been Blackburn's but Burnley took hold of the second half with some strong mid-field play and we were soon level.
This also came from a free kick. This time Miller added variety by turning it square, with Seith's shot rebounding to Douglas. The wingman was wide of and behind the customary defensive wall and on his own for once.
Possibly if Elder had been in usual attendance
DOUGLAS
would not have waved a vague foot at the ball in an inglorious attempt at a back pass which curled in an aerial arc over Leyland, under the bar and into the net.
Burnley looked as if they would snatch the winner but Blackburn did look dangerous in forward movement and with less than ten minutes remaining disaster struck.
It came from a free kick. VERNON lobbed the ball over the Burnley line up and Dougan moved to it with leg up. Blacklaw seemed to lose the line of flight completely as the ball found its way into the net.
Even then we came so close to a third equaliser but twice Leyland rescued Blackburn with split-second diversions late in the game and it was the home side who took both points.
The result saw us drop to seventh place in the table. We were now three points behind the top two, Spurs and Wolves. It also took Blackburn back above us to fourth. Luton were bottom, three points adrift of four other clubs. Leeds held the other relegation position on goal average.
Click
HERE
to see the League Table
The teams were;
Blackburn:
Harry Leyland, John Bray, Fred Pickering, Bill Smith, Matt Woods, Mick McGrath, Bryan Douglas, Peter Dobing, Derek Dougan, Roy Vernon, Ally McLeod.
Burnley:
Adam Blacklaw, John Angus, Alex Elder, Bobby Seith, Jimmy Adamson, Brian Miller, Brian Pilkington, Billy White, Ray Pointer, Jimmy McIlroy, Gordon Harris.
Referee:
Mr N. N. Hough (Macclesfield).
Attendance:
33,600.
There was better news of the reserves who beat Bolton 2-0 at Turf Moor. We didn't play particularly well and were largely reliant on the performances of Lawson and Lochhead. It was Fenton though who scored both goals and both were the result of excellent solo work and he received a deserved ovation each time.
First Division Results 17th October 1959
Arsenal 0 Preston 3
Blackburn 3 Burnley 2
Blackpool 3 Leeds 3
Bolton 0 West Brom 0
Everton 0 West Ham 1
Fulham 4 Newcastle 3
Luton 1 Chelsea 2
Manchester City 3 Leicester 2
Nottingham Forest 0 Birmingham 2
Sheffield Wednesday 2 Tottenham 1
Wolves 3 Manchester United 2