Burnley hit by late Blackburn comeback in cup
By Tony Scholes
Updated Friday, 12th March 2010
Views: 1005
The Clarets had to settle for an Ewood Park replay in the FA Cup fifty years ago after Blackburn Rovers sensationally came from three goals behind to earn a draw at Turf Moor.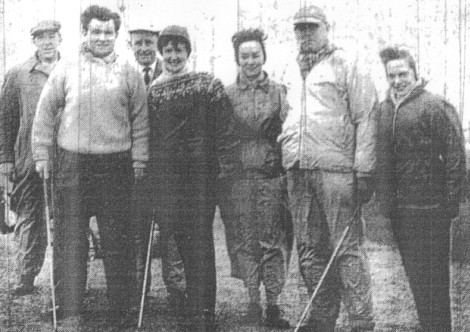 Dai Rees (second from left) set to play nine holes at Burnley Golf Club
In front of another bumper crowd, almost 20,000 higher than in the league meeting between the clubs a week earlier, everything hinged on a controversial refereeing decision that brought Rovers back into the game.
It had been a week of entertainment in town, and nowhere as important as the Burnley Festival of Music and Drama which had recorded its best ever 'first day' as people flocked to see the music competitions.
It was an exciting day all round and there were touching scenes when the young singers in the Earby choir broke into uncontrollable tears as it was announced that they had won the Burnley Express & News Shield whilst the big highlight was the brilliant win, despite an illness which had taken away her voice, of 18-year-old Eileen Flynn in the girls' solo final.
There were still concerns about the viability of the competition which was costing between £1,600 and £1,700 to stage. Treasurer Clifford Burrows said: "The big question mark about the Festival is how many people will turn up at the Palace Theatre for the Finals. The answer to that will prove whether this ambitious adventure was worthwhile and whether it will be worth putting it on again next year."
During the week it had been a case of 'Evening All' at the Pentridge in Holmes Street who were showing 'The Blue Lamp' starring Jack Warner as PC George Dixon. The film was by then already ten years old but was still proving to be a great success and had led to Warner taking the role into television in 'Dixon of Dock Green', which was regular viewing for many on Saturday evenings for over twenty years.
The plan by the Town Council to build some new shops hadn't gone down well with everyone and shopkeepers in the Brunshaw Road area had sent a letter of protest to them against the building of five shops at the entrance to Turf Moor estate which they considered to be most unfair and irregular because of already well established shops in the area.
They alleged that it would be a waste of £20,000 of public money to establish these shops (in Brownhill Avenue) and intended to take the matter up with the Chamber of Trade.
The very vigilant Police Constable K. H. Pickles had seen two men park their car on spare ground in Waterloo Road and then walk over to another car where they spent approximately twenty minutes before returning to their own vehicle and attempting to drive away.
Constable Pickles moved in and stopped them only to find a carburettor on the back seat of the car. The two men found themselves in court where they heard that a screwdriver and some pliers were also found.
One of the men told the court that they had found the carburettor and the only reason for having the screwdriver and pliers was in case they needed them should they, by chance, find a carburettor.
The magistrates must have had woollen hats on because they were certainly pulled over their eyes as both men were given an unconditional discharge provided they each paid £1 8s 6d costs.
A resident of Verona Avenue also found himself in court because of the actions of his daughter who wasn't the keenest when it came to turning up at school. Mr G. J. Hacking, prosecuting, told the court that the girl had only had one full week at school since August and from August to March had attended just 182 times out of a possible 245.
"She is still away from school, even today," said Mr Hacking who confirmed that the family home had been visited no less than forty times by the school welfare officer who had also visited the father six times at his place of work.
The court was told how the father got his daughter up for school every morning, there were only the two of them at the house, but then he had to leave early for work. The court must have had some sympathy for him but he was still fined 10 shillings.
Youngsters from Padiham, Hapton, Higham and Lowerhouse had, a week earlier, a Saturday night to remember when they attended an evening's entertainment arranged by Padiham Methodist Circuit.
It was an unforgettable night when they were joined by Mr J, McIlroy the Burnley footballer. They surged round him when he arrived and only retreated when he agreed to hold an on the spot sports forum before watching some of the boys play indoor football. The night ended with great delight for the boys as Mr McIlroy signed autographs.
There was a big name in sport at Burnley Golf Club too where the British Ryder Cup captain Dai Rees enjoyed nine holes of golf. Such were the conditions that he retired at the ninth and this after admitting to wearing four sweaters and two pairs of trousers to try and keep out the cold.
He was in Burnley to give a lecture at the Central Library which drew a full house. The lecture was part of a tour and was on golfing techniques. Mr J. B. Bowers, captain of Burnley Golf Club, presided at the lecture.
The big event in town though, by some distance, was the FA Cup 6
th
round tie between Burnley and
Blackburn Rovers
, the second time in successive years the teams had met in the competition.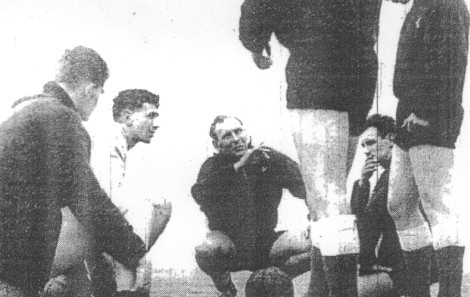 Harry Potts discusses tactics with his defenders during special cup tie training at
Blackpool
As always, Burnley had been in Blackpool all week enjoying special cup tie training and for two of the players, one from each side, they were hoping there would not be a replay. Alex Elder and Derek Dougan had been called up by Northern Ireland B to play France on the following Wednesday and that was the date of a potential replay.
A replay it was however, after a sensational game that saw six second half goals follow a goalless first half and our visitors coming back from three goals behind.
Burnley stunned their supporters by doing a hare and tortoise act along the road to Wembley in this sixth round match, at Turf Moor. They emulated the hare, for with a clear lead they - and everyone present - thought that the game was won. Blackburn Rovers, plodding along looking a well beaten side, then scored three goals to draw level.
The next stage of the 'Who's for the final?' then had to move to Ewood Park on the following Wednesday. It must be emphasised however, that the decision which proved to be the start of the Blackburn revival and the turning point of the whole game was quite harsh and inexplicable to say the least. It proved once again how a referee's ruling can alter the course of a game.
Also it demonstrates how an official has to concentrate on the common sense application of the laws in all circumstances. The penalty incident received a different interpretation than most spectators would have been inclined to apply and many Blackburn people were of this opinion too.
The ball curled from Elder's boot up his arm. There was no one near him at the time, in other words no danger to either himself or the goal. He did not try to control the ball with his arm. However, Mr Hunt gave his decision. Douglas scored and the Rovers revival commenced. Poor Elder was most upset, but he has no need to reproach himself.
In a fairly even first half the score remained 0-0 and at half time Burnley supporters were wondering if they had underestimated the potentialities of this side from Blackburn.
However, the home attack, having derived benefit from the break either through lecture or meditation, immediately sought to give reassurance to their customers that they had not forgotten that progress is brought by goals.
McIlroy gained possession and after stroking the ball as if reluctant to allow anyone else a fair view of it, suddenly whipped it out to the unmarked
PILKINGTON
who promptly right footed it over the left hand of the startled Leyland and it dipped under the crossbar and inside the post.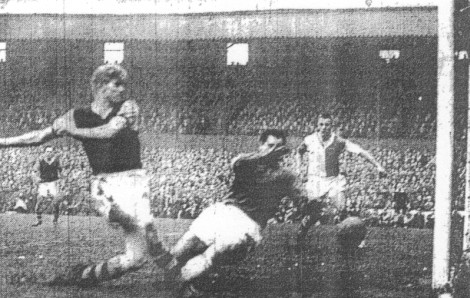 Ray Pointer scores Burnley's second from a Jimmy McIlroy centre
Seven minutes later McIlroy teased his way round and through a challenging quartet of blue and white, came down the by-line and his hard, low centre was neatly diverted into the net by
POINTER
. The roar nearly lifted the stand roof.
Burnley had found themselves and their old drive and power which makes them one of the greatest sides in the country when they can produce their true form.
Now it was Adamson who hit the crossfield diagonal pass which drew the Rovers the wrong way.
CONNELLY
caught the mood of the moment and in an inspired dash wheeled into the penalty area and found the far corner of the net.
It looked all over with three goals in quick succession. Rovers looked a beaten side and Burnley looked to have more goals on the way.
Then, with fifteen minutes remaining, came the penalty decision and the spot kick converted by DOUGLAS. The whole mood changed. Blackburn started to show their first half fight again and the alert and thrusting DOBING suddenly carted through to bring the margin of goals to one.
Then, four minutes from the end, McGRATH stormed up following a free kick and drove his shot through the rival ranks, hit the far post and the ball rebounded over the line.
Both sides went for the decider but by now Burnley had lost the initiative. Both Dougan and Dobing were inches wide of their objective in the closing minutes and Pilkington headed wide for Burnley.
And so, after having a clear advantage in this six goal saga, the Turf Moor team found themselves with their fourth cup replay, but this time away from home. That penalty incident should go a long way to making Burnley more determined to make sure and stay sure.
The teams were;
Burnley:
Adam Blacklaw, John Angus, Alex Elder, Bobby Seith, Brian Miller, Jimmy Adamson, John Connelly, Jimmy McIlroy, Ray Pointer, Jimmy Robson, Brian Pilkington.
Blackburn Rovers:
Harry Leyland, John Bray, Dave Whelan, Ronnie Clayton, Matt Woods, Mick McGrath, Louis Bimpson, Peter Dobing, Derek Dougan, Bryan Douglas, Ally MacLeod.
Referee:
Mr J. W. Hunt (
Portsmouth
).
Attendance:
51,501.
Receipts:
£10,148.
The winners of the replay would join
Aston Villa
,
Sheffield Wednesday
and Wolves in the semi-finals, but as Burnley were enjoying cup action there were league games being played and none was more important than Tottenham's away game at
Nottingham Forest
.
They won that game and went five points clear of Burnley, although we did have two games in hand. We remained third, Wolves were second, and we held a three point advantage over Sheffield Wednesday in fourth place.
Click
HERE
to see the League Table
FA Cup Results 12th March 1960
Aston Villa 2
Preston North End
0
Burnley 3 Blackburn Rovers 3
Leicester City
1
Wolverhampton Wanderers
2
Sheffield United
0 Sheffield Wednesday 2
First Division Results 9th March 1960
Bolton Wanderers
2
Luton Town
2
Leeds United
3
Birmingham City
3
Manchester City
2 Blackpool 3
West Bromwich Albion
3
West Ham United
2
First Division Results 12th March 1960
Blackpool 3 West Ham United 2
Bolton Wanderers1
Newcastle United
4
Everton
6
Chelsea
1
Fulham
2 Birmingham City 2
Luton Town 0 West Bromwich Albion 0
Nottingham Forest 1
Tottenham Hotspur
3
Interact with us