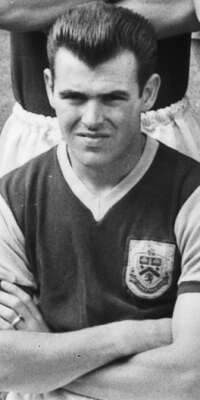 John Connelly - gave Burnley the lead
The town at the time was hosting a star studded show at the Palace Theatre on St. James Street (for those who don't remember this was where the former Woolies and now YMCA shop is located).
With two shows per night the full signs were going up for most houses to see Hylda Baker star in her own show 'She knows y'know' whilst at the town's top two cinemas there was also some big entertainment.
The Empire was showing the latest in the Carry On films, this time 'Carry on Teacher' whilst at the Odeon on Yorkshire Street you could see Frankie Vaughan, Tony Britton and Anthony Newley starring in 'The Heart of a Man'.
None of this was of much use to Burnley resident Edward Ingham. Walking down Westgate in Burnley a passer by was concerned and asked Edward if he was alright. "I am that right I'm going to throw myself under a bus," Edward said, and promptly did.
At the inquest the bus driver said: "I thought I'd missed him until I felt a thud," whilst the Coroner recorded a verdict that Mr. Ingham had killed himself.
Before looking at the game at the Chelsea game, it was the news of the following morning that hit the sports fans in the town the most. Burnley CC professional Collie Smith, the West Indies test star, was heading for London to play in a charity match on the Sunday.
He was travelling by car with Darwen professional Tom Dewdney and the Central Lancs League's Radcliffe pro Gary Sobers. Sobers was driving and Smith was in the rear seat when at 4:00 a.m. on Sunday morning they hit a cattle wagon on the A34 near Stone in Staffordshire.
It initially appeared that Smith was the least injured of the three with both Sobers and Dewdney suffering head and facial injuries. But Smith's condition suddenly worsened on arrival at hospital and he fell into a coma. It was confirmed that he had suffered a fractured spine and it was suspected he had suffered brain damage.
Club vice-chairman Norman McLeod and captain Derek Riley were hoping to visit him in the North Staffs Royal Hospital whilst Collie's mum and brother, back home in the West Indies, had been informed.
On the previous day Burnley had travelled to Stamford Bridge to play a Chelsea side that frankly weren't pulling up many trees. Their two previous home games had ended in a 4-4 draw against Preston and a 6-3 defeat to Manchester United.
Harry Potts had named an unchanged team ahead of the trip to London for the fifth successive game. We were fifth in the table whilst the Pensioners were down in 17
th
place.
Burnley started the game in the mood of 'What United can do, we can do better," as we looked to get some early goals. That theory might have been carried to its logical conclusion had we possessed a defence as sound and virile as our attack.
We took the lead after 21 minutes from a
CONNELLY
cross shot and would have scored more had the forwards received better support from their colleagues who wilted under pressure.
Blacklaw, inspired against Everton, had another excellent game and the result would have been far, far worse but for his anticipation and agility. But defensively we were never able to contain Greaves and Sportsman suggested we were scared of him and were suffering from Greaves-mania.
Seith made the mistake for the equaliser, letting in Brabrook who passed to LIVESEY to score, and five minutes before half time the home side went in front through BRABROOK himself.
On the hour GREAVES made it 3-1, although the goal did look to be offside, and just a few minutes later LIVESEY got his second and Chelsea's fourth to complete the scoring.
"Chelsea deserved their win because they took advantage of an uncertain defence, moved the ball better and were faster in their scheming," wrote Sportsman. Of the Burnley defence he said: "After this display it looks as though either reorganisation or severe lecturing is necessary."
The result left Burnley in sixth place in a league where Blackburn Rovers were still top having dropped only one point all season. Newcastle and Everton were occupying the two relegation positions.
After dropping our first away points of the season we now had three days to sort out or defence and prepare for a home game against Preston.
Click
HERE
to see the League Table
There was better news from the reserves who beat Barnsley 4-0 at Turf Moor. Ronnie Fenton grabbed a hat trick with the third goal scored by Ian Lawson who was able to play because he was home on leave from his National Service with the Royal Engineers. The two inside forwards, Billy 'Chalkie' White and Fenton, were the outstanding players.
The teams at Chelsea were;
Chelsea:
Reg Matthews, Peter Sillett, Ron Tindall, Eric McMillan, Mel Scott, Sylvan Anderton, Peter Brabrook, Jimmy Greaves, Charles Livesey, Bobby Tambling, Frank Blunstone.
Burnley:
Adam Blacklaw, John Angus, Tommy Cummings, Bobby Seith, Brian Miller, Jimmy Adamson, John Connelly, Jimmy McIlroy, Ray Pointer, Jimmy Robson, Brian Pilkington.
Referee:
Mr R. G. Warnke (Coventry).
Attendance:
36,025.
First Division Results 5th September 1959
Arsenal 1 Tottenham 1
Birmingham 1 Manchester United 1
Blackburn 3 Sheffield Wednesday 1
Blackpool 0 Nottingham Forest 1
Chelsea 4 Burnley 1
Everton 0 Fulham 0
Luton 0 Bolton 0
Manchester City 4 Wolves 6
Newcastle 1 Preston 2
West Brom 5 Leicester 0
West Ham 1 Leeds 2