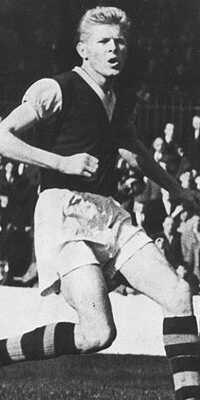 Ray Pointer - scored the first goal
There was disappointment in Burnley that week with news that one of the town's most notable buildings was to be demolished. This was Martins Bank Chambers on Hargreaves Street and Fred Felton of Blackpool were set to move in the following week.
The General Election campaign was in its first week and already the two main candidates had clashed over education. Dan Jones was attacked by Alderman Brooks who claimed that Labour were set to destroy the schools in Burnley. He was demanding funding for to aid church schools.
Never mind historic buildings and schools because those topics became insignificant when rain finally fell. It was the first rain in Burnley since 1
st
August and there were hopes that the restrictions might be lifted.
Not so as the town's water manager Jack Shepherd said the 0.32" of water had made no difference. "It was like falling into a sponge," he said.
All focus was on Padiham Road the day before the match where a very excited Mrs Ellen Finnigan waited by the phone at her daughter's home. Domestic telephones were rare in 1959 but this was a special day for Mrs Finnigan who was awaiting a call from her opera singing son Terry.
Terry lived in New Zealand, along with his two brothers, but was touring Australia with the New Zealand Opera Company. The call duly came and a tearful Mrs Finnigan said: "He just wanted to hear mum's voice," whilst her daughter admitted: "It's not every washday we have all this excitement."
Well done to the Queens Hotel in Cliviger. They'd organised a pile of pennies to raise money for the spastics and Burnley centre forward Ray Pointer was invited to push them over. "Nod 'em in," shouted the Burnley Express camera man as the pennies fell. It had raised almost £15.
Ahead of the Birmingham game Burnley announced they had accepted two interesting invitations and would fit them in around the trip to Tottenham the following week. The Burnley party would have to travel by train and plane to fulfil their engagements.
The first of them was a game at Folkestone on Wednesday 30
th
September. Folkestone were enjoying their first ever season in the Southern League and on that night Sir Stanley Rous CBE was switching on their new floodlights.
On the following Monday the team would be flying from London to Exeter and then by road to Plymouth to meet Argyle in a testimonial for Neil Dougall, son of Billy Dougall. Dad Billy would accompany the Burnley party to the game.
Before then was a game against Birmingham and on the Friday morning Harry Potts announced an unchanged team which meant a home debut for young Irish left back Alex Elder who had played in the games at Preston and Newcastle.
There was also more good news about Colin McDonald. He had now taken up cycling at Blackpool where he was staying with his wife and three daughters. Our other long term injury David Smith was a week away from having the plaster removed from his leg.
Burnley supporters often say that give us moderate opposition and we will play accordingly, yet against a side with all the airs and graces of the football book we will rise to the occasion.
Birmingham were moderate and we toiled to gain the points which were well enough deserved, but oh, the hard work and elaboration. Maybe it was a touch of over confidence after the Newcastle win but the team often gave the impression of being too clever.
McIlroy seldom inspired any plans of attack and played as though he had forwarded his private blueprint to Belfast. It was left to Robson to show initiative, which he did in midfield, but he failed to crown his obvious thinking with the necessary bite in front of goal.
Elder though had come to stay and such was his form that the representatives from Northern Ireland were booking his name and measurements for an international cap.
Pilkington's centres were achieving some success and after just ten minutes
POINTER
corkscrewed the first goal with his head, more or less propelling it in a swerving flight round and past the astonished and flat footed Merrick.
Those who thought that this was to be the commencement of a goal rush were not only sorely tried but greatly disappointed and the next goal was Birmingham's equaliser. ORRITT got it and Gordon almost put them in front.
That was just before the hour but Burnley were back in front twelve minutes later.
McILROY
produced a few of his lighter touches to confound his usual two man escort and was in the right place to head in a Robson centre.
Then in the last minute
CONNELLY
side footed him a fast McIlroy centre to give Burnley a 3-1 win.
Despite the win we didn't move up the table at all, remaining in fourth place with the three teams above us all winning. Birmingham remained bottom with Luton the other team in the relegation places.
Click
HERE
to see the League Table
Meanwhile there had been little good fortune for the reserves. In midweek Towers and Harris had given us a 2-0 lead against Liverpool at Anfield but we had to settle for a point in a 2-2 draw.
As the first team beat Birmingham, a Lochhead goal was mere consolation for the reserves who went down 3-1 at Sheffield United.
The teams for the Birmingham game were;
Burnley:
Adam Blacklaw, John Angus, Alex Elder, Jimmy Adamson, Tommy Cummings, Brian Miller, John Connelly, Jimmy McIlroy, Ray Pointer, Jimmy Robson, Brian Pilkington.
Birmingham:
Gil Merrick, Graham Sissons, Brian Farmer, John Watts, Trevor Smith, Richard Neal, Mike Hellawell, John Gordon, Bunny Larkin, Brian Orritt, Harry Hooper.
Referee:
Mr J. Cook (Pontefract).
Attendance:
23,471.
First Division Results 21st September 1959
Blackburn 3 Everton 1
First Division Results 26th September 1959
Arsenal 2 Blackpool 1
Burnley 3 Birmingham 1
Fulham 1 Chelsea 3
Leeds 2 Newcastle 3
Leicester 1 Tottenham 1
Manchester City 2 Blackburn 1
Nottingham Forest 2 Bolton 0
Preston 4 Manchester United 0
Sheffield Wednesday 2 Luton 0
West Ham 4 West Brom 1
Wolves 2 Everton 0