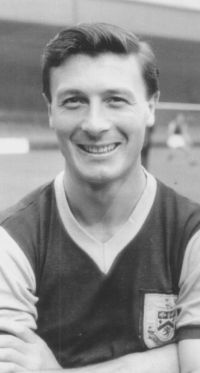 Jimmy McIlroy - his Irish heart was far from daunted
The sports fans in Burnley were devastated at the news of the loss of the wonderfully talented West Indian who only a few days earlier had been playing for Burnley in the Lancashire League.
West Indian colleagues Frank Worrell and Sonny Ramadhin, along with Australian and former Burnley pro Cec Pepper, had rushed to his bedside as they learned of his worsening condition. Pepper had already confirmed he would arrange a benefit match for Smith's family.
The news that restrictions had been placed on water usage in the town almost passed by unnoticed because of Smith's death, but Burnley homes learned that they would have no water from 6 p.m. through to 6 a.m. each day as water was at its lowest level in 35 years.
Saturday saw a service for Collie Smith at Turf Moor cricket ground ahead of Burnley's home game with Rawtenstall. The league had not allowed the game to be called off but did give permission for the second team game at Colne to start 30 minutes late to allow those players to attend the service whilst confirming that all league games would be preceded by a two minute silence.
The was led by Collie's landlord Rev Walter Ridyard and it proved to be a moving service as it started with the Burnley players coming onto the pitch. Burnley Football Club were represented by chairman Bob Lord, manager Harry Potts with Jimmy McIlroy representing the team.
Burnley went on to record a comfortable win against Rawtenstall with sub professional Roy Gilchrist, the fastest bowler in the world, taking 8 wickets for 59 runs. There were three collections during the game and all the money received went to the Collie Smith fund whilst Gilchrist played for a reduced fee.
Next door, an hour after the cricket had got under way, Burnley stepped out to play West Brom looking for a second home win of the week. Harry Potts had named an unchanged team on Friday morning for the seventh successive game.
Burnley had introduced a new strip which had attracted considerable interest. It was a brighter claret but Harry Potts said it was not particularly made for playing under floodlighting. He confirmed that with the perspiration lost by players during the recent hot weather, the shirts weighed a great deal more when taken off than they did prior to kick off.
The manager also thanked the crowd for their backing at the Preston game. "The fact that the team deserved their ovation after the final whistle is incidental, the important point is that they received it and it was appreciated," he said.
Three of the injured players were reported to be doing well. Dave Smith had been discharged from hospital after his latest broken leg, Trevor Meredith was sent home for a recuperation holiday whilst goalkeeper Colin McDonald had started light training at his Tottington home.
Sportsman, reporting on the game against West Brom, wrote: "One of the greatest qualities possessed by the new Burnley team is that of courage in adversity; the refusal to acknowledge defeat.
"This was typified in the home match against West Bromwich Albion when they fought back from being one down to a victory which could be described as unexpected.
"The example was provided by Jimmy McIlroy, who had one of his greatest afternoons, for he showed that his Irish heart was far from daunted by a shoulder injury which kept him off the field for 13 minutes.
"He returned in pain, bandaged about the body, and virtually beat the Albion with one arm tied, if not behind his back, at least fastened firmly to his side. Yet despite this handicap, McIlroy inspired and schemed from the right wing position where he was anything but a passenger."
The game was again played in searing heat and it was thought that contributed to the scrappy first half which was punctuated by injuries. McIlroy got his injury after just ten minutes and both Kennedy and Burnside for the visitors were led off for periods.
Burnley supporters were not happy with the refereeing of Mr Holland who they considered was being too generous to West Brom who were somewhat uncompromising in their approach. The home crowd were incensed with some of their obstructions and ankle tapping.
Half time approached with no goals then in the 44
th
minute the visitors took the lead when BOBBY ROBSON scored with a long range shot which caught Blacklaw by surprise.
The second half was a much better affair with both sides showing more method and thought. McIlroy was using his one good arm, and two good feet, to excellent purpose whilst both Angus and Adamson were in terrific form.
Ten minutes into the second half Miller stormed out of defence and crashed his way through to send Connelly away down the right. He cross passed to Pilkington and from the left winger's centre
JIMMY ROBSON
scored the equaliser.
Burnley were the better side now and with 21 minutes to go McIlroy switched the direction of play to the left for
PILKINGTON
to sweep in the winner. This soothed the temper of supporters who were exceedingly wrathful a couple of minutes earlier when Connelly had the ball in the Albion net with the goal being disallowed.
West Brom switched their forward line in attempts to make progress but there was no way back for them and Burnley, for the second time in four days, had come from behind to win 2-1 at home.
The win moved us up to third in the table. Blackburn had dropped off top spot to fourth with their first defeat of the season. Spurs were the new leaders with Wolves in second place, both above us on goal average. Everton and Luton still occupied the relegation positions.
Click
HERE
to see the League Table
It wasn't quite so good a day for the reserves who were beaten 4-1 at West Brom with Gordon Harris scoring the Burnley goal.
The next game for the first team was at Preston on Tuesday night and we had Jimmy McIlroy fighting for fitness.
The teams were;
Burnley:
Adam Blacklaw, John Angus, Tommy Cummings, Bobby Seith, Brian Miller, Jimmy Adamson, John Connelly, Jimmy McIlroy, Ray Pointer, Jimmy Robson, Brian Pilkington.
West Brom:
Ray Potter, Don Howe, Stuart Williams, Maurice Setters, Joe Kennedy, Bobby Robson, Ronnie Allen, David Burnside, Derek Kevan, Alec Jackson, Derek Hogg.
Referee:
Mr A. Holland (Barnsley).
Attendance:
23,807.
First Division Results 12th September 1959
Arsenal 3 Manchester City 1
Bolton 5 West Ham 1
Burnley 2 West Brom 1
Fulham 4 Luton 2
Leeds 2 Chelsea 1
Leicester 0 Newcastle 2
Manchester United 1 Tottenham 5
Nottingham Forest 1 Everton 1
Preston 3 Birmingham 2
Sheffield Wednesday 5 Blackpool 0
Wolves 3 Blackburn 1