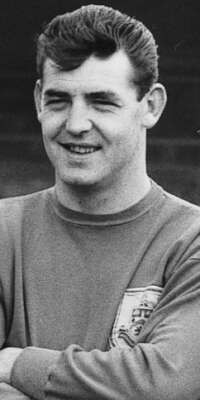 Adam Blacklaw - in brilliant form
There had been no let up with the weather, and it was still grabbing headline news in the town as the heat wave and drought continued. Mayor Miss E Utley warned that if there was no rain by Thursday the town would have to consider further actions.
As she issued that warning Mr Jack Shepherd, the town's water manager, told Burnley folk they were just not doing enough at this difficult time. Some wouldn't accept his warnings when there were no restrictions or warnings in neighbouring Nelson where it was believed they were getting similar weather.
Never mind the weather, Burnley were getting the best in home entertainment. One of the local television shops now had the new state of the art Eckovision 17" televisions. And they were renting them out in Burnley for just a £5 deposit and a 12/- per week rental. That, it has to be said, was no small amount in 1959 and the take up wasn't great for this new super sized screen.
Coal Clough school were breaking new ground, taking a group of girls on a ten day trip to Denmark but as the girls boarded their bus for the trip of a lifetime the Burnley team were boarding their bus to head to Goodison Park and a return game against Everton who we'd beaten 5-2 just a week earlier at Turf Moor.
Everton were expected to show Burnley a thing or two in this game and Everton scored first. "A Turf Moor three goals in six minutes act seemed as remote as the Liver bird on his tall building on the bank of the Mersey," wrote Sportsman in the Burnley Express.
The night turned into a triumph for Burnley goalkeeper Adam Blacklaw but if Everton had taken their early opportunities they wouldn't have concerns at their lowly league position. At the early stage of the game they couldn't blame the brilliance of Blacklaw, just their own bad shooting.
Burnley were struggling, the attacks were breaking down and the passing was poor in the extreme, particularly from the wing halves Seith and Adamson and the inside forwards McIlroy and Robson.
It wasn't all Everton, but from their third corner of the game they took the lead, cannoned in by WIGNALL.
The goal lifted Everton and the home fans sensed a victory. They were not happy when Miller flattened Hickson. This was not the done thing at Goodison with the 'Golden Boy' and Miller was promptly booed. Hickson made the most of it but resumed to add his own peculiar touches to the game.
Then, suddenly, Burnley came to life and were level. Adamson and McIlroy combined and from the latter's pass
POINTER
let the ball run, whipped round and crashed a shot onto the underside of the bar and down on the right side of the line.
Everton had been much the better side in the first half but Burnley improved after the break. The home side suffered when Parker was hurt when trying to stop Pilkington from centring the ball and it forced them into a reorganisation. He was unable to keep his right back position and limped for the rest of the game.
It looked though as if we would hang on for a draw thanks to the inspired Blacklaw. He made several saves about which goalkeepers must dream but seldom achieve, and that which must live in the memory was from Hickson whose full blooded drive was curling away towards the back of the net.
It had the crowd roaring 'Goal' when Blacklaw leapt across and with his body almost parallel with the ground, actually caught the ball in mid-air. Even Hickson appeared to be rendered speechless.
Burnley had chances. Both Pilkington and Robson missed. Then with four minutes to go, after McIlroy and Adamson had taken the ball up from the halfway line with a bout of interpassing, Pilkington swung over a centre and
POINTER
rushed in to head the winner.
Everton supporters couldn't believe it. They thought they had their first win of the season only to be robbed by two Pointer goals and the supreme Blacklaw in goal.
The win took Burnley up to fifth place, just one point behind the leaders who were still our closest rivals Blackburn Rovers. Everton were now bottom of the league with just one point, trailing four other clubs with two points each.
Our next game was at Chelsea and the Londoners had drawn one and lost one of their home games, scoring seven and conceding ten. Buoyed by this win at Everton we were going to Stamford Bridge with every confidence to make it a hat trick of away wins. Whilst Burnley were winning at Everton, Chelsea had fallen to a 6-3 defeat against Manchester United.
The teams at Everton were;
Everton:
Albert Dunlop, Alex Parker, Alan Sanders, John King, Tom Jones, Brian Harris, Jimmy Harris, Frank Wignall, Dave Hickson, Bobby Collins, Edward O'Hara.
Burnley:
Adam Blacklaw, John Angus, Tommy Cummings, Bobby Seith, Brian Miller, Jimmy Adamson, John Connelly, Jimmy McIlroy, Ray Pointer, Jimmy Robson, Brian Pilkington.
Referee:
Mr J. S. Pickles (Stockport).
Attendance:
39,416.
First Division Results

Monday 31st August
Blackburn 1 Bolton 0
Blackpool 0 Luton 0
West Ham 2 Preston 1
Tuesday 1st September
Arsenal 1 Nottingham Forest 1
Wednesday 2nd September
Chelsea 3 Manchester United 6
Everton 1 Burnley 2
Leeds 1 Leicester 1
Manchester City 3 Fulham 1
Newcastle 1 Birmingham 0
Sheffield Wednesday 2 Wolves 2
West Brom 1 Tottenham 2