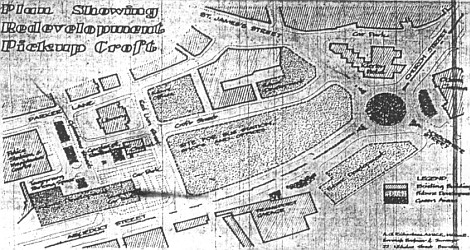 The plans for the Pickup Croft area of Burnley
The teams might have been ready to make an impression but the town itself was doing just that with major plans announced for the town centre, and in particular the Pickup Croft area where the old terraced houses and cobbled streets were already starting to disappear.
The Improvement Committee had seen, and approved for consideration by the town council, the plan for the area to include shops and offices, a new bus station and a garden of remembrance.
The area would also feature a new roundabout around the junction of St. James Street and Yorkshire Street alongside the towering sky scraper Keirby Hotel that was already under construction and dominating the junction.
Away from the town planning the Conservative Party had selected Alderman Brooks as their parliamentary candidate to oppose Labour's Dan Jones. Brooks boasted that everyone was behind him after holding his first meeting. He failed, however, to point out that the meeting had been held in Burnley Wood Conservative Club.
On his first appearance Dan Jones did confirm that should the town elect him as their new Member of Parliament he would most definitely move to live in the town from his native South Wales.
There was more news of progress for the town with Alderman P Henry suggesting at the annual inspection of the town's fire brigade that there could be a new fire station sooner than expected. The Manchester Road station was in poor condition and not suitably located.
And before looking at the football we have to report that local man Brian Nutter faced a charge of driving without due care and attention when he drove a shooting brake into the back of a car. He was fined £5 by Burnley magistrates.
Travelling to Newcastle was always a big day for some of the Burnley players and this was no exception with no fewer than five natives of the north east in the side that Harry Potts had named on Friday morning. It showed just one change from the team that lost at Preston with Jimmy McIlroy returning from injury at the expense of Billy White.
It was to be a very special day for captain Jimmy Adamson who was about to play his 300
th
game for Burnley just a few miles from his home town of Ashington. To be able to play that game against Newcastle of all teams made it even more special.
Alex Elder retained his place after his debut at Preston and that was no surprise. Those who had journeyed to Deepdale may have returned home disappointed with the result but they were unanimous on the debut of the young Elder.
It was one of the most impressive debuts Sportsman had ever seen and his clearances on the half turn, a difficult feat at the best of times, were remarkable for their timing and accuracy. Such was his performance that Tom Finney had moved to centre forward.
Jimmy Adamson was presented with a leek ahead of kick off by the horticultural experts of Ashington, but there was little cultural about the game. It was not a game where the arts and graces were particularly prominent.
Burnley made a sluggish start with the result that Newcastle raided so dangerously that Turf Moor supporters (who were present in heartening numbers) must have had visions of some of those overwhelming goals against which have been a feature of occasional visits to the lordly environs of St. James's.
Indeed, had Newcastle shown as much enterprise in their finishing as they did in their approach work, Burnley would have been several goals in arrears in the first twenty minutes.
Despite the weather there were no water restrictions in force in the Newcastle area and the pitch had been watered (from the upper reaches of the Tyne) and maybe this unusual sensation accounted for Burnley taking some time to settle.
Elder was having another good game and it was good to hear him getting encouragement from his team mates. Cummings in particular could be heard shouting: "Well played Alex, lad," on several occasions.
Then Eastham, with a typical rubber legged dribble, made the opening goal. His trickery carried him through the outer defences and Cummings had to come across to deal with the urgent menace. There was a mix up of falling bodies as Angus joined in. Eastham was underneath but managed to push the ball to TAIT who beat the advancing Blacklaw.
Burnley quickly equalised, and it was a cheeky affair from a two man free kick. Pointer was brought down by Stokoe but referee Windle awarded just a free kick and not a penalty.
McIlroy did his over the ball act and Adamson chipped the free kick to Pilkington while Mac dashed past the Newcastle line up. The wingman squared a centre and
MCILROY
had it in the net with the United defence mesmerised into immobility.
Burnley frequently halted Newcastle attacks with obstructionist tactics and just before half time Blacklaw kept things level when he saved from Eastham superbly after a bewildering dribble.
The second half had a promising start with Burnley going in front. Miller started the move with one of his typical unstoppable bursts from defence. He slipped the ball forward to Pointer who back flicked it into Robson whose shot rebounded.
CONNELLY
was on to it and Burnley were ahead.
Elder almost scored with a 35-yader and Newcastle made various efforts to equalise. The official in charge was keen on some points but lax in allowing players to get away with the elbow in the back of the neck technique and Pointer was the sufferer.
Allchurch hit the post for Newcastle then
CONNELLY
combined with the corner flag tip-tap with McIlroy, received a return pass and his centre-cum-shot swept high over the heads and in by the far post.
In one final Newcastle assault it was no joke for Elder when Scoular fell on top of him and the youngster rose painfully to nurse a meritorious bruise. But it was worth it as the whistle blew to signal a 3-1 win for Burnley and a third away win of the season.
Burnley remained in fourth place, and still two points behind leaders Tottenham, but had now gone equal on points with both Wolves and Arsenal. The result dumped Newcastle into the relegation positions with Birmingham who were our next opponents on the following Saturday.
Click
HERE
to see the League Table
Whilst the first team were winning at Newcastle the two clubs also met in the Central League at Turf Moor. The game ended 2-2 with Lochhead and Lawson scoring the Burnley goals.
The teams at Newcastle were;
Newcastle:
Stewart Mitchell, Dick Keith, Alf McMichael, Jimmy Scoular, Bob Stokoe, Jackie Bell, Gordon Hughes, Ivor Allchurch, Alex Tait, George Eastham, Bob Mitchell.
Burnley:
Adam Blacklaw, John Angus, Alex Elder, Jimmy Adamson, Tommy Cummings, Brian Miller, John Connelly, Jimmy McIlroy, Ray Pointer, Jimmy Robson, Brian Pilkington.
Referee:
Mr R. H. Windle (Chesterfield).
Attendance:
38,570.
First Division Results 19th September 1959
Birmingham 3 Leicester 4
Blackburn 1 Arsenal 1
Blackpool 3 Wolves 1
Bolton 3 Fulham 2
Chelsea 2 West Ham 4
Everton 2 Sheffield Wednesday 1
Luton 1 Nottingham Forest 0
Manchester City 3 Manchester United 0
Newcastle 1 Burnley 3
Tottenham 5 Preston 1
West Brom 3 Leeds 0