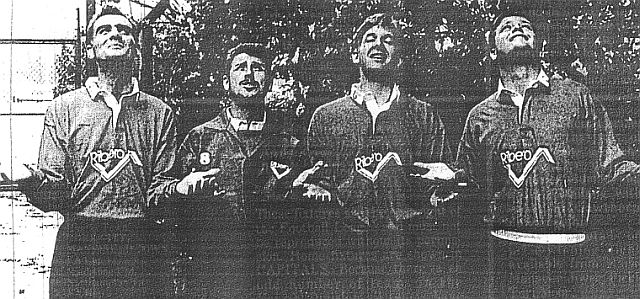 Mike Conroy, Joe Jakub, Andy Farrell and John Pender looking up towards a promotion into the Third Division
The players came back to training but had only four days before they would be flying off to the Soviet Union to play two warm up games ahead of the Lancashire Manx Cup.
"Mike Conroy reported for training with the rest of the first team squad this morning and we are working hard to make sure that things are sorted out before we go to Russia," Casper said.
He confirmed that neither Steve Davis nor Ian Measham would make the trip. Both players were still on week to week contracts, having refused to sign new deals, and the manager had decided they should remain in Burnley.
He explained: "Although I want to keep my best players at the club, I can't stand in their way if someone comes in with a bid for them. I have decided to leave them behind so that if anyone is interested they don't have to wait for ten days to try and sort a deal out."
Regarding new signings, Casper was still trying to bring in Warren Joyce who was at Preston. "I will be looking into the situation regarding Warren to see if we can sort something out in the next couple of days. I have a couple other enquiries to make and things could be a lot different by the end of the week."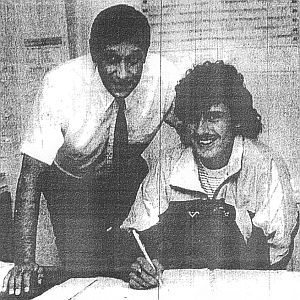 Steve Harper becomes the second signing of the summer
Things were a lot different too. With pre-season only two days in, Casper added to his squad with the free transfer signing of Preston winger Steve Harper. Preston fans were stunned that he'd been allowed to leave Deepdale after a good 1990/91 season.
His manager at Preston, Les Chapman, told Burnley Express reporter Jimmy McIlroy: "He has loads of ability and pace, a great combination, and I still think he can go a long way in the game."
When McIlroy then asked why on earth he was letting him go, the answer was: "I have my directors telling me to reduce the wage bill, so some players have to go. Unfortunately, the players I would give free transfers to are still on contract for at least another season, so to get the directors off my back, I had to let Steve go."
Chapman was holding on to Joyce though and his £150,000 valuation was too high for the Clarets, but Casper was delighted to get Harper. "He's a great player to get on a free transfer and he'll be a great asset to the club," Casper said of the winger who could play on either flank.
"He played very well for Preston and he was very impressive for them against us in the Leyland-DAF game in February. I am surprised that he got a free transfer and I have managed to sign him despite the attention of one or two other clubs. I have watched Steve play a few times and I am sure that he can do a great job for us."
Casper said that Harper would not be going with the party on tour. "I would have liked to have been in a position to take Steve with us so that he can get to know the players, but he signed too close to the departure date and we would have struggled to get visas for him."