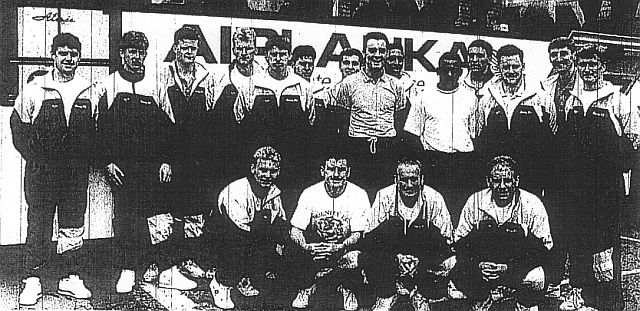 The players ready to leave for Russia
Both players had refused new deals and had said they were looking to move on and so Casper thought it best that they should remain in England so as not to delay any moves.
The players were just about ready to depart Turf Moor for the trip when news came through that Davis had signed for Second Division club Barnsley and it was thought the Clarets' captain had moved for a fee in the region of £180,000.
Instead of joining his old team mates, Davis was immediately whisked down to Devon to join up with a Barnsley squad that included his former Burnley team mate Brendan O'Connell. It was a blow for the fans to lose Davis who had been a big crowd favourite over his four years at Turf Moor. He'd just been voted the player of the season and in the last season had formed an outstanding partnership with John Pender.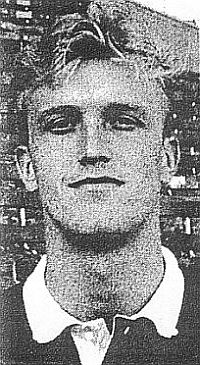 Steve Davis gone to Barnsley
Davis was gone and we had to concentrate on our own pre-season and the manager confirmed that his chief scout Brian Miller would deal with any transfer business whilst they were away, including any offers that might come in for Measham who, at this time, had not attracted any interest.
"Brian Miller will be staying in Burnley while we are away and he can deal with any bids in my absence," said Casper.
The tour had originally been scheduled to include three games but was now down to two, against Dynamo Stavropol and Second Division team Narsan.
"It will be a great experience to play against a top Russian First Division side, Stavrapol, and a Second Division side, Narsan," Casper said ahead of departure.
"Having entertained Dynamo Brest at Christmas we were pleased to be able to accept the invitation to go out to Russia. Although we are only playing two games it will be excellent preparation for us because we are staying in two top class training camps and that should do the players the world of good."
He added: "As soon as we get back we will be going straight into the Lancashire Manx Cup and the friendly against Oldham Athletic. That is also excellent preparation for us for the matches that really matter when the season kicks off at Rotherham on August 17th.
"That is the date we are all preparing for and nobody should think that the trip to Russia is a holiday. It will be hard work and most of our preparation for the season will have to take place out there."
Those Manx Cup games to come were against Bury, Blackburn Rovers (both at home) and Preston (away) with a friendly against First Division Oldham also included as part of physio Jimmy Holland's testimonial.