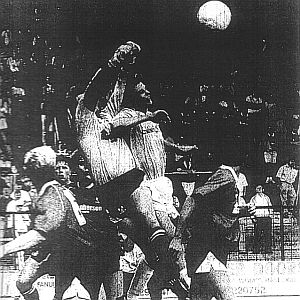 Bury keeper Gary Kelly punches clear
Burnley had just settled back into things after their trip, whilst Bury had already enjoyed five pre-season games on home soil, and it showed. It was always going to be a tough game for Burnley against a team from a higher division but, even so, the fans had hoped for better than this for the first game.
Attack wise, Burnley struggled throughout the game. Defensively we were slightly better but we gifted them two goals and struggled all afternoon to deal with the duel threat of David Lee and Liam Robinson, Bury's best two players. Both of them had attracted a lot of interest during the summer and Bury were considered fortunate to still have the pair at Gigg Lane.
The first goal was a bit unfortunate in that it came from a free kick very harshly awarded against Andy Farrell. To rub salt into the wound, Preston referee Ian Hendrick also yellow carded the Burnley midfielder.
Lee struck the ball into the box and there seemed to be chaos as the ball was headed around the goalmouth before finally landing in the net. The last touch had come from John PENDER who had just replaced the Barnsley bound Steve Davis as captain.
If that was a bad one to give away, we went even better (or worse) with the second ten minutes into the second half. Former Claret Nigel Smith, on loan at Bury, played nothing more than a hopeful ball forward.
Both Farrell and Mark Monington failed to cut it out and that left a totally unmarked Ian STEVENS to hit home from 15 yards.
Steve Harper, on his Turf Moor debut, was our best player and probably the only positive to come out of the game. It was Harper who came closest for Burnley but he saw his shot charged down with Danny Sonner just unable to get on the end of the rebound.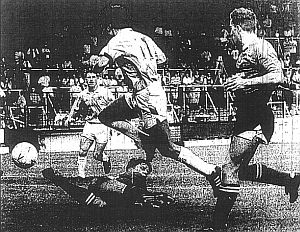 Steve Harper finds his way to goal blocked
The disappointed fans left desperately hoping things would be better next time out against local rivals Blackburn Rovers.
Manager Frank Casper was also disappointed. He said after the game: "We missed big Mike Conroy up front and we have to make sure that he is ready for the start of the season. But I am not making excuses for today's performance. We were poor compared to the way we played in Russia."
Casper felt that injuries to Conroy, Roger Eli and Ian Bray hadn't helped. He added: "We know what we have got to do and I treat all the games between now and the start of the season as training sessions.
"If we were just training at Gawthorpe people would not see the mistakes we are making, but I don't think there's any reason for anyone to get anxious over the defeat this afternoon."
Looking forward to the next game he said: "Tuesday's game against Blackburn Rovers is a big match for the fans and we want to do as well as possible."
The teams for the Lancashire Manx Cup opener were;
Burnley: Chris Pearce, Ian Measham, Jason Hardy, John Deary, John Pender, Mark Monington, Andy Farrell, John Francis, Danny Sonner (Peter Mumby), Joe Jakub, Steve Harper. Subs not used: David Williams, David Hamilton.
Bury: Gary Kelly, Darren Wilson, Roger Stanislaus (Paul Robertson), Mark Kearney, Peter Valentine, Colin Greenall, David Lee, Liam Robinson, Ian Stevens, Phil Parkinson, Nigel Smith (Kevin Hulme). Subs not used: Mike Pollitt, Ian Hughes, Alan Knill.
Referee: Ian Hendrick (Preston).
Attendance: 2,966.