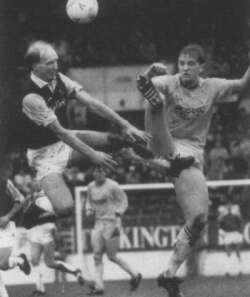 Ron Futcher in action for Burnley
Back then we used to have to wait until July for the fixture release and they gave us a trip to Rotherham to get the season underway with the first home game the following week against Aldershot.
They were a strange set of fixtures because the league had an odd number with 23 clubs and that left Aldershot with no game on the opening day and so they would kick off a week later at Turf Moor. Ironically it was Aldershot who, later in the season, dropped out of the league leaving it all even again at 22 clubs.
The big news however was the departure of Rocket Ron after just under two years at Turf Moor in which he'd scored 25 goals in 52 league starts. He was not the quickest of forwards but he certainly knew where the net was and was considered vital to Burnley's promotion hopes.
With manager Frank Casper still away on holiday it was left to his assistant Jimmy Mullen to break the news. He said: "Following discussions with Ron Futcher, Burnley Football Club have announced that they have terminated the player's contract by mutual consent."
Mullen added: "Ron has done a tremendous job for us and now it is very important that we find the right replacement for him."
The players were still a week and a half away from reporting back for pre-season training and Burnley confirmed that they'd had a £50,000 offer turned down by Preston for midfielder Warren Joyce, but Mullen said he would speak to chairman Frank Teasdale with a view to putting in a bigger offer.
It was also thought that Mullen had spoken to two Hull players and they were believed to be Leigh Palin and Paul Waites.
With Casper set to return from holiday, Mullen once again had to dismiss the rumours surrounding a move for Simon Garner. He said: "There is absolutely no truth in any rumours that we are after Simon Garner, but when the manager returns tomorrow he will have details about three players I have been speaking to over the last few days.
"The players are either midfielders or strikers and I feel that they can all do a job for us. It will be up to Frank to make decisions about them and I expect moves to be made later in the week."