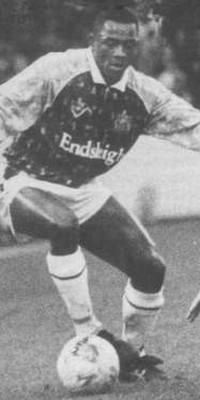 John Francis scored a superb headed goal
A crowd of over 7,000 in Kislovadsk was boosted by the players and directors of Stavropol and they saw Burnley go in front with a superb headed goal by John Francis from an Ian Bray cross.
That looked as though it was going to be enough to give us a 1-0 win but a late penalty earned the home side a draw.
Again there was no team news made available but all 18 players who travelled were given game time and both games had been played with an unlimited number of substitutions allowed.
On the team's return to England, manager Frank Casper said: "I was very pleased with our performances. We only had five days in training before we set off whereas they were half way through their season.
"Technically their players are very good and the league is of a very high standard. They pass the ball very quickly and accurately and have a totally different style of play to what we are used to in the 4th division.
"They tend to play the ball out slowly from the back and then up the pace when they get into your half, and they will let you pass it about inside your own half. To counter that we had to adapt and used a sweeper in both games - David Hamilton in the first game and Andy Farrell in the second."
Casper also offered an apology to the fans for the lack of information whilst they were out there. "It was horrendous trying to get information out of Russia," he admitted.
"Phone calls have to be booked two days in advance and even then there is no guarantee that you will get a line.
"A couple of the lads did get through, but even after booking a call they still had to wait two hours for a phone. They asked their wives to pass on brief details to the club but that was the best we could do."
Now it was back to English style football for Burnley and four more pre-season games ahead of the kick off against Rotherham. Three of those four games were in the Lancashire Manx Cup, kicking off with a home game against 3rd division Bury.