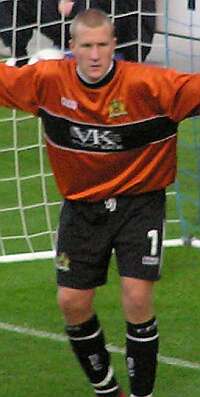 Michael Hale - substituted at half time
Our training ground is not the best when the bad weather comes and this game has already been postponed once, when the temperature dipped to plus 3 recently it was enough to bring about a frost. So it was something of a surprise when the game got the go ahead.
Conditions were not good though with the pitch resembling a mud heap and as if to give the first team a pointer we managed to lose the game 5-3 after three times drawing level.
We cannot bring you as yet the team news or the scorers but we can tell you that skipper Ryan Townsend was out suspended following his recent harsh red card in the Lancashire FA Youth Cup tie against Preston whilst Darrel Avery was missing from the midfield.
The side was further weakened following two bizarre substitutions that first saw Danny Pitham withdrawn with only twenty minutes gone and then goalkeeper Michael Hale taken off at half time (were they trying to get him to Deepdale?).
By this time we were 2-1 down but Hale had not been at fault with either goal but off he came as the irate coach Terry Pashley tried to put things right.
But with four regular players now off the field it wasn't going to happen as a number of school kids from the Centre of Excellence came on. We are as stretched for players at this level as we are at first team level.
We did equalise again though, and again before two further goals gave the points to bottom club Stockport (they have now climbed one place above Rochdale) brought the game to an end with the same scoreline as we were to suffer at Deepdale ninety minutes later.
That's it now until 10th January when Preston are the last side to visit Gawthorpe in the Alliance League with two away matches to follow that. Then it will be on to the Merit League.
Burnley's Fixtures and Results
Youth Alliance League Table