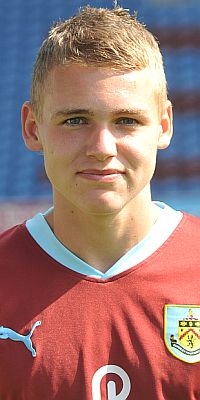 Joe McKee - bang in form and involved in all three goals
We even scored Carlisle's goal for them with the two full backs, Ed Williams and Curtis Woods, involved. They reversed their roles this week with Williams on the right and Woods on the left, and having got past Woods a cross into the box was sliced into his own goal by Williams.
That was with just five minutes gone but midway through the first half Jackson was on hand to bring the young Clarets level. A McKee free kick came off Jackson and onto the bar. Neil Yadolahi was first to it and headed across for Jackson, our leading goalscorer, to finish.
The second half provided Burnley with two more goals, but we had to wait until the closing stages to get them. There were eight minutes to go when McKee got his seventh goal of the season and another from long range.
Two minutes to go and a free kick was touched to McKee who got in another excellent effort. This was saved only for Woods to get his second in successive weeks to complete the scoring.
Apart from the win, there was also some good news with Mehdi Lazaar coming through his first game, playing almost the entire game. There was also some bad news for goalkeeper Ben Woodhead.
Just past the hour, Ben went up with a Carlisle player for a high ball and both went down injured. Woodhead appeared to have suffered a knee injury, and like Tom Anderson last week, was stretchered off.
There has been no news of Anderson's injury since but we can only hope neither are serious. For Woodhead it would be shocking news having just returned this season from cruciate surgery.
Best wishes to both Tom and Ben and well done to the lads on another good win.
The Burnley team was;
Ben Woodhead (Josh Cook 63), Ed Williams, Alex Coleman, Neil Yadolahi, Curtis Woods, Ross Wilson, Joe McKee, Steven Hewitt, Dave Lynch, Mehdi Lazaar (Archie Love 83), Joe Jackson. Subs not used: Alex Mullin, Steve Edwards, Tommy Taylor.