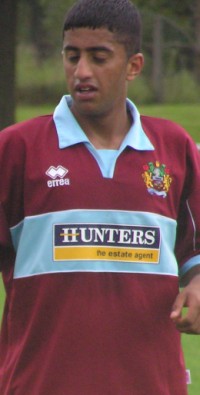 Ali Akbar - forced a good save out of the Liverpool keeper

Nobody watching will accept that we were three goals worse than a strong Liverpool side, the scoreline was definitely harsh, and for more than half of the game we looked capable of winning it.



That in itself is a remarkable achievement, to suggest Burnley against Liverpool in the Youth Cup is not a level playing field is somewhat understating things, it is more like a steep hill.



Apart from being older, stronger and more experienced than our players tonight, the Liverpool squad included players who had cost the club more in transfer fees than our first team squad.



Paul Anderson, who was there best player, was involved in a straight swap deal with Hull involving John Welsh, the transfer value was around £750,000. There was Jack Hobbs, not the cricketer I hasten to add, who came in for a big six figure fee from Lincoln.



Incredibly Miki Roque was only on the bench tonight and he cost them around a million when he came in from Spanish club Lleida.



Burnley meanwhile fielded a similar side to the one that had beaten Fulham in the last round. Adam Kay came in for Ali Akbar, and that was the only change to the starting line up.



The first half was an absolute delight to watch, both sides looked to pass the ball and although it was at times lacking in goalmouth incident some of the play was very pleasing on the eye.



You certainly wouldn't have thought Burnley were the poor relations and if anything I thought we were just the better side during that first forty-five minutes. We defended well when we had to, some of the play through midfield was excellent and often prompted by Nicky Platt who had previously been with Liverpool.



There was no much of a change in the second half but Liverpool finally broke the deadlock with Anderson getting down the right and crossing for Nardiello to score. It was harsh on the Clarets but we came storming back at them and had them on the back foot.



Roberts in goal saved well from Rob Turner and made an even better save to deny substitute Akbar. We just needed a goal but it didn't come. Alex McDonald came on for full back Paul Casey as we pushed an extra man forward but it backfired and twice in two minutes Anderson got down the right hand side and twice Liverpool got on the end of his crosses.



The lads seemed to drop their heads momentarily, it was no surprise they didn't deserve this, but they recovered and although we weren't able to pull one back we made certain they weren't having any more goals.



This was a very tough ask tonight, and the result will say we didn't make it. But that result doesn't tell the full story. The response they received from the crowd at the end was no more than they deserved – they really had done our club very proud indeed tonight.



The teams were,



Burnley: Matthew Mann, Rob Henry, Jack Overson, Tom Blackler, Paul Casey (Alex McDonald), Jay Rodriquez (Ali Akbar), Connor Smith, Nicky Platt, Adam Kay (Dale Underwood), Cayne Hanley, Rob Turner. Subs not used: Michael Donlan, Dean Stott.



Liverpool: David Roberts, Stephen Darby, Robbie Threlfall, Jack Hobbs, Godwin Antwi, Francis Smith (P Barrett), Paul Anderson (Miki Roque), Charlie Barnett, Michael Nardiello (C Lindfield), Ryan Flynn, Adam Hammill. Subs not used: J Mimms, J Ryan.