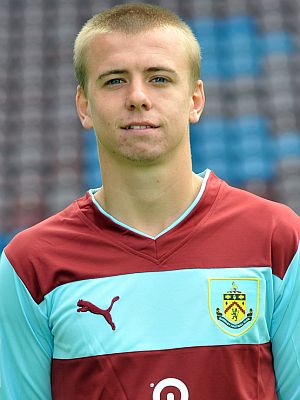 Steven Hewitt opened the scoring
We don't have any details of the youth game other than we beat Fleetwood 2-1 with a young team as some of the squad were called up for the development squad.
This afternoon, the development squad looked to have things going all their own way in the first half as two goals in two minutes put us in the driving seat at Altrincham. With twenty minutes gone Steven Hewitt struck with a 20-yard free kick and almost immediately the lead was doubled by Jamie Frost who curled home a low shot.
Things didn't quite go to plan in the second half. The home side dominated proceedings although it was the 73rd minute when they pulled one back James Walshaw benefited from a deflection off Luke Gallagher.
James Lawrie scored the home teams equaliser on 82 minutes and two minutes from time a corner from Liam Irwin, son of former Manchester United full back Denis, was headed on by Lawrie and deflected in off a Burnley defender for an own goal to give Altrincham a 3-2 win.
The teams were;
Altrincham: Adam Reid, Shaun Densmore, Matt Doughty, Jake Moult, Gianluca Havern, Mike Williams, Kyle Perry, Danny Boshell, James Lawrie, Damian Reeves, Nicky Clee. Subs: Scott Leather, Carl Rodgers, James Walshaw, Brian Smikle, Rob Gilroy, Dan Lloyd, Liam Irwin.
Burnley: Nick Liversedge, Cameron Dummigan, Alex Coleman, Tom Anderson, Kyle Brownhill, Andrew Musungu, Steven Hewitt, Archie Love, Christian Hill, Jamie Frost, Jason Gilchrist. Subs: Dan Nizic, Jack Errington, Luke Gallagher, Cameron Howieson, Ntumba Massanka.
Attendance: 271.